PAVmed (NASDAQ:PAVM) shows how risky small-cap growth stocks can be, unfortunately. We saw, and still see, a lot of potential as they have a number of technologies and devices that are promising and some of these are already FDA approved.
Then they did something smart, they started to treat PAVmed as a sort of holding company with centralized services, with the plan of creating public offerings for those divisions which were in commercial or near-commercial stage.
This has a number of advantages:
Shared resources and efficiencies in central functions
Monetizing their most mature solutions whilst still keeping a majority stake
Tapping the capital markets without diluting the shares of PAVmed
The markets were also on board with this as the stock price went to $10 but the enthusiasm for small growth stocks has turned 180 degrees and execution delays did further damage.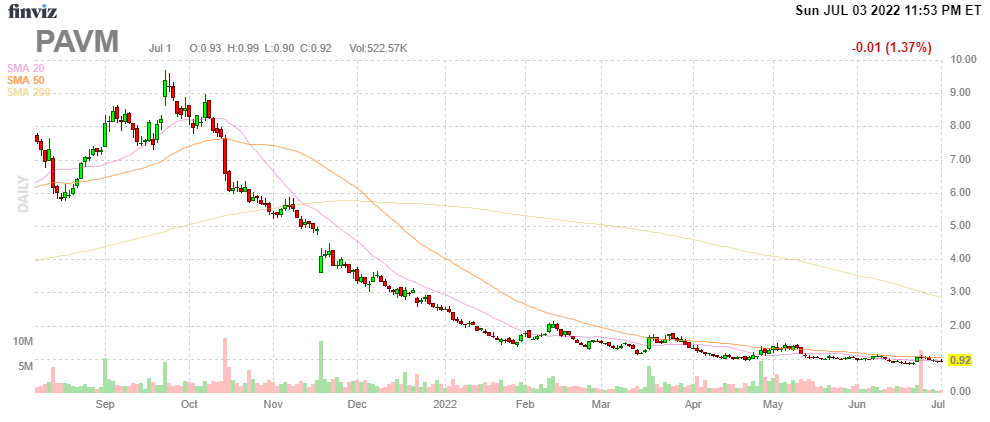 However, we think the company still has a lot going for it and at $1 there is room for recovery in the share price if the company executes according to plan.
Lucid
The first division that was put on the market was Lucid (LUCD), which has commercial-stage EsoCheck/Guard the only nonendoscopic biomarker screening test for treating gastroesophageal reflux disease who are at risk of developing esophageal precancer and cancer, specifically highly lethal esophageal adenocarcinoma. The EsoCheck/EsoGuard is a simple alternative for an invasive endoscopy.
Or, from the LUCD Q1/22CC: "Lucid Diagnostics is a commercial-stage cancer prevention diagnostics company focused on the millions of chronic heartburn patients who are at risk of developing highly lethal esophageal cancer. Unlike other common cancers, mortality rates are high even in their earlier stages. So preventing deaths requires us to detect esophageal pre-cancer, which occurs in approximately 5% to 15% of that risk chronic heartburn patients."
PAVmed has a 76% stake worth $65M.
The ACG (American College of Gastroenterology) recently updated its clinical guideline including non-endoscopic biomarker screening. EsoCheck/Guard is the only one on the market. Prior hesitations about women needing tests disappeared, more than doubling the target population.
Medicare contractor Palmetto GBA's MoIDX program published a foundational LDC (local Medicare coverage determination) for public review providing criteria for a category of testing. This happened before the American College guidelines so it didn't take its recommendation for non-endoscopic biomarker testing on board but the public review will likely take these ACG recommendations onboard.
Lucid executed 533 EsoGuard tests in Q1 +500% Y/Y +76% Q/Q.
Its sales force is expanding.
The company is expanding its test centers, now in 7 western cities, 9 additional planned this year all at once (these test centers are mostly just a sales rep and a practitioner, and a small office). In some of these cities, they already have a presence.
"Single nurse practitioner can reasonably perform 20 EsoCheck procedures on a normal workday. Each test center covers its personal and medical office lease costs with only a couple of reimbursed tests per week." (LUCD Q1/22CC).
The pilot EsoGuard telemedicine program launched on Dec/21, advertising in Phoenix.
Lucid DX Labs is now CLIA certified (Feb/22) so the company can transition from the commercial lab (requiring fixed monthly payments). The transition toward direct billing will cause a pause in out-of-network receipts.
Reimbursement: our first commercial payer agreement with MediNcrease Health Plans (8M lives) EsoGuard $2.5K (Medicare $1.9K and out of network between $1K and $1.3K).
There is also progress with Medicare reimbursement.
Veris Health
Launched in June 2021 with the acquisition of Oncodisc
PAVmed has an 81% stake.
Veris Health is a digital health company developing the first intelligent implantable vascular access port with biologic sensors and wireless communication to improve personalized cancer care through remote patient monitoring.
"The Veris Technology is designed to allow oncologists to detect early signs of common cancer-related complications, provide longitudinal trends of physiologic and clinical data, offer data-driven risk management tools for precision oncology and incorporate additional prospects for substantial value creation through data monetization and biotherapeutic clinical trial support." (Q1/22CC)
It runs on a SaaS service leveraging existing reimbursement codes for remote patient monitoring
It has a partnership with Microsoft (MSFT).
The first commercial launch will be later this year.
Its core is provided by three interconnected software platforms, a patient smart app, a cloud-based software platform to which the app uploads and an app for the clinical team to engage with the cloud-based platform.
Hiring four experts, who are also available for PAVmed platform.
There are also three device projects, Mercury, Venus and Solis
"Veris Solar combines the software platform with existing wearable and connected medical devices. This will allow us to launch the first commercial product and get valuable initial real-world experience with the software platform and engage with early adopters. We are on schedule to launch Veris Solar later this year." (Q1/22CC)
Veris Mercury is their own implantable smart device. The launch is expected next year.
Veris Venus "will offer the fully integrated intelligent vascular access port utilizing many of the same components Venus Mercury – as Veris Mercury, excuse me. We will seek to advance this product through the FDA's de novo pathway, but EU regulations for the integrated device will be less onerous and could allow a classic Europe first strategy" (Q1/22CC).
CarpX
Limited commercial release, waiting for product improvements
Development of a next-generation CarpX device that incorporates integrated ultrasound imaging, facilitating the procedure. FDA submission 2023
NextFlo
The small redesign hasn't yet delivered repeatability of data consistency so FDA submission is still some way off
PortIO
The first maintenance-free long-term vascular access device
First clinical trial in Colombia ongoing
EsoCure
endoscopically treat esophageal precancer
Animal studies show it compares favorably to Medtronic's Barrick device (market-leading)
Business development
The company has a R&D pipeline for new products in various stages of development
Hired an experienced manager
For possible M&A, management sees good opportunities in areas that are synergistic (particularly smart device technologies), valuations much reduced
Finances
There was $189K EsoGuard revenue from fixed contract ResearchDX (which terminated 25/2/22), but going forward they bill payers directly with their own lab. While March had a record number of test, they didn't bill during the month, waiting for Q2 for the new revenue cycle provider comes online.
So suppose they did 200 tests in March and the few days of February at $1K-$1.3K each, they're running at $250K a month and that number is surely going to increase with more tests and greater reimbursement coverage.
The quantity of EsoGuard tests payable at the CMS rate required to meet the 2022 revenue estimates provided by the 4 covering analysts is achievable, according to management.
Revenue in Q1 was just $200K. Management argues that gross margins can be in the range of 60%+ when revenue scales. Lucid's OpEx is 60%+ of PAVmed's OpEx, which increased from $8.1M in Q1/21 to $19.3M this quarter. Without stock-based comp, OpEx is just $11.7M ($8.2M from Lucid).
There was some increase in S&M (mostly at Lucid) but G&A and R&D will be similar in rest of the year. The net loss was $16.9M (EPS -$0.20) vs $9.4M (-$0.13) in Q1/21. There were $5.2M in non-cash charges so non-GAAP loss was $11.7M (-$0.14 per share).
The company had $64.7M in cash and equivalents at the end of Q1 versus $77.3M at end of Q4/21. Add to that the $24.5M of net proceeds from convertible debt issued in April this year, so cash is nearly $90M now. The problem is of course this: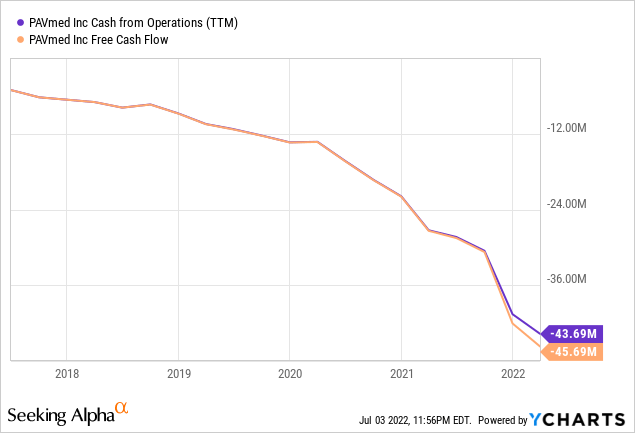 And then there is this: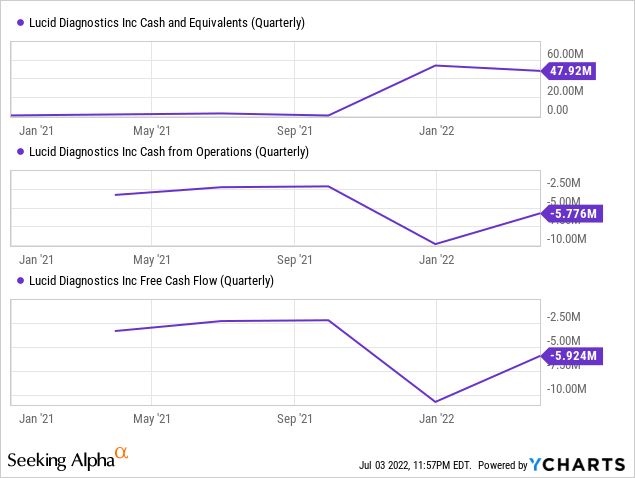 Lucid had $8.1M in OpEx (ex stock-based compensation), with $48M in cash and a $50M program with Cantor Fritz to be used at the company's description, they probably have at least six quarters of cash and that could be more.
If they can scale the testing in that period they might not need all that much additional financing, these test centers have a very low breakeven point, so this isn't an unrealistic scenario.
Valuation

Consider the following metrics:
88M shares out + 25.4M options, warrants etc.
Market cap $105M
Cash $90M
So basically, the company trades just a little above cash, and were not even including the $65M stake in Lucid. But with the cash bleed proceeding at pace, they will need to scale the EsoCheck testing to scale and positive news about reimbursement will also help.
Conclusion
There are many moving parts, but we find the core model of having PAVmed as a sort of holding company, selling parts of its divisions when the technology is ready for commercialization pretty attractive.
We think that the 76% stake in Lucid alone can be worth more than the whole company right now, but it depends on how fast they can scale up the testing and book progress with reimbursement.
We think that Veris Health could be another success, but it's early days yet. CarpX has potential, but progress has been slower than expected.
The risk is of course the company running out of cash. That isn't happening within a year, so there is time to ramp their revenues.