Investment thesis
Delta Air Lines, Inc. (NYSE:DAL) has been facing many challenges in the past 2 years and the challenges are not over just yet. However, these new challenges such as the high jet fuel price and staff shortages are much easier to survive and solve than the pandemic. As air travel recovers and leisure travelers are almost back to pre-pandemic numbers, Delta is heading for a nice recovery with growing bookings, growing airfares, and growing revenue, especially for the summer months. My only concern is the company's bad debt profile and the enormous debt it accumulated during the last 2 years and if the management can show shareholders a clear path to reduce these liabilities effectively. That is why I am neutral in the short-term but buy in the long-term on Delta.
Current Business Model
As the company lost a significant portion of its revenue during the pandemic, the management made some changes in the business model in 2021 and 2022. The main revenue streams are still the ticket sales, both main cabin, business, and premium, but the management grew parts of the other revenue segment. At the moment two-thirds of its revenue comes from ticket sales. This ratio has not changed during the pandemic, only the nominal amounts declined heavily.
The management could significantly increase its ancillary businesses and refinery revenue in 2021 and I expect further increase for 2022 as well. This segment mostly includes refinery sales to third parties, aircraft maintenance provided to third parties, and revenue from Delta Private. I also believe that the loyalty program sales will pick up as the air travel recovery continues and by the end of 2022 revenues will very likely exceed 2019 numbers.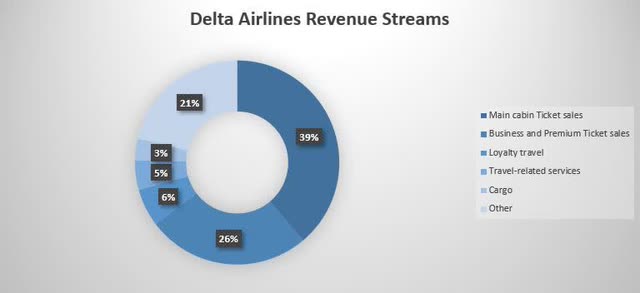 82% of its revenue comes from domestic bookings and travel which means the current high booking figures and the growth of total fare amount helps Delta get back to its "normal" revenue levels. In addition, the average ticket price was $628 in May 2022 while just a half year ago it was slightly above $350.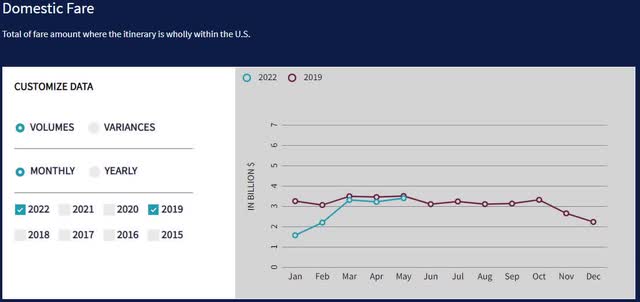 External factors affecting Delta
Between the 1st of June to the 4th of July in 2022 altogether 76.99 million people went through TSA checkpoints while in 2019 this figure was 86.58 million and in 2021 this number was only 65.13 million. This indicates that leisure travel demand is coming back fast. The 2022 figures represent only 11% fewer passengers than at the same period in 2019. By 2023 only based on the current trend leisure and vacation travel numbers will very likely exceed pre-pandemic peaks. This also indicates that despite airfares growing by 18.6% in April alone, approximately double what the current U.S. CPI is, consumers are willing to pay the leisure price.
I expect that the airline industry's profitability will return to pre-pandemic levels by the first half of 2024. That is because approximately 60-70% of the revenue comes from business travel. It is expected that business travel will not fully recover before 2024. At Delta: "Domestic corporate sales for the first quarter were approximately 50% recovered, with March improving to 70% versus 2019. International corporate sales for the quarter were approximately 35% recovered, with March improving to 50% versus 2019." This is still far from pre-pandemic levels and this segment is responsible for a huge part of the total revenue. But the trend is clear, business travel is slowly but gradually improving and that will positively affect DAL as well.
Airlines are focusing more on upsell than pre-pandemic. Ten years ago, just 5% of airline revenue came from this practice, but that figure has jumped to 15% by 2022. This is mainly because they need to generate cash as soon as possible to pay back their pandemic debts and be net profitable again. Low-cost carriers have been using this opportunity for a long time and now the whole sector is about to capitalize on this opportunity via for example yearly subscriptions or tailored lounge access for travelers with long layovers.
Valuation
Looking at Delta's P/E ratio might be misleading and here is why: its forward non-GAAP P/E ratio stands at 9.73 and its 5-year average is 10.05. This would suggest that the company is fairly valued based on its P/E ratio but that is not the case. It seems fairly valued because when calculating an average, the extreme numbers move the average heavily. 2020 P/E ratio was catastrophic and that is the number that affects the 5-year average P/E ratio. We should look at a P/E ratio before the pandemic to have a realistic idea about its current figures. Pre-pandemic DAL's P/E ratio stood between 7.5 – 12 and the average P/E ratio was approximately 10.6. This figure suggests a slight undervaluation of the current price. (Of course, the business has much more debt obligations compared to pre-pandemic, but that is not relevant in the P/E valuation just yet.)
Delta's profit margin is on the right path to recovering to pre-pandemic levels when the average was approximately 7%. As of March, 31st 2022 the company's normalized net income margin is -2.83% which is still bad but this is the best figure in 2 years. I expect the net margin to further move up in Q2 despite the rapid rise in jet fuel prices. Based on these figures and P/E ratios Delta is undervalued. However, the problem comes with its enormous debt and bad debt ratios. DAL's quick ratio (acid-test ratio) is 0.41 as of March 31st, 2022, which means the company cannot pay its current liabilities. This ratio and debt profile will very likely improve in the second and third quarter with the leisure travelers bringing long waited revenue to Delta but the current figures indicate that investors should be cautious and should not build too big positions in Delta.

Company-specific Risks
The company will be able to heavily capitalize on air travel recovery trends and soaring airfares. However, the risks are quite significant at the same time. The debt profile of Delta has deteriorated compared to pre-pandemic, with high long-term debt (tripled its long-term debt) and current liabilities. It will take years for the management to lower its long-term debts which will put pressure on the stock price. This is why I am not fully confident that the recovery of the stock price will be fast and within the next 1-2 years Delta will trade above its pre-pandemic highs.
The other massive risk factor is more external and affects all of the businesses in the airline industry: jet fuel prices, staff shortages, and the rise in employee costs. I believe all of these issues can be solved in some way during the next years. Staff shortage usually solves itself by hiring more people and giving them appropriate salaries. This might increase the employee expenses by 15-20% but it is necessary to stay in business, provide the service and minimize customer compensation fees. The jet fuel price is a tougher problem to solve because it is out of the control of the management. Analysts expect that the oil price will remain elevated during 2022 and 2023 at around $100 per barrel. This means jet fuel prices will remain above $135-140 in the longer term. Fuel costs already doubled on a year-on-year basis and these levels are likely to remain high which will lower net income for DAL.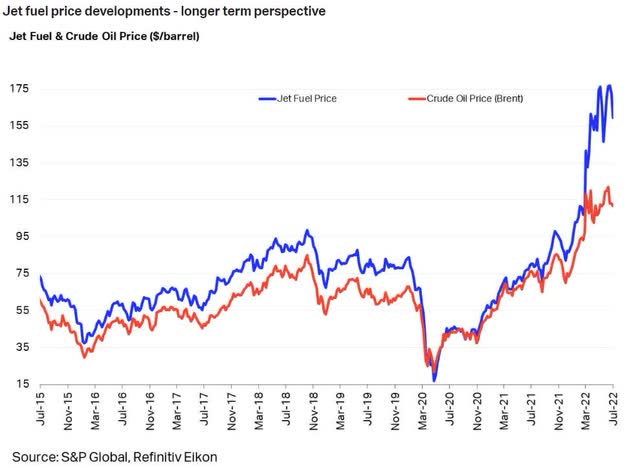 Final thoughts
The external airline trends, the rise of bookings, and airfares are in Delta's favor and can help speed up its revenue recovery. Business travelers will very likely return by 2024 which means Delta will be fully recovered by 2024. Based on technical factors, P/E ratios and profit margins DAL is recovering and the stock is undervalued. My biggest concern is the company's current debt profile, which makes me cautious in the short term.
For investors buying Delta for the next 5-6 years I would say go for it, but buying in for the next 6-12 months where a high debt profile is combined with a general market downturn is not the best decision in my opinion. That is why I am neutral on the short-term but buy in the long-term.