It turns out investing in a vacuum can be a poor idea, even a really strong sounding one. But in today's current market and as that relates to Alphabet (NASDAQ:GOOG, NASDAQ:GOOGL), investors may have a less challenging time cleaning up as profitable buyers in GOOG stock.
Shopify (NYSE:SHOP), Amazon (NASDAQ:AMZN), Tesla (NASDAQ:TSLA) and Alphabet are tech champions of industry with no need for gimmicks to sell investors on stock ownership.
But this year, a blitz of proposed share splits brought out obnoxiously loud single-minded applause from bulls. They seemed to conclude that the stocks would go up in value. Wrong.
Inflation, supply chain bottlenecks, increasingly at-risk consumers, recession fears and other bad actors have paid no mind to the positive stock bias. The foursome are all down big in the wake of their split announcements.
Today, though, and with Alphabet's split set for Jul. 15, let's examine why another singular technical tool could help investors own GOOG stock more smartly right now.
| | | |
| --- | --- | --- |
| Ticker | Company | Price |
| GOOG | Alphabet Inc. | $2,277.74 |
More Critical Than a Stock Split for Alphabet
Since Alphabet disclosed its proposed split for GOOG stock on Feb. 1 as part of its fourth quarter earnings beat, it has been a mostly downhill battle for bullish investors. Shares are down about 20% from the close immediately in front of the report.
And for Alphabet shareholders that bought into the pleasant-sounding immediate aftermath, it gets worse. Losses total as much as 27% after shares briefly made new highs on the pair of seemingly bullish wins for GOOG stock investors before reversing lower.
There is good news, however, and it has nothing to do with figuring out how investors will react to earnings or the obvious challenges with trying to profit from a stock split. It's called a follow-through day (FTD).
FTD's are bullish higher and above-average volume and price rallies which typically occur in days three to seven in one or more of the broader indices after a corrective low has formed. Moreover, the technical event is so critical to a bottom turning into a bona fide bull market that no cycle change has happened without a FTD in place.
That's not to say all FTDs work out. As this year has proven on a few occasions, the market signal can fail. But today, another FTD is in place, and now more than ever, it demands GOOG stock investors' attention.
GOOG Stock Is the Market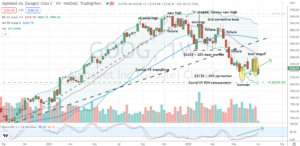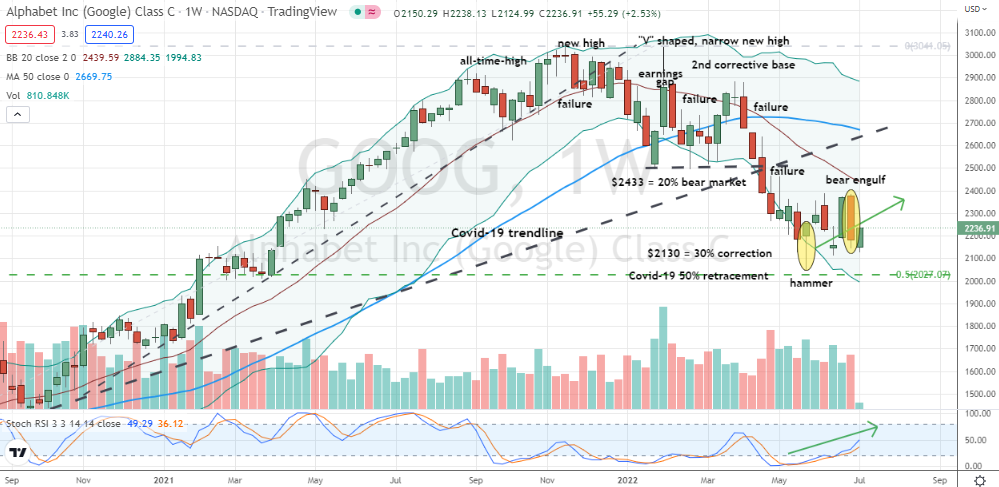 Click to Enlarge
Stocks, of course, are free to trade on their own accord. However, most don't and one would be hard-pressed to fight the broader market trend. And right now with a confirmed rally in place in the wake of the Jun. 24 FTD signal, it would appear a long bias for GOOG stock is strengthened.
But according to IBD, whose research is behind the concept of a FTD, this past week's failure in the major averages to hold their FTD lows warns of a 90% chance the current corrective and bear market bottoms won't hold.
So, what's a GOOG stock bull to do? Embracing what happens the other 10% of the time looks like a smart place to start.
The observation is Alphabet's $1.49 trillion valuation and importance to the market rightly summons the absurdity of "which came first, the chicken or the egg?" Rather than watch what an index like the Nasdaq might indicate for Google, investors are better served to monitor the health of GOOG stock's price chart and what it infers for the market.
Buying Alphabet Shares
In Tuesday's session, Alphabet shares are up about 2.5% compared to the tech-heavy Nasdaq's gain of 0.5%. In a vacuum, this looks bullish. More impressively, the leadership is reversing early technical weakness that narrowly extended last week's bearish engulfing weekly chart pattern. And in our estimation, the bears dropped the ball in a much more significant way.
Coupled with late May's bullish hammer off GOOG stock's 50% Covid-19 pandemic retracement level potentially completing its bear market and weekly stochastics trending bullishly and Tuesday's bearish failure hints of a GOOG stock that has dragged split buyers through the mud, there may finally be a stronger singular tool in hand to clean up for shareholders.
Bottom-line, there's always going to be imperfect information and uncertainties with investing. But entering 2022's second half, I am upbeat on GOOG stock's leading price action and view shares as a solid fully-hedged and actively-managed collar candidate for intermediate to long-term stock buyers.
On the date of publication, Chris Tyler did not have (either directly or indirectly) any positions in the securities mentioned in this article. The opinions expressed in this article are those of the writer, subject to the InvestorPlace.com Publishing Guidelines.