Efficiencies and Acquisitions of UGI give it an Edge in the LPG Market
UGI Corporation (NYSE: NYSE:UGI) is a distributor of propane and other liquefied petroleum gas ("LPG") products throughout the United States and Europe. This location divide is between their four segments: AmeriGas Propane, Midstream & Marketing, UGI Utilities, and UGI International, which primarily operates within Europe.
AmeriGas Propane is the largest retail propane distributor in the United States based on the volume of propane gallons distributed annually. Their services include reliable propane storage, delivery, installation, and repair for business and residential customers. They have an outreach of nearly 1.4 million customers in all 50 states from around 1,600 propane distribution locations.
Midstream & Marketing focuses on retail energy. It sells natural gas, liquid fuels, and electricity to customers at over 35,000 locations across the United States. This segment provides midstream services and electrical generation assets. This includes creating pipeline infrastructure, pipeline integrations, and utility service development.
The UGI International segment conducts the business of LPG distribution in European countries, serving over 517,000. The UGI Utilities segment provides gas and electric services to 700,000 customers in 45 counties in Pennsylvania and one county in Maryland. The business renders electric services over 2,600 miles of transmission and distribution lines and 14 substations.
This international foothold has allowed various strategic investments through renewable gas projects and enhanced the ability to replace aging infrastructure. A series of acquisitions, debt management, customer increase, and strategic administration have allowed for enhanced performance and new projects. As of May 2022, UGI has committed to an agreement with MBL Bioenergy to fund a $70 million renewable natural gas ("RNG") project, which is expected further to develop its stance in renewables and the RNG sector.
In addition to these projects, UGI has also committed to lower costs for its production. Over the past three years cost of revenue, the total cost of manufacturing and delivering a product or service to consumers, has decreased substantially, indicating the company remains financially healthy despite its continued growth and expected advancements in ambitious ventures.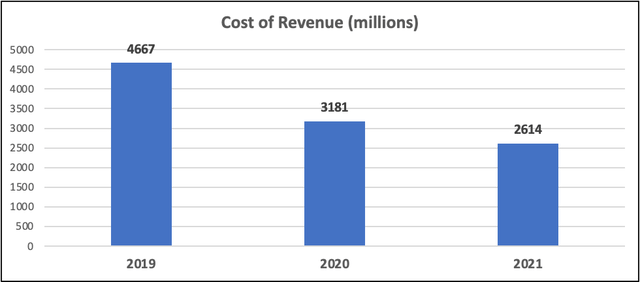 (Source: Koyfin.com)
The chart above shows that their total revenue cost has decreased year over year, even with the international event of COVID-19. This decrease has similarly allowed further expansion of distribution locations. This has allowed UGI to cushion the volatility of energy prices availability of energy products. Additional sources of cost of revenue mitigation include improved business processes which allow for increased customer conversion with less overhead. Further, UGI has developed several efficiencies related to its pipeline production and maintenance, allowing easier transactions and propane allocation. Despite an expectation in equipment costs and other critical resources due to supply chain disruptions, the business has continued to fortify and stick to its line of services and expand with target acquisitions.
Over the past year, UGI has made two notable acquisitions for more significant natural gas territory: Mountaintop and Stonehenge.
In September 2021, UGI acquired Mountaintop Energy Holdings LLC, the largest gas local distribution company in West Virginia, which served over West Virginia's 55 counties. This includes acquiring 6,000 miles of distribution, transmission, and gathering pipelines from the firm.
This contributed to UGI's Q4 2021 earnings report, of which core market and total gas utility volumes of UGI increased due to incremental supply from the obtained Mountaintop's assets. This acquisition has also benefited UGI in not only regional diversification, with Mountaintop complimenting UGI's Pennsylvania central location, but also allowed UGI to obtain 215,000 of the firm's customers, of which 90% are residential and 10% are commercial and industrial, giving UGI further diversification into the residential space for the eastern region of the United States.
In January 2022, UGI entered into a definitive agreement to acquire Stonehenge Appalachia, an investment expected to be accretive to adjusted earnings. Stonehenge's system has 47 miles of pipeline and associated compression assets, with a gathering capacity of 130 million cubic feet per day. This has increased the expansion of midstream natural gas gathering assets within the Appalachian region, which averaged a record 31.9 billion cubic feet per day of production in the first half of 2021.
The obtainment of Stonehenge boded a margin increase to UGI's Midstream and Marketing sector. In their Q1 2022 10-Q filing, Midstream and Marketing's total margin had a $4 million of their $21 million increase attributed to the recently obtained company, a near 20% benefit. Additionally, this acquisition aligns with UGI's long term strategic goals for expanding midstream assets within the Appalachian basin production region.
Further, in February 2022, UGI announced a partnership with Global Clean Energy Holdings to purchase and distribute renewable LPG. This repurchasing is primarily in California through GCEH's biorefinery, which forecasts production at approximately 13 million gallons of renewable LPG in its first year, with AmeriGas as a long-term purchaser.
With a combination of these acquisitions that grant UGI greater LPG diversification, higher margins, the company's decreasing costs of revenue, and its various projects for RNG development, UGI is poised for further growth and to be a primary propane provider during the winter heating season between October 2022 and March 2023.
With Supply Disruptions and Extreme Demand, the Cost of Propane is Positioned to Climb
According to the U.S. Energy Information Administration (EIA), two-thirds of the annual consumption occurs during the peak heating season (October through March), with an expectation for an increase in propane consumption for this winter.
During the peak heating season of October through March, demand is most impacted, as consumers need to heat their homes, conduct crop drying, and complete other provisional purposes. This usage is additionally reflected in UGI metrics. According to their recent 10-K, approximately 60% to 70% of annual retail propane volume for AmeriGas Propane and UGI International is typically sold during these months. Most of this is from residential impact.
Almost 6 million U.S. homes heat with propane; 4.9% of total households.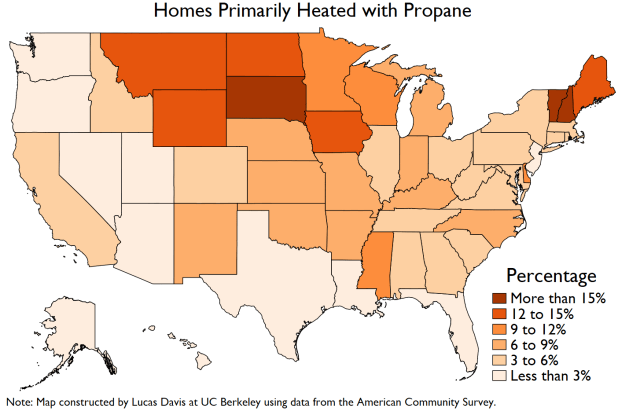 (Source: Energy Institute)
It is also essential to understand that propane distribution depends on where areas propane is unavailable. Additionally, several households could prefer propane for other reasons, such as some residential homes in Texas prefer propane because ice storms frequently cause power outages. This use is reflected in its surge since their winter storm.
However, the supply chain crisis is causing propane delivery impediments, notably with delivery trucks. Out of the many parts and components that are delayed by supply chain issues, extended truck chassis causes the most trouble. The chassis is the platform on which the rest of the truck is laid on and is meant to contain parts such as the engine, tank, and batteries.
Automotive manufacturers have stated that the chip shortage is causing an issue with supplies for chassis production. This also is causing longer lead times, making materials take longer to arrive and supplies not being delivered. The president of Fisk Tank Carriers, a company that constructs this equipment, Nathan Roberts, does not expect the situation to improve this year, with forecasts of lower propane inventory and driver levels.
Another potential supply chain issue with propane is decreased natural gas and oil production. Propane is a byproduct of natural gas processing and sometimes crude oil refining. It shares a correlation with production and distribution. Due to geopolitical tensions and decreased refinery capacity, there is a continued expectation of decreased propane production, even as demand for oil has declined in the short term. Past production suffered due to COVID-19 and supply constraints in 2020 and 2021.

(Source: EIA)
While supply chain disruptions and oil capacity can negatively impact business operations for UGI and similar LPG utilities – as sufficiently disruptive supply chain concerns may lead to a limited ability to obtain additional quantities of LPG – the company has prepared for these limitations with their aforementioned acquisitions and diverse natural gas production fields. Additionally, the company benefits from seasonal favorability and winter demand. This specificity of demand is at the core of a fundamental need and is less disrupted than an industrial customer's business activities versus the millions of individuals who rely on propane during the later seasons to survive. This favors the seasonal demand spike for UGI, even with preparation for decreasing national propane inventory.
As of June 2022, U.S. propane inventory has been below average. During the first week of March, inventory had hit its low for the year at 33.308 million barrels. Then, throughout March, April and May, the inventory builds were above average. However, this has not offset past lacking production levels. A further emphasis on the relationship between crude oil and propane. This macroeconomic volatility has further raised cause for concern in provisions for the year.
In November 2021, EIA predicted that U.S. households would spend between $1800 and $2200, depending on how cold the winter was. EIA has also forecasted that homes could see a further increase in propane prices by approximately 54% in 2022. Fluctuations, depending on the demand in winter, could range between 24% and 94% in price increase. Supplemental forecasts predict wholesale propane prices will rise as high as $2.57 per gallon.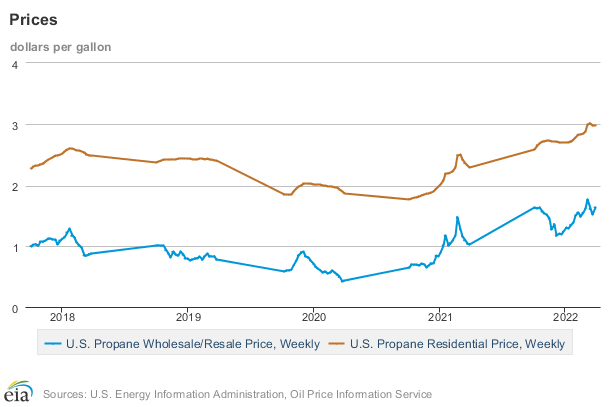 (Source: EIA)
This increase has not only affected the United States, but Europe as well. UGI International – UGI's segment for operations in central and western Europe – is a primary LPG distributor to countries such as France, the UK, and the Netherlands. All three are among the top twenty countries in the world for LPG consumption.
Typically, the summer months have naturally lower demand for LPG products, and the season is used as a means for utility firms to replenish their storage in preparation for the winter. However, recent events have caused disruption to this usual necessary supply for citizens. The EU received 40% of its gas from Russian pipelines, and amid geopolitical tensions and Russian sanctions, the EU has been looking for more ways to find alternative sources for their energy. This is not only due to the sanctions. In last year's heating season due to COVID-19 and supply chains weights on production, more gas than in any previously recorded year was removed from European storage, according to Gas Infrastructure Europe.
This is particularly damaging, as most consumption of LPG products like propane are for the homes of citizens. Nearly half of all propane consumption in the Europe goes toward the residential sector, the group most sensitive to the winter heating season.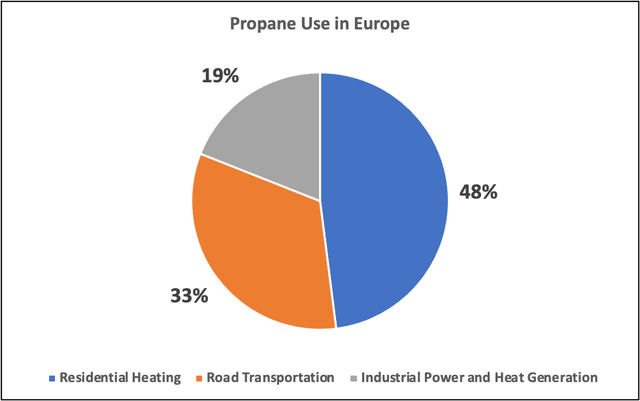 (Source: Liquid Gas Europe)
Europe gas analyst Kateryna Filipenko has stated that while current storage levels have softened the impact of continuously low Russian flows, a prolonged disruption could lead to significantly higher gas prices and potentially zero storage. Furthermore, with the current need for European utilities to start utilizing their reserves typically meant for the peak heating season, satisfactory levels for gas are unlikely to be reached.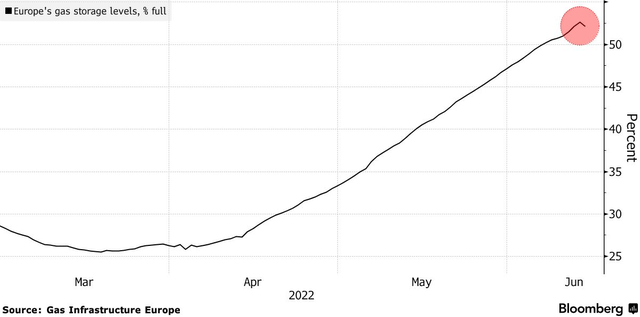 (Source: Gas Infrastructure Europe)
However, UGI International is sufficiently prepared to contend with the ongoing shortage. While business risks are the same as their operations in the United States – with LPG shortages making disruptions in energy distribution and operational difficulties – their segment in Europe holds additional benefits, with half of its supply coming from regions near Norway and the UK. In addition to their investments in their infrastructure to conduct more successful storage and distribution operations, the company holds not only a sizable internal foundation, but an advantage with diversification as well, operating in 17 countries across Europe. If the firm can meet the significantly higher demand for propane and other LPG products in Europe, UGI could benefit greatly in terms of earnings.
With UGI as not just a primary distributor in the United States and Europe, but also having a record of effectively handling supply chain concerns through natural gas resource diversification and improved business processes, they could be a key figure in taking advantage of a propane price increase for the oncoming winter.
Valuation
With a compelling case for seeing a propane price increase in the next six months, one may want to compare LPG utility equities to find one with the best performance. Despite its current downtrend year over year, UGI is showing vital valuation metrics compared to its fellow U.S.-based utility peers. We have compared its valuation with other U.S.-based, mid-cap utility competitors – Chesapeake Utilities Corporation (CPK), ONE Gas (OGS), Southwest Gas Holdings (SWX), and New Jersey Resources Corporation (NJR) – specializing in propane and LPG products. Our comparison metrics are the Price-to-Sales (P/S) and Price/Earnings-to-Growth (PEG) ratios.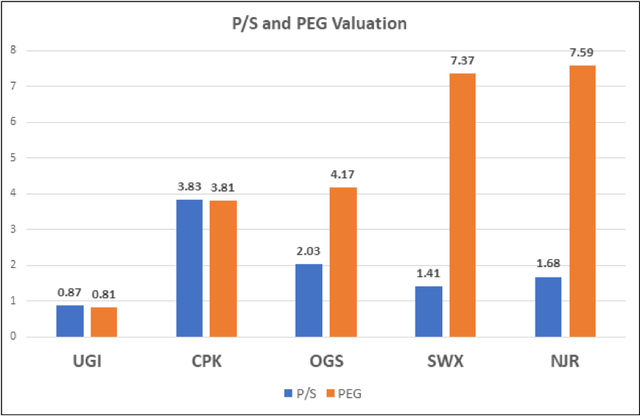 (Source: Koyfin.com)
Factors contributing to this advantage for UGI are their acquisitions, customer base, international reach, and systematic improvements.
While CPK and SWX have also recently completed acquisitions, neither hold as much significance as UGI's. CPK's acquisition of Davenport Energy only added 850 customers and around 406,000 gallons of propane annually, compared to the thousands of customers and expansion of operations Stonehenge and Mountaintop added.
There is also the focus on international exposure for customer reach that none besides UGI has. CPK is focused within Delaware and Maryland, with 74,000 customers. OGS provides service to around 2 million customers based primarily within Oklahoma, Kansas, and Texas. SWX holds similar numbers for their Arizona, California, and Nevada areas. Finally, NJR is wholly focused on New Jersey, with half a million customers throughout their various counties. UGI holds not only a higher diversification across the states but a European reach as well. This reach of operations has allowed them to maintain significantly higher revenue as they hold operations within European countries whose primary LPG demand goes to their residential heating, which, as noted, is one of the most significant drivers of sales during the peak heating season for LPG utilities.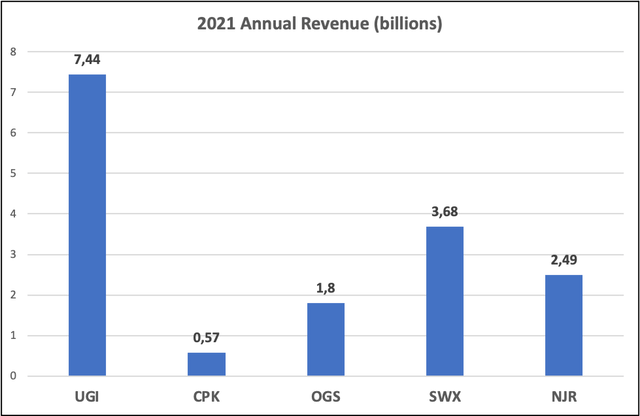 (Source: Koyfin.com)
UGI also holds an advantage in systematic operations through its constant business transformations. This includes attraction through renewable-based LPG resources, addressing emissions, and putting forth $276 million for the fiscal year 2022 to continue to provide safe and reliable service. According to their most recent 10-Q, by the end of Fiscal 2021, AmeriGas Propane and UGI International substantially completed their previously announced business transformation initiatives. Benefits are to be recognized in Fiscal 2022. This was in line with their previous year's agenda, as in Fiscal 2020, the business initiated a transformation project focused on corporate support functions such as finance, human resources, and information technology, rolled out with new infrastructure projects.
A potential complication is that this infrastructure expansion could be a severe future downside compared to its peers. The company's current focus is further pipeline construction and gathering systems for natural gas to allow for further expansion. However, these are vulnerable to several regulations, which could delay production or cause projects not to be completed in line with the business's budget. However, UGI has shown a proven history of project completion and is a business that can meet its obligations, and its acquisitions have allowed a decrease in total debt. Additionally, UGI has shown a history of reliability and customer satisfaction. In April 2021, UGI received an award recognizing it as the "Easiest to do Business With" firm among 38 utility companies nationwide.
Another impediment compared to its competitors is the global operational risk. Due to macroeconomic concerns, the company is more exposed to vulnerabilities in Europe. Their operations could be impacted due to geopolitical risk and other obstructions their more U.S.-centric competitors do not have. Nevertheless, with the expectation that propane can aid Europe's continued plan to maintain sanctions and further draw away business from Russia, the benefits may outweigh the risk.
We believe these unique international capacities, consistent growth, and business transformation advantages justify our valuation of UGI over its competitors, primarily due to shifting energy markets and expected demand.
Conclusion: Enter Long, but Expect Volatility
We assert that recent volatile energy events and seasonality have caused UGI's price to decline, but the stock has space and future possibilities to see a rebound. Paired with its continuous decrease in the cost of revenue, future capital obtainment, as well as its improving business processes and future projects for increased international distribution, we expect a rise in price as seasonality returns and the demand for propane and other LPG products becomes higher with this oncoming winter, due to a need for heating and appliances. Further, their acquisitions provide more ground for operations, and with initiatives met in emissions, customer satisfaction, and deliverables where even if a catalyst does not deliver on the expected extremities, the company is further poised for further growth through the end of 2022 and into 2023. Holding the largest U.S. propane distributor and an international advantage against its peers, the company's diversified operation sections can often mitigate potential risks. The company is in no financial distress and expects comfortable growth throughout the year, an expectation which is paired with an increase to its dividend to $0.36 with a yield of 3.2% as of this July.
However, volatility should be repeatedly addressed. Even major projects and acquisitions could not account for a sufficiently extreme change in the crude oil and natural gas sector, to which UGI is sensitive to movements. Despite crude oil remaining over $90 a barrel, the current geopolitical sphere is in a susceptible state, and recent developments in demand could poise for a decrease in the asset. We propose a risk-adjusted long position and waiting period throughout the month as the winter heating season draws near to decide on further allocation. Additionally, while demand in the intermediate may not be sated, there are potential short-term discrepancies that could temporarily control inventory levels and mitigate supply chain difficulties. Further fluctuation is expected, and an investor should proceed with caution.
We would like to thank J. Carlen for his contribution to this piece.