Thesis
Capri Holdings Limited (NYSE:CPRI) is down >35% YTD, which is significantly more than the S&P's -20%. However, I believe the levered selloff is not justified, as the company delivered solid Q1 2022 results and above-consensus guidance. What's more, Capri stock was never expensive to begin with and now at 2023 forward P/E of x6 investors might like to consider the stock as a bargain opportunity. I am a buyer at prices < $50/share.
About Capri
Capri Holding Limited is a global fashion group. The company develops, manufactures and distributes the full spectrum of fashion products including apparel, accessories, watches, jewelry, eyewear. Capri owns three of the world's most popular and iconic brands: Michael Kors, Versace, and Jimmy Choo. With approximately 60% of Capri's total sales, Michael Kors is the most important brand in the company's portfolio. Versace and Jimmy Choo account for 20% and 12%, respectively. Capri Holding operates worldwide: North America is the company's largest market, accounting for approximately 58% of sales, followed by Europe with 27% of sales, and Asia with about 15% of sales.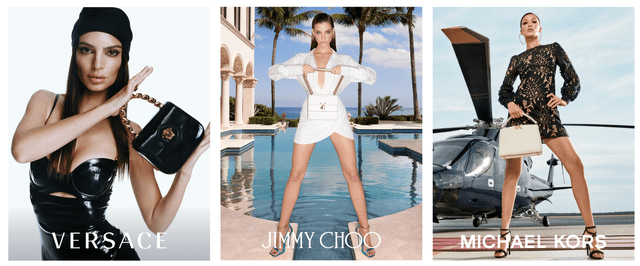 The Bull Case
I am positive on Capri Holding as I like the company's strong portfolio of high brand-equity names. I believe strength of brand is and will remain a key driver for companies to both increase sales volume and sustain high profitability margins-especially in the fashion industry. That said, despite macro-economic challenges in Q1 2022, Capri delivered strong results with topline growth of approximately 9% year-over year. Most notably, both revenues and margins were above street expectations and management raised guidance for full year EPS from $6.60 to $6.85. On the negative side, most of the company's headwinds were related to supply chain issues, as management claimed not having enough inventory in the U.S. to satisfy demand.
However, my strongest argument for investing in Capri Holding is simply based on extremely attractive financials in relation to the quoted market price. For reference, Capri is currently valued at a 2023 forward P/E of x6.3, Price/Cashflow of x5.5 and an EV/revenue of x1.5. Most notably, the company's current P/E multiple is approximately 2.2 standard deviations below the Capri's 2-year historical trading multiples of x11.3 P/E-implying approximately 50% upside if multiples were to mean revert. That said, in 2021 Capri generated revenues of $5.65 billion and achieved a net income of $948 million (16.8% margin), or $6.2/share. The company's balance sheet is somewhat stretched, with only $169 million of cash and cash equivalents against 3.04 billion of total debt. However, with cyclically adjusted annual cash from operations of >$800 million, there is no need to be concerned-in my opinion.
The Bear Case
In my opinion, Capri stock is significantly de-risked at a P/E of 6 and the risk/reward looks highly favorable. However, investors should note the following risks that might cause CPRI stock to significantly deviate from my target price: First, a slowing consumer confidence due to inflation outpacing wage growth and rising interest rates could cause a temporary slowdown in the consumption of fashion products. This would negatively impact Capri's topline results.
Second, Capri is significantly exposed to China, which is currently fighting various economic challenges. If the challenges in China turn out more persistent than expected, investors should adjust their expectations for Capri accordingly.
Finally, much of Capri's share price volatility is currently driven by investor sentiment towards risk and growth assets. Thus, investors should expect price volatility even though Capri's business outlook remains unchanged.
How Analysts See It
Analysts support my bullish thesis for Capri. Based on 23 analysts who cover the stock, there are 9 strong buy ratings, 6 buy ratings, and 8 Hold ratings. Notably, there is not one sell rating. The average target is $69.61/share and the highest target stands at $100/share. Most notably, the average target would imply approximately 60% upside. Even the lowest share-price target would imply 10% upside.

Moreover, according to the Bloomberg Terminal, as of July 5th, 2022, analyst see Capri's strong fundamental performance as sustainable. Revenues for 2022, 2023 and 2024 are estimated at $5.95 billion, $6.4 billion, $6.76 billion. This would equal a 3-year CAGR of approximately 10%, from 2022 to 2025. Respectively, EPS are estimated at $6.85, $7.43, $8.10.
Residual Earnings Valuation
Let us now look at Capri's valuation in more detail. I have constructed a Residual Earnings framework based on the analyst consensus forecast for EPS 'till 2025, a WACC of 10% and a TV growth rate equal to nominal GDP growth (3%).
In my opinion, the long-term growth assumption equal to GDP growth might definitely be an underestimation, but I prefer to be conservative. Similar arguments could be made regarding the 10% cost of capital.
If investors might want to consider a different scenario, I have also enclosed a sensitivity analysis based on varying WACC and TV growth combination. For reference, red cells imply an overvaluation, while green cells imply an undervaluation as compared to Capri's current valuation. Most notably, all tested combinations imply a material undervaluation!
Based on the above assumptions, my base-case target price per share is calculated at $84.09/share, implying almost 100% upside potential based on accounting fundamentals.


Conclusion
I regard Capri as deeply undervalued, given the company's very strong fundamentals and high-brand equity fashion portfolio including Michael Kors, Versace, and Jimmy Choo. My valuation framework anchored on analyst consensus EPS estimates, conservative cost of capital and reasonable TV growth expectation indicates almost 100% upside. Thus, for me, Capri stock is a strong buying opportunity. I initiate with $84.09/share target price.