Nasdaq bulls have narrowly reclaimed critical field position in July. But with more challenged price action to kick-off the workweek and market bears still worthy adversaries, having seven Nasdaq stocks to sell or short and profit from, should the bulls fumble control, could be key to a stronger portfolio in 2022's second half.
Investor anxiety tied to rising Covid-19 cases overseas with Macau casinos closing and a new subvariant in Shanghai. Skittishness in front of the second quarter earnings season. A Wednesday report on consumer prices and fresh look at inflation. They're persistent bad actors this year and helped drag the Nasdaq lower by 2.26% Monday.
What's more and after last week's much-needed rally which bullishly reaffirmed a shakier confirmed rally in the large-cap, tech-heavy index, bulls and bears are squarely back at the midfield line or rather 50% retracement level of the Nasdaq's historic pandemic driven bull market.
Today and in case the third quarter calls for investors to play a defensive and bearish game, here are seven Nasdaq stocks to sell or short before they get sacked even harder.
| | | |
| --- | --- | --- |
| MSFT | Microsoft | $253.67 |
| BKNG | Booking Holdings Inc | $1,738.25 |
| SBUX | Starbucks | $77.76 |
| ROST | Ross | $75.07 |
| EBAY | eBay | $43.2 |
| META | Meta Platforms | $163.27 |
| PYPL | PayPal | $71.43 |
Microsoft (MSFT)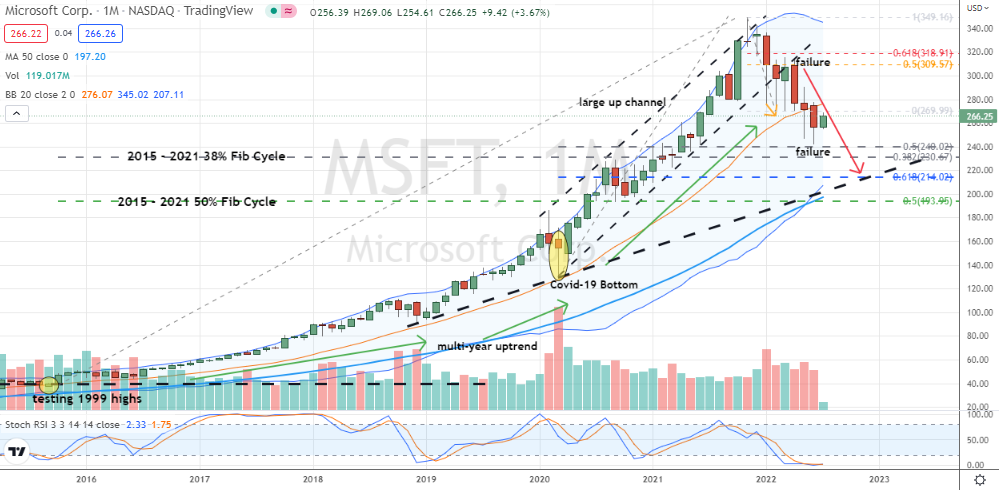 Source: Charts by TradingView
Microsoft (NASDAQ:MSFT) is the first of our Nasdaq stocks to sell or even short as a bearish investor.
Since November, MSFT has lost just over 30% at its lowest share price in June. It's a classic correction for a growth stock and maybe even slightly larger than one might expect for a tech giant of this Nasdaq stock's size. But it's not a buy.
Microsoft's forward P/E of nearly 25 and steeper price-to-sales multiple of 10, that's more than double what shares fetched for much of the prior decade hint that MSFT remains at risk. What's more, the monthly price chart suggests this is a Nasdaq stock to sell.
Technically, MSFT stock appears at risk of a larger bear market cycle if shares trade beneath June's closing low of $256.83. Bullishly, last month's candle shapes up as a hammer after testing the top of layered zone support from roughly $215 – $240 and undercutting May's doji decision candle.
My worry is if July's gains are relinquished.
Without hammer confirmation and shares sinking back into the lower half of June's weaker price action, this Nasdaq stock to sell would set itself up for a test of lower band support and possibly even $194 – $200 before a bearish cycle might complete.
Booking Holdings Inc (BKNG)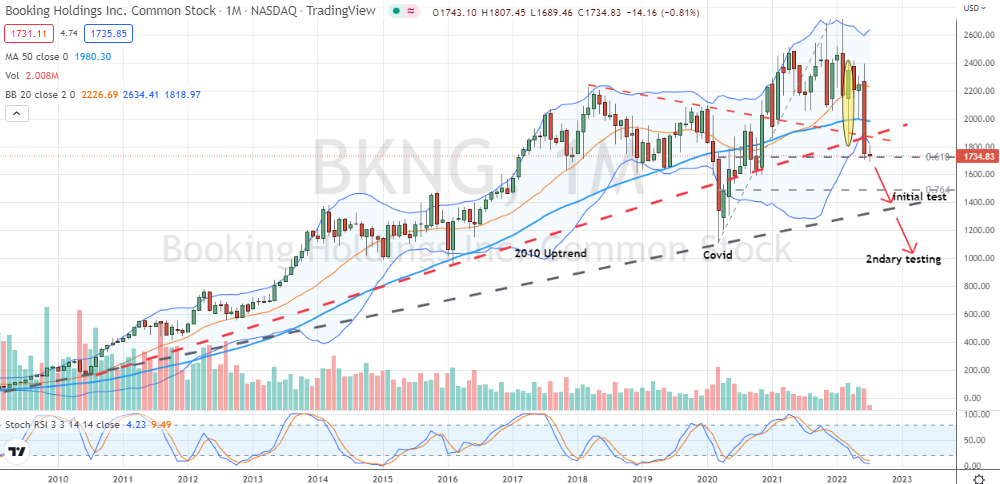 Source: Charts by TradingView
Booking Holdings Inc (NASDAQ:BKNG) is the next of our Nasdaq stocks to sell or to book a trip as a bear on.
The online travel reservations giant whose business tendrils include its widely-popular former namesake Priceline. It has done a terrific job of rebounding from the depths of Covid-19 back in early 2020 with revenues this past quarter ballooning by 136% over the prior year.
But with the latest challenges in China serving as an unwelcome reminder, the pandemic isn't completely in the rearview mirror. And that could once more prove bad for this Nasdaq stock's heavily-reliant discretionary fun and face-to-face B2B business model.
Even if we don't go back down that road with Covid-19, BKNG stock's monthly price chart is at risk of significant downside. June's bearish engulfing candle has already broken key hammer support from March and intersecting trendline supports.
Bottom-line, a failure to hold July's low which narrowly broke BKNG's Covid-19 related 62% Fibonacci level, warns of a drop towards $1400 in shares and possibly a full-blown challenge of this Nasdaq stock to sell's pandemic low.
Starbucks Corp (SBUX)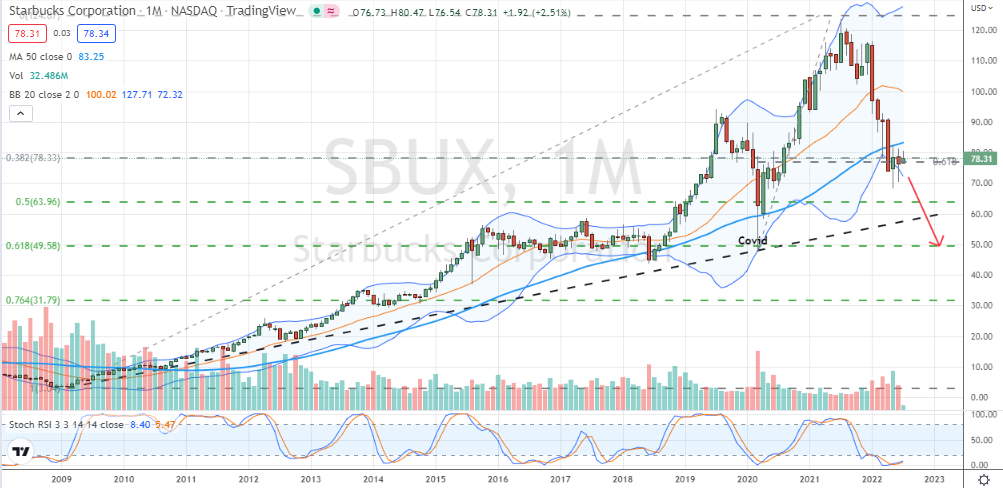 Source: Charts by TradingView
Starbucks Corp (NASDAQ:SBUX) is the third of our best Nasdaq stocks to sell.
With many consumers being forced to find ways to tighten the wallet in today's inflationary environment, cutting back on Starbucks is arguably one step in that direction. Sure, to some that pumpkin spiced latte skinny is an essential part of the day. But for many others it's expendable and discretionary spending.
What's more, with the price of coffee, baristas and everything else necessary to keep SBUX's business looking healthy on the rise, my guess is this Nasdaq stock to sell's earnings release in early August is going to disappoint. Technically, investors appear to be waking up to that possibility.
Today and as the monthly chart reveals, July is coiled within June's inside doji candlestick. With the indecisive price activity centered around a pair of Fibonacci levels tied to Covid-19 and SBUX's 2009 low, pattern weakening below $74 warns of brewing trouble that could take this Nasdaq stock to sell back to a test of its Covid-19 low near $50 before a bearish cycle loosens its grip.
Ross Stores (ROST)

Source: Charts by TradingView
Ross Stores (NASDAQ:ROST) is the fourth of our best Nasdaq stocks to sell.
Apparel and home goods retailer ROST stock is down about 35% year-to-date and outpacing the Nasdaq's bear market of 28%. But slightly cheaper merchandise isn't always more valuable.
In late May, this Nasdaq stock to sell missed street top and bottom-line views on declining same quarter revenues that fell 4.1% from 2021. An end to stimulus checks of course had something to do with the weaker results. But given Ross' budget-friendly wares and consumers motivated to shop for bargains, it begs the question, if not now, when?
Turning our attention to the illustrated ROST stock monthly price chart, a half-off sale doesn't appear to be getting investors excited to shop either.
Technically, shares are trading just above a decade long trendline after seeing its Covid-19 rally getting marked down by 50%. If three months of lows near $69.50, are challenged again, support is likely to fail big-time with this Nasdaq stock to sell landing on the bargain rack back at their Covid-19 bottom and one now adorned with a 62% retracement of 2009's financial crisis.
eBay (EBAY)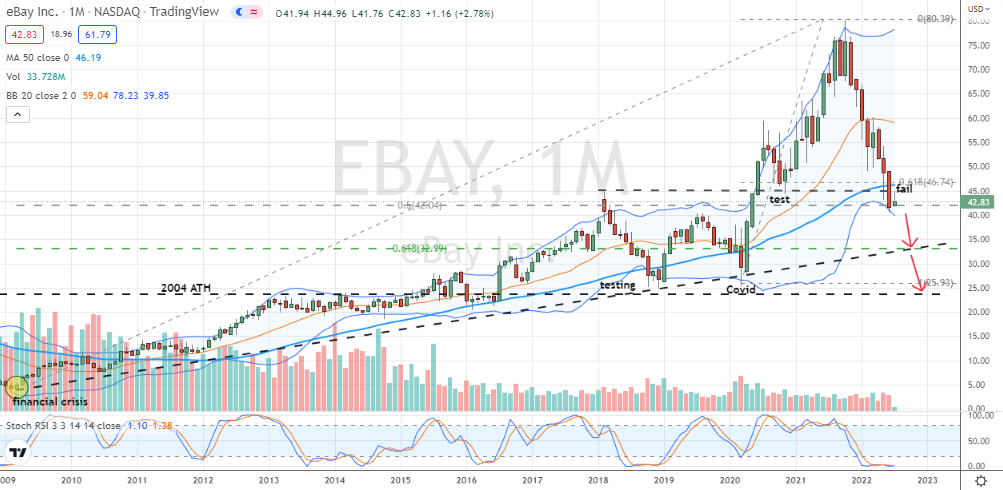 Source: Charts by TradingView
eBay (NASDAQ:EBAY) is the fifth of our Nasdaq stocks to sell.
If you've got time on your hands, don't mind coming up empty-handed or aren't dissuaded by a market that's less convenient these days than Amazon (NASDAQ:AMZN), maybe eBay is for you.
To be fair, I still use the online retail auction marketplace for hard-to-find sports jerseys. But I'm hardly going to keep this Nasdaq stock to sell's business growing in the right direction. And in May quarterly results indicated others aren't buying what eBay is selling either.
First quarter sales of $2.48 billion fell by 5.9% year-over-year, while gross merchandise volume declined by a hefty 20% and came in lower for a fourth straight quarter. A declining active buyer base slipped in similar fashion, while management warned for its second quarter citing the conflict in Ukraine, inflation and consumer confidence as headwinds.
Technically, this Nasdaq stock to sell is setting up for lower prices too. A failure of May's hammer candlestick which formed just above EBAY's 50% Fibonacci cycle from 2009 and around the Covid-19 62% level warns of a larger bear market towards trend and retracement support near $34 and then possibly the pandemic low just above $25 a share.
Meta Platforms (META)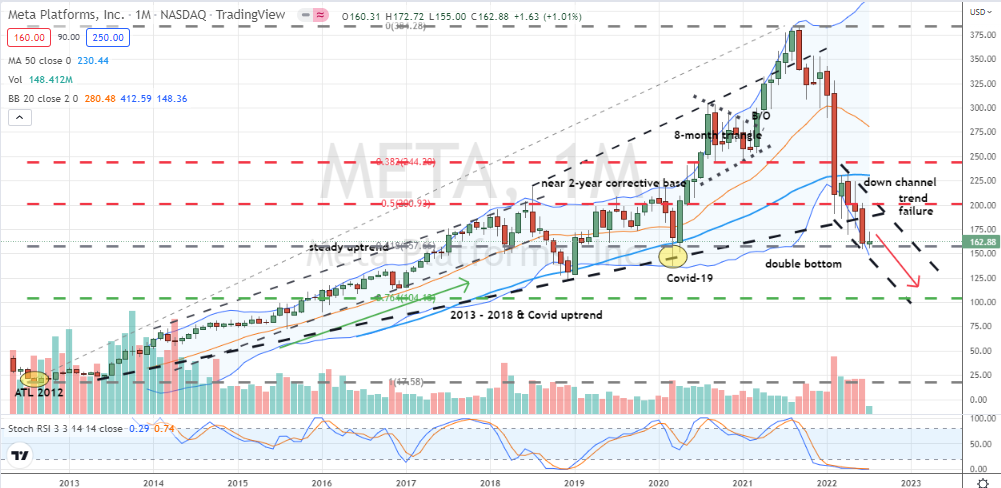 Source: Charts by TradingView
Meta Platforms (NASDAQ:META) is the sixth of our Nasdaq stocks to sell.
Meta Platforms has some real world problems. Facebook Reels is proving impotent against short form video rival TikTok. Alphabet's (NASDAQ:GOOG) YouTube controls the longer duration format. Competition in ecommerce from Google and Amazon is growing.
With those challenges, resulting weaker consumer brand value, as well as a costly metaverse pivot that comes at the expense of Meta's existing social media platforms Facebook and Instagram, analysts at Needham announced it's time sell META stock.
The price chart of this Nasdaq stock to sell largely agrees with the bearish call.
Technically, META shares have begun to develop a bearish down channel after breaking this Nasdaq stock's 2013 uptrend and a key hammer candlestick from April this past month.
Today and with bulls and bears tangling at the 62% retracement level dating back to Meta's 2012 all-time-low, a new relative low puts this Nasdaq stock to sell in position to trend past its Covid-19 bottom of $137.10 and towards the 76% retracement level of META's 2012 all-time-low and psychologically appealing $100 level.
PayPal (PYPL)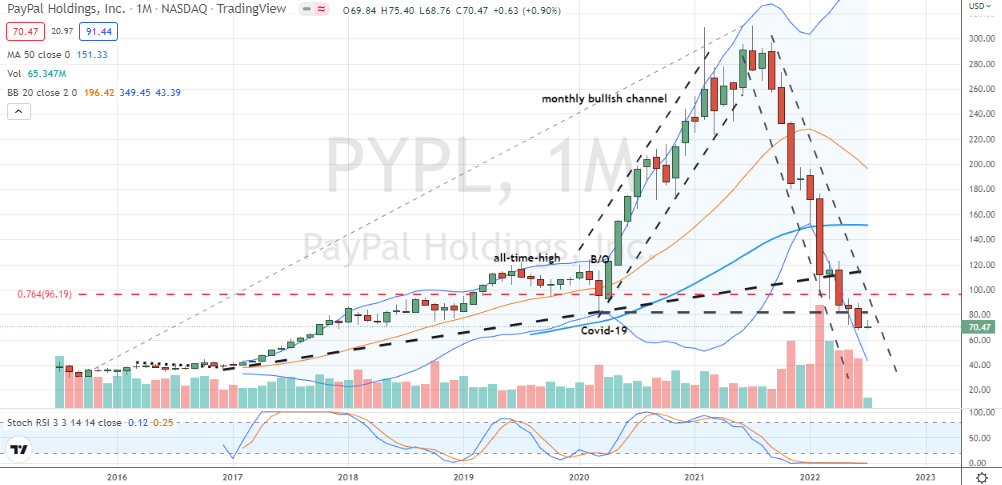 Source: Charts by TradingView
PayPal Holdings (NASDAQ:PYPL) is the last of our Nasdaq stocks to sell.
I haven't saved the best for last, but PYPL shares have proven among the Nasdaq's top laggards with the stock down 63% in 2022.
Share weakness in the digital payments giant has persisted despite being valued at less than 19 times earnings, offering a reasonable a sales ratio of less than 3.5 and forecasted to grow EPS by 24% in 2023 after an expected earnings contraction of 16% this year.
Following eleven straight years of earnings and sales growth since 2010, this Nasdaq stock to sell has also been a value trap for any growth investors attempting to buy shares on weakness. Amazingly, the trend continues to look bearish for PYPL investors.
Shares are stationed just below a May hammer candlestick bottoming attempt which undercut PYPL's Covid-19 low from 2020. Combined with an already failed lifetime 76% Fibonacci level and shares trending in a bearish channel, this Nasdaq stock to sell remains a falling knife unworthy of catching.
On the date of publication, Chris Tyler did not have (either directly or indirectly) any positions in the securities mentioned in this article. The opinions expressed in this article are those of the writer, subject to the InvestorPlace.com Publishing Guidelines.