Thesis
Lately, Alibaba's (NYSE:BABA) stock prices have been dominated by news and disconnected from business fundamentals. As you can see from the following chart, the stock prices fluctuated routinely in the double digits in a single trading day, which is completely absurd because business fundamentals for such a big company shouldn't change from day to day (let alone change for more than 10%). To cite a few examples, its stock rallied by 14.8% on May 26 when it released its March quarter earnings and by another 14.7% on June 8 when the China government approved video game licenses. Then on July 11, the stock price plunged 9.2% on the news that China fined BABA for its filing issues (even though the fine is only a token amount of $373k).
Such disconnection is certainly frustrating for some investors, especially in the short term. However, as we always remind ourselves and our members, such short-term volatilities only create opportunities for long-term investors. In particular, we see a substantial mispricing of both its valuation and its implied volatility caused by the large price fluctuations. Because of the mispricing in its valuation, you could ignore the short-term volatilities and focus on the long term only (a thesis that most SA bullish writers and ourselves have been arguing for).
This article will primarily focus on the second aspect, the mispricing of its implied volatility. And as an action idea, it will show that the current condition presents a good set-up for a long call option play in case you want to bet on the short-term with limited risk exposure (in terms of total dollar amount).
We will detail the mispricing in more detail later. But probably by eyeballing the price actions against those from Amazon (AMZN) in the chart below, you can already get a good idea of the magnitude of the mispricing. AMZN stock price has been fluctuating in a narrow range of negative 10% and positive 10% over the past three months or so. But BABA's stock prices change by double digits routinely as aforementioned. Yet, the options market's implied volatility for BABA is about 60% for call options expiring in Jan 2023, only about 33% above AMZN's 45%. And we will discuss next why such implied volatility is substantial mispricing.
Before diving in, I also want to mention that I co-produced a BABA article earlier this month with Envision Research. In case you've seen that article too, I wanted to summarize the differences here upfront. In a nutshell, they're completely different. That article focused on the lessons we've learned from our BABA investments and our long-term view (i.e., BABA's leading position in the e-commerce space). This article focuses on its volatility mispricing in the near term and the use of the option. It's an angle not only different from my earlier article but also different from other recent BABA analyses to my knowledge.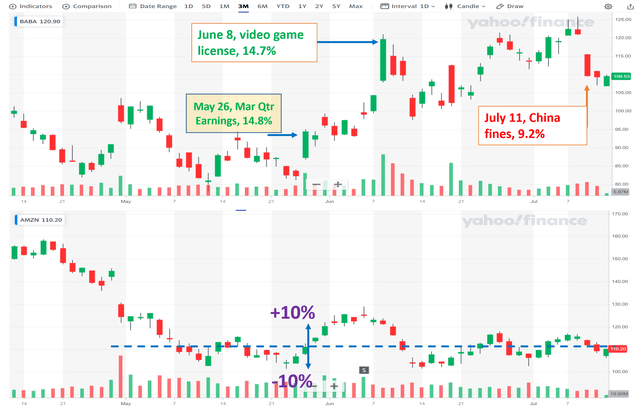 Business outlook and catalysts
BABA reported mixed results for its March quarters. On the positive side, it achieved 1.3 billion Annual Active Consumers Globally, a 2% YOY growth. The growth in international users is a highlight with a growth of 13%. Revenues from all its major segments (China commerce, International commerce, Local consumer services, Cainiao, and Cloud) all reported healthy YoY growth in the range of 7% to as high as 29%.
On the negative side, the business reported a net loss of RMB18.4 billion in GAAP terms. The business suffered an RMB18 billion anti-monopoly fine levied in the March 2021 quarter. Adjusted EBITA decreased by RMB6.8 billion to RMB15.8 billion YoY also. On a non-GAAP basis, the business reported a positive income of RMB15.8 billion, which was 23% lower than the quarter last year.
What's more concerning is that the business cited uncertainties with its investments in Taocaicai and Taobao Deals and the impacts of COVID-induced shutdown. As a result of these uncertainties, the business could not provide any forward-looking guidance, as CEO Toby Xu commented below (abridged and emphases added by me):
Now, in terms of guidance, since mid-March 2022, we have seen significant impact to our domestic businesses from COVID-19 resurgence in China, particularly in Shanghai, considering the risks and uncertainties arising from COVID-19, which we are not able to control and are Alibaba Group March Quarter 2022 and Full Fiscal Year 2022 Results Conference Call Thursday, 26th May 2022 12 difficult for us to predict. We believe it's prudent at this time not to give financial guidance that is typically provided at the start of the fiscal year.
Such opacity usually is a bad thing. Investors simply hate opacity. However, as we will argue next, due to such opacity, the market does not know how to price its volatility which creates an opportunity.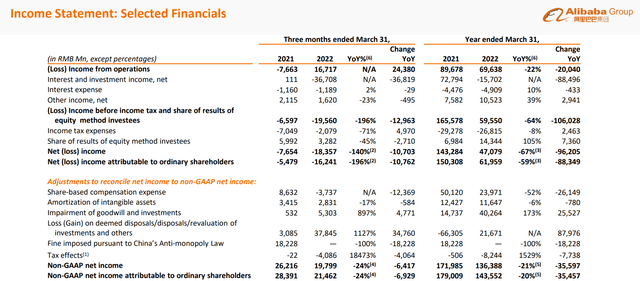 Volatility mispricing
As mentioned above, if you could ignore these short-term issues and focus on the long-term only, there's nothing wrong with just holding the shares.
However, the mispricing in its volatility also provides an attractive setup for a long call play. The setup has a couple of advantages compared to the buy-and-hold strategy. First, it can limit your exposure in terms of the total dollar amount. Second, it can take advantage of both the valuation mispricing AND also volatility mispricing (the buy-and-hold strategy only benefit from the former). Third, it provides a definitive expiration date.
As an example, as of this writing BABA call option with a $105 strike price that expires on 1/20/2023 sells at about $20 as you can see from the chart below provided by OIC. So $2k would provide exposure to 100 shares, versus $10.5k if you directly own the shares.
You also can see the implied volatility is ~60%. Again, to me, this is an underestimate. It's only 33% above AMZN's 45% implied volatility for near-the-money calls with the same expiration date. However, as shown earlier, the price actions in BABA shares can be 5x to 10x of AMZN's price fluctuations.
The implied volatility also is substantially lower than BABA's own historical volatility as you can see from the second chart below. Its historical volatilities have been close to or above 100% for extended periods of time and currently are about 83%.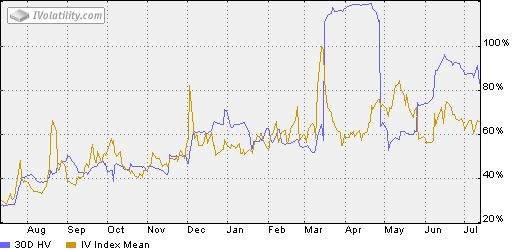 Final thoughts and risks
furthermore, there could be several catalysts in the new future (before Jan 20, 2023) that could trigger large price movements in either direction. The call is inherently asymmetric, so the downside is limited but the upside is not. The upcoming June quarter earning report is one such catalyst. The opacity from the March earnings calls sets the stage for surprises. The next important catalyst involves the revival of its Ant Group IPO. Its price actions on the day when the Bloomberg report broke the news serve as another example of the underestimation of its volatility by the market.
And finally, risks. The risks surrounding BABA have been discussed extensively already by other SA authors and ourselves (VIE, the "China" risk, competition, et al). We won't repeat them here and just want to point out that a call option is a way to limit these risks. Although we do want to emphasize the risks of using call options itself. Options can limit risks in terms of the absolute dollar amount. But it's riskier in relative terms. You can lose 100% and there is actually a good chance for that.