It's hard to go a day without seeing infamous billionaire and CEO, Elon Musk, in the news. On a whim he will often make statements that can not only move markets… but sometimes gets him in a little bit of trouble.
Most recently, Musk is trying to get out of his bid to buy social media company Twitter, Inc. (NYSE:TWTR) for $44 billion. As a result, Twitter is taking Musk to court in October to try and force Musk to follow through on his bid. This will be an interesting case since Musk doesn't have a lot to stand on; the deal is signed.
Whether or not they will settle, or Musk will be forced to buy the company remains to be seen.
For today, in this Market360 we're going to take a look at recent earnings from "Musk's companies" –Tesla, Inc. (NASDAQ:TSLA) and Twitter.
Tesla Beats Estimates Handedly
For all of Musk's misgivings, electric car maker Tesla posted better-than-expected earnings.
Tesla reported earnings per share of $2.27, a 57% increase year-over-year, and revenue of $16.9 billion, a 42% increase from last year. Free cash flow rose above estimates of $500 million, to $619 million.
It's true that supply chain issues and shutdowns in China have caused Tesla to raise the cost of its cars 25% to 30% from where they were a year ago… but margins shrunk to around 28% in the second quarter –falling below 32% from the first quarter.
During the conference call, Elon Musk said, "We've raised our prices quite a few times. They're frankly at embarrassing levels. But we've also had a lot of supply chain and production shocks, and we've got crazy inflation."
To meet its delivery goal the second half of the year, Tesla will have to ramp up production 70%, which may prove tough as China's zero-Covid policy threatens to shut down areas of the country again.
While Musk didn't give a production forecast for the end of the year, he did say that the company was likely to achieve "record" output.
Also notable is Tesla sold 75% of its Bitcoin (CCC:BTC) stake. The company said this was in order to maximize liquidity because of some of the issues it is having in China with Covid shutdowns. Musk said that it shouldn't be taken as "some verdict on crypto." Total sales for Bitcoin amounted to $936 million, causing Bitcoin to fall below $24,000 after it rallied earlier this week.
All in all, Tesla's put out good second-quarter earnings, which pushed shares up almost 10% during Thursday trading.
Had you been following Portfolio Grader, you would have known to buy: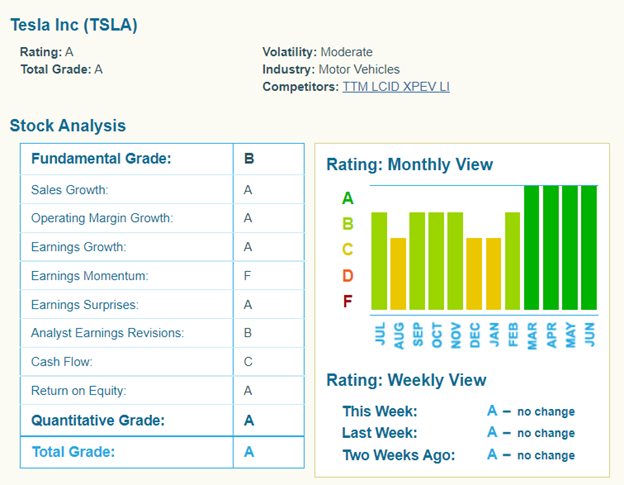 Tesla has sported an A-grade for four months now. During that same time period, shares have risen about 2.8%. While the single-digit raise in price may not be exciting, considering the tech-heavy NASDAQ is down 6% during the same time, Tesla is holding up fairly well.
Twitter Blames Musk for Earnings Miss
This morning Twitter reported missed earnings, revenue and user growth estimates.
Twitter reported an earnings per share loss of $0.08 compared to the expected earnings of $0.14. Revenue fell 1% year-over-year to $1.18 billion Wall Street was expecting $1.32 billion in revenue, an 10.5% growth from last year.  According to Refinitiv, this was Twitter's biggest revenue miss ever, with results coming in 11% below estimates.
As reported by CNBC:
The company partially blamed the revenue drop on ad industry headwinds tied to the broader challenging macroeconomic environment, as well as "uncertainty related to the pending acquisition of Twitter by an affiliate of Elon Musk."
Twitter said that the costs related to the Musk acquisition came in at about $33 million in the second quarter.
Not only that, but the company reported about a million less daily active users than expected.
With Musk's acquisition still up in the air, Twitter said it will not provide forward-looking guidance for the third quarter.
Twitter opened slightly lower on the news, though it did bounce back slightly in the afternoon.
Taking a look at Twitter's Report Card, we would have known to sell before earnings hit this morning…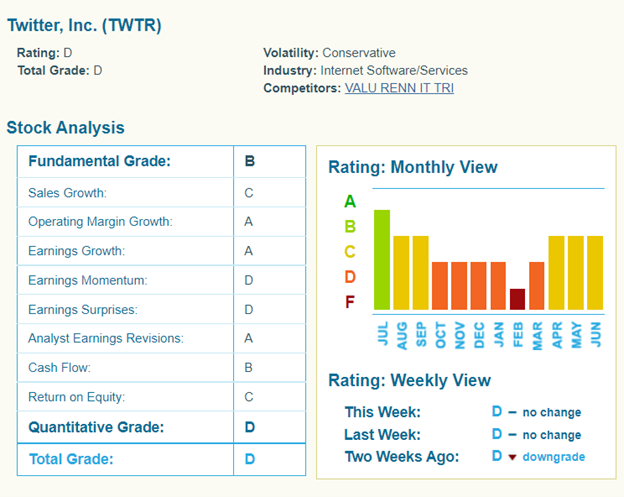 Right now, Twitter is sporting a D-grade. While Twitter and Musk's partnership still remains in question, I would stay away from this social media company.
And as you've likely seen this morning, Twitter isn't the only social media company struggling to make money.
Yesterday afternoon, Snap, Inc. (NYSE:SNAP) reported the weakest-ever quarterly sales growth since the company went public in 2017. The company reported a revenue increase of 13%, 7% below its April forecast. On top of that, its net losses jumped by 178% year-over-year to $422 million.
SNAP shares are down almost 40% as I write this morning.
As I've been saying folks, fundamentally strong companies will be lifted by earnings – while the weaker companies will continue to struggle. That's what we're seeing this week with TSLA, TWTR and SNAP.
My best advice right now is to focus on companies that are hyperscalable – the ones that can massively grow revenues while minimally growing the costs associated with producing, unlike TWTR and SNAP.
The good news is I found an exciting new hyperscalable company whose technology you likely use on a daily basis.
I just released my recommendation of this company yesterday – ticker symbol and all. It's a screaming buy with huge upside potential.
 If you want the name, click here.
Once you do, I'll also send you a free report called The Hyperscale: Why the Next Leap in Online Technology Could Make You 1,000% on the Best Little Stocks. Inside, I explain why now is the moment you've been waiting for.
For full details, sign up here.
One more thing before I go, keep an eye on your email for details for a special event sent to take place next Thursday, July 28, at 4 p.m. Eastern time.
I'll explain in more detail next week, but I'll give you a hint today:
It has to do with the best way to make cash now – and I can guarantee you it's not the way you'd think.
Again, stay tuned for more details next week!
Sincerely,
Louis Navellier
Editor, Market360