It's been a brutal year for the stock market. Year to date, the S&P 500 is down about 19%, marking its sixth worst year since the 1930s. 
Yet, amidst this year's volatility, certain stocks outperformed in a big way and made their investors lots of money. One example – solar stocks. This year, top solar stocks like Enphase Energy (ENPH) and Array Technologies (ARRY) are up 72% and 40%, respectively.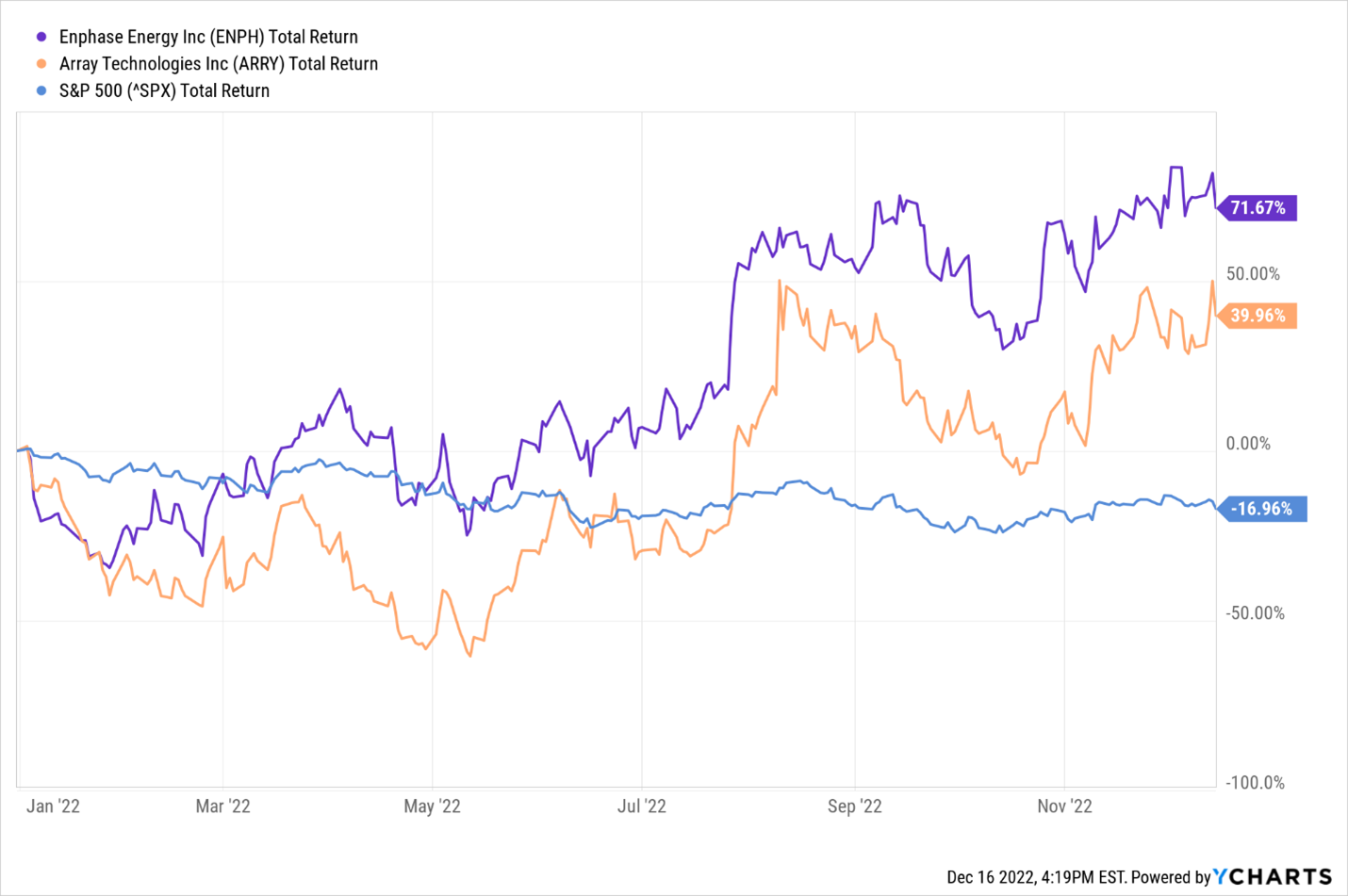 We firmly believe the 2022 rally in these stocks has runway into 2023. We actually believe solar stocks could be among the market's biggest winners next year yet again. That's regardless of if the market rebounds or stays stuck in a downtrend. 
Why We're So Bullish on Solar Stocks
Our confidence stems from the robust and accelerating business momentum in the solar industry right now. 
This past week, McDonald's (MCD) and five of its suppliers signed a deal to buy nearly 190 megawatts of power from the Blue Jay Solar Farm. That's enough solar energy to power all the warehouses, distribution centers, and other elements of McDonald's logistical supply chain for its U.S. restaurants. 
Big news. But the McDonald's deal was just one of many major solar industry deals struck in this past week alone. 
Meta (META) partnered with Silicon Ranch to construct seven new solar projects in Georgia and Tennessee to power the company's data centers in the area. National Grid (NGG) – one of the world's largest public utility companies – ordered 1.6GW of solar panels from First Solar (FSLR). Oil giant BP (BP) invested nearly $15 million into a solar energy startup. Louisville Gas and Electric announced a plan to replace 1,500MW of aging coal-fired generation with solar panels. Tokyo passed legislation requiring all new homes built after 2025 to have solar panels. 
Again, that all happened in the past week alone. The solar industry is on fire right now (no pun intended). 
In fact, the industry is so hot that the world's preeminent thought leader in energy research – the International Energy Agency – just dramatically increased its short- and long-term forecasts for solar industry growth in a brand-new research report. 
Specifically, in its December 2022 report, IEA researchers boosted their forecasts for long-term clean energy capacity expansion by 30%. In doing so, the latest estimates now call for the world to add as much clean power over the next five years as it has added over the past 20 years combined. The forecast is for solar PV capacity to almost triple by 2027.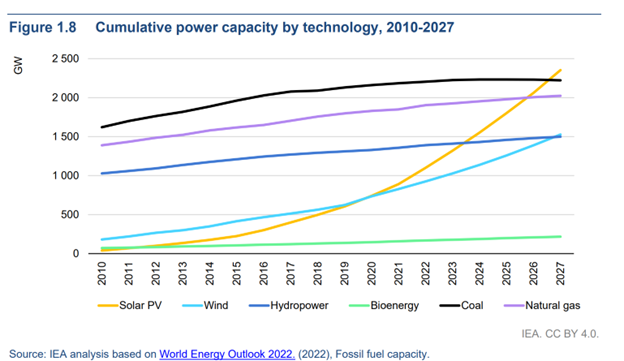 Alas, I repeat: The solar industry is on fire right now. The fire won't get put out anytime soon. If anything, it is going to burn brighter and hotter in the coming years.
As it does, solar stocks will keep soaring. 
The Final Word
Enphase is a great solar stock. So are Array and First Solar. But they aren't our favorite clean energy stocks to play the coming solar boom. 
We truly believe that clean energy stocks will be the market's biggest winners in the 2020s. Clean energy stocks could make millionaires in the 2020s, just like PC stocks did in the 1980s, internet stocks did in the '90s, and cloud stocks did in the 2010s.
Find out which clean energy stocks we're buying right now to position ourselves for this millionaire-making boom.
On the date of publication, Luke Lango did not have (either directly or indirectly) any positions in the securities mentioned in this article.