Right now, market headlines are evenly torn between those who think 2023 will be a continued bloodbath and those who think a rebound rally is long overdue. I'm in the latter camp, and I also fervently believe that now has never been a better time to be a diligent stock-picker.
In particular, I think "growth at a reasonable price" will be the biggest winner of the year, especially after last year's tech rout. Alteryx (NYSE:AYX), in my view, is a great choice here. This data integration software company is down by a more modest amount (-16%) than many of its enterprise tech peers, but I believe that is only poised to continue in 2023.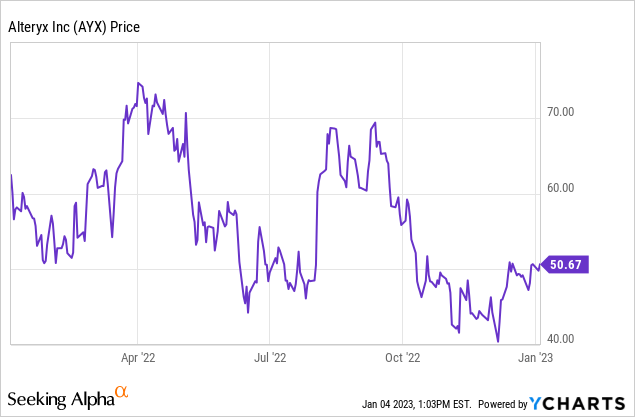 2023 to benefit from a large renewal pool
I retain my bullish outlook on Alteryx and would even recommend doubling down on an existing position at current levels. One particular reason I'm intrigued on Alteryx – on top of the company posting blazing >70% y/y growth rates in its most recent quarter and clearly catching up to post-pandemic enterprise IT investments – is the fact that the company enters into 2023 with a large renewal base. Several years ago, the company switched its most popular license deal from multi-year contracts to single-year durations. In 2023, per CFO Kevin Rubin's prepared remarks on the recent Q3 earnings call, the company will face a confluence of both last year's one-year renewals plus a large chunk of 2020 renewals coming due, providing a huge boost to revenue and a good chance to upsell these clients onto higher-ARR plans.
In addition, we are confident in the incremental growth drivers ahead in 2023.

First, we expect to have a meaningfully larger renewal base relative to 2022, which consists of both 2020 three-year renewals and the increasing cohort of one-year renewals. Second, we have a growing book of ELAs with burst capacity, creating upsell opportunities for large enterprise customers with high visibility in coming quarters. Third, we have a growing international presence with significant opportunity to further expand. Fourth, we have an expanding ecosystem of partners to accelerate our global market reach."
Alteryx's recent results (which we'll discuss shortly) also demonstrate rising sales productivity, giving the company plenty of firepower to capture this renewal window.
The bull case for Alteryx; valuation remains modest
Outside of this favorable tailwind for 2023, here is my full long-term bullish thesis for Alteryx:
Digital transformation is already underway – Companies want to use data to drive decisions. Unfortunately, data is sometimes locked in different formats and takes hours of manual work to untangle. Alteryx's technology helps with that process and automates one of the most labor-intensive pieces of adopting a "big data" strategy in the C-suite. Investing in technology like Alteryx may not have been a top priority during the pandemic, but it will become a much hotter-button topic as we look ahead.
$113 billion 2025 TAM – Alteryx's current ~$1 billion annual revenue run rate is only a fraction of its estimated current $65 billion TAM, leaving plenty of room for growth. Alteryx additionally expects its TAM to expand to $113 billion by 2025.
Truly horizontal software serving a wide variety of use cases across many industries – Alteryx's software is broadly applicable to clients in virtually any industry. An illustrative cross-section of Alteryx's customer base: Netflix (NFLX), Walgreens (WBA), Abbott Laboratories (ABT), Chevron (CVX), Wells Fargo (WFC), Visa (V), Marriott Hotels (MAR), and Facebook (META) are all among Alteryx's anchor clients, spanning every industry.
Best-in-class gross margins of ~90% are among the highest in the software industry – Virtually every dollar of revenue for Alteryx flows through to the bottom line, justifying the efforts that Alteryx makes on the initial sale.
Plans for significant profitability – At present, Alteryx is breakeven on a pro forma operating margin perspective (already better than many SaaS peers). Over the long run, it plans to generate pro forma operating margins in the 25-30% range, primarily by achieving economies of scale on sales and marketing. When a company like Alteryx has huge recurring revenue, over time the cost of sales support for that revenue base will eventually dwindle.
At current share prices just over $50, meanwhile, Alteryx trades at a market cap of just $3.50 billion. After we net off the $439.2 million of cash and $876.7 million of debt on Alteryx's most recent balance sheet, its resulting enterprise value is $3.94 billion.
For FY23, meanwhile, Wall Street analysts are expecting the company to generate $977.1 million in revenue, representing 16% y/y growth (data from Yahoo Finance). This puts Alteryx's valuation at just 4.0x EV/FY23 revenue – which is incredibly low for a company that is currently above a pro forma operating margin while also generating huge double-digit growth rates.
Q3 highlights
It's worth noting as well that Alteryx posted tremendously strong results in its most recently reported quarter.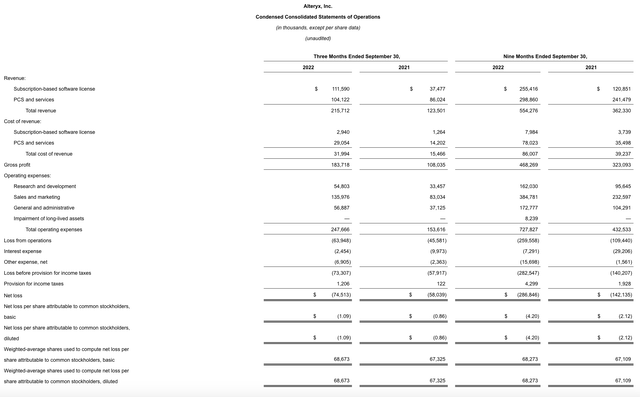 Alteryx reported 75% y/y revenue growth to $215.7 million in its September quarter, decimating Wall Street's expectations of $192.0 million (+55% y/y) by a huge twenty-point margin. Dollar-based net revenue retention rates clicked up to 121% (one point higher than 120% in Q2), and the company added 44 net-new customers to end at 8.3k total customers in the base.
ARR also grew 31% y/y to $757.7 million, impacted by foreign currency downsides like most other companies – in a constant currency scenario, the company would have grown ARR at a 33% y/y pace.
CEO Mark Anderson called out very strong sales productivity as a driver of the quarter's outperformance, as well as continued commitment by its customers to pursue digital transformation initiatives. Per his remarks on the Q3 earnings call:
We are tracking well across our key performance metrics. Sales productivity continued to improve year-over-year, renewal rates held near multiyear highs, and our net expansion rate improved for the second straight quarter to 121%. Our value-based go-to-market motion continues to resonate in this market environment, and our results demonstrate the strong execution across a meaningfully up-leveled sales force. In fact, we closed our largest new logo ACV deal ever in Q3.

We are pleased with our Q3 results. While we are mindful of the macroeconomic dynamics and challenges facing many companies, we are fortunate to see data analytics continue to be a top budget priority."
Efficiencies in sales and marketing have also helped Alteryx boost its pro forma operating margin to 2%, a ten-point boost versus -8% in the year-ago quarter:

Recall that Alteryx's long-term operating model calls for pro forma operating margins to land between 25-30%, primarily by driving down sales and marketing costs as a percentage of revenue to 28-30% (versus 53% in the most recent quarter).
Key takeaways
With growth tailwinds heading into 2023, an above-breakeven profitability profile, and a fantastic valuation, there is little reason not to be bullish on Alteryx. Buy now while it's still cheap.