This is the fourth offering in my series on the six most essential materials for grid-level battery storage, electric vehicles, and other electricity revolution innovations. I call these the "CCLANGs." I created this mnemonic to help interested investors stay laser-focused on developments within this investment domain. For the original overview of all, I suggest you also read the first: Bitten By The FAANGs? Try My CCLANGs Instead!
After steel and aluminum, copper is the third-most used metal in the world. My second article in the CCLANG series was about aluminum (here). I expect aluminum to supplant steel in many, if not most, Electrification Revolution products primarily because of its lighter weight but also for its better malleability and, in alloy form, similar strength characteristics.
According to the Chicago Mercantile Exchange, "the production and use of copper has been steadily growing for nearly 10,000 years."
I call your attention to the word "steadily." Copper usage increases with every new building, every new electric battery, and every new citizen born on the planet. That demand has previously been met with an equivalent amount of supply, with the price of the metal depending upon the balance or imbalance of supply and demand.
What has changed?
Everything.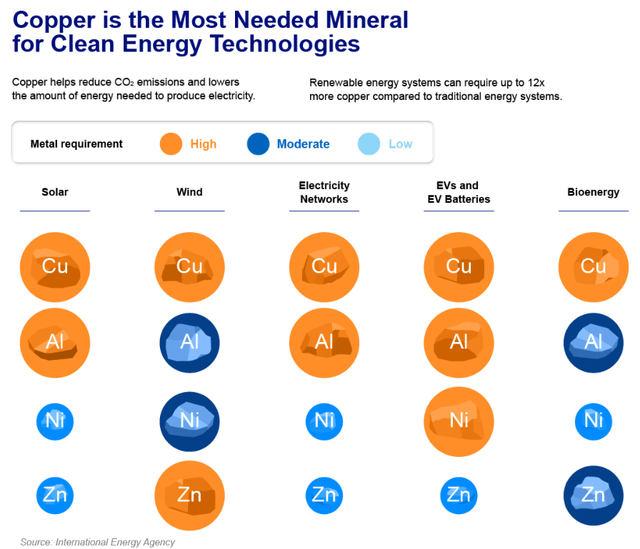 There is much disagreement from various websites on the exact amount of copper needed to make this Electrification Revolution happen.
Here is one visual example that I find incorporates most of the information I have found from many different sources, all in one place: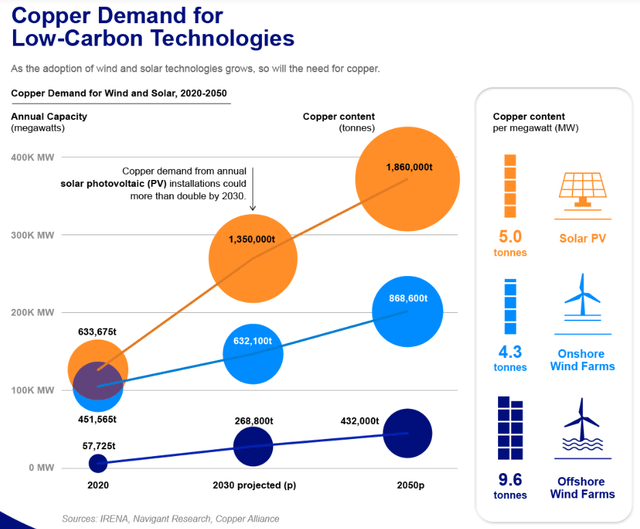 I believe the most concise statement of the issue — and most recent, as of mid-2022 — comes from well-known energy analyst Daniel Yergin, Vice Chairman of S&P Global.
He states, "Electric vehicles, solar and wind power, and batteries for energy storage all run on copper. An EV requires 2.5 times as much copper as an internal combustion engine vehicle, according to S&P Global. Meanwhile, solar and offshore wind need two times and five times, respectively, more copper per megawatt of installed capacity than power generated using natural gas or coal." He further notes, "The energy transition is going to be dependent much more on copper than our current energy system."
Okay, since we know we are going to need lots more copper, and since it is an abundant metal, why not just start digging and crank up more mines?
If only it were that simple. First of all, according to the International Energy Agency, a new copper mine takes about 16 years, on average, to get up and running. Recycling can help, but that is still not enough to get us where we need to be.
In my previous article about lithium (here), I referred to the fact that, too often, the people who shout the loudest that we must stop using oil and natural gas are the same people who shout the loudest that we cannot allow mining in the US.
The result, as Mr. Yergin concludes in his interview above, is that "There will be a new geopolitical order around minerals like copper…China has been more focused on creating a primary position in the supply chains for minerals that will be necessary for net-zero carbon, and copper is a prime example for what a key position they're in. Meanwhile, U.S. copper production has gone down by almost half in the last quarter century."
How Can You Profit From The Possible/Probable Copper Shortage?
Goldman Sachs' Commodity Strategist Nick Snowdon, in a lengthy interview, predicted that copper demand for low-carbon technologies will grow five times from 2021 to 2030.
I could suggest, for your further due diligence, the 15 top copper-producing companies in the world. For the sake of brevity, I will discuss only the top five. But please note that only one of them is a pure copper producer. And you cannot buy it.
(The following ranking is courtesy of Insider Monkey, available at the 5 Biggest Copper Companies in the World)
#1: Codelco, with a market value of $0 — because it is privately-owned by the Chilean state copper mining company. You cannot buy it, but it is the largest copper-producing company in the world.
#2: BHP Group Limited (BHP), the Australian mining company that mines copper, iron ore, gold, molybdenum, zinc, silver, and coal. A fine company, but certainly not a pure play on copper. If BHP is successful in its acquisition attempt to buy OZ Minerals Ltd., their percent of copper production will rise.
#3: Rio Tinto Group (RIO) explores for, mines, and processes aluminum, copper, diamonds, gold, borates, titanium dioxide, salt, iron ore, and lithium. [Disclosure: I own Rio Tinto and it is a holding in The Investor's Edge Growth & Value Portfolio.] The company's foray into lithium is relatively recent.
#4: Glencore plc (OTCPK:GLNCY) is an Anglo-Swiss mining company headquartered in Baar, Switzerland that produces copper, zinc, lead, nickel, gold, and silver. I like the company and may buy some shares. Again, even though it is one of the top copper producers, it is not a pure play on copper.
#5: Vale S.A. (VALE) is a Brazilian metals and mining company. It is also the country's biggest logistics operator. Apart from the production of copper, manganese, ferroalloys, potash, kaolin, bauxite, and cobalt, the company also operates several hydroelectric plants in Brazil.
…. And not a pure play among them. Of course, you should not expect to find a "true" pure play with any miner. Whatever you seek as a miner, you are bound to come up with many other minerals in the process of extraction and processing. I still prefer other firms that at least have a larger stake in copper relative to their size.
That is why I am buying, for this part of my CCLANG strategy, the best – and only – ETF that holds the "primarily" copper producers rather than the mining giants that produce lots of copper but also other minerals that might increase (or dilute!) their earnings from copper.
The ETF is the Global X Copper Miners ETF (NYSEARCA:COPX). While COPX receives a "Strong Buy" rating in Seeking Alpha's Quant ranking, it receives two "D" grades. I am willing to pay the 0.65% fee for the first D, and I *expect* most mining firms to get a lower grade for risk on the second D. These companies are not Nestle or Berkshire Hathaway!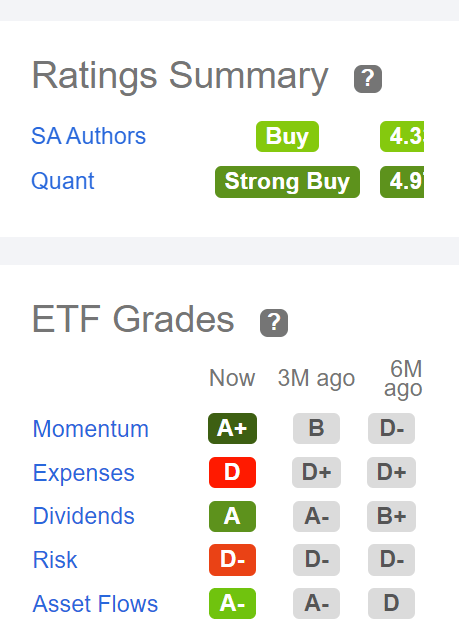 The top 10 holdings of COPX are: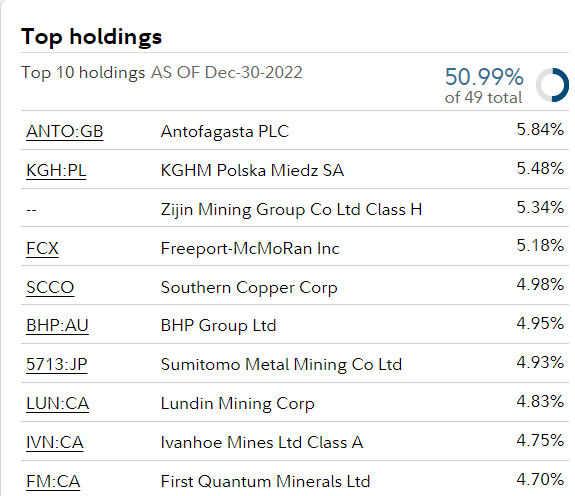 Please note one reason why SA might give COPX a low rating for risk. Of the ETF's Top 10 holdings, only two are headquartered in the USA – and both of them have their primary sources of copper elsewhere. This does not concern me. Canada, Australia, Japan and Poland are solid citizens with good regulatory supervision. I like it even better that there is only one Chinese company in the Top 10.
The next dozen comprise another 39% of holdings. Adding these, you can see a total of 90% of the portfolio. (The rest are held in much smaller amounts.)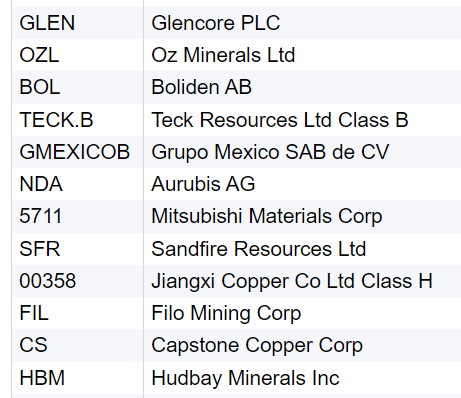 The "Peers" heading listed on SA is of little help in assisting us in performing a comparative due diligence, because there are no real peers. All these are either ETNs and/or commodity futures holdings. And even if they were valid competitors, COPX beats them all historically:

I believe "the only game in town" is COPX unless you prefer to buy one of the large multi-product companies listed as the biggest in the world by market value, above. I own some of them – but I also want to own copper in as close to a pure play as I can. In this case, the only game in town looks to me like one that is fair and square.
I leave you with this reminder that copper is all around us, not just in some abstract way. When I say all around us I mean right now, wherever you are.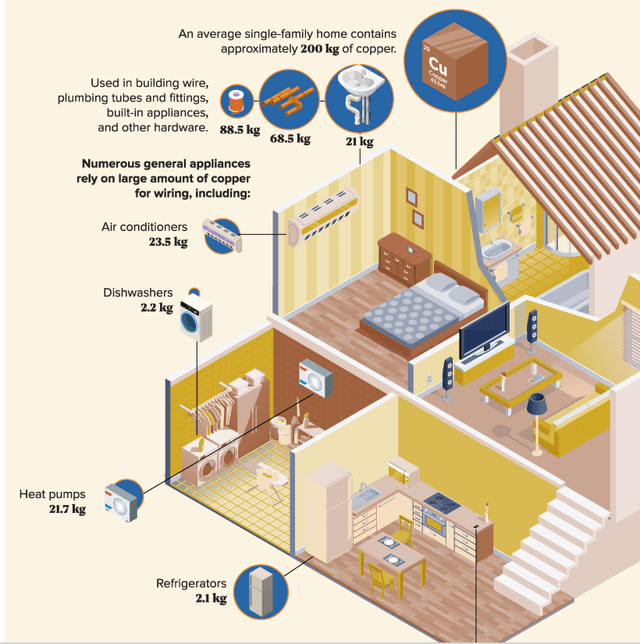 I am buying shares of COPX, the Global X Copper Miners ETF.
Good investing and thank you for reading,