Stocks are off to a hot start in the new year. 
We're only eight trading days into 2023, and yet the S&P 500 is already up about 4%. The Nasdaq is up even more, with a 5% gain year-to-date. And our core Innovation Investor portfolio is up almost 8% in that same time! 
A few of our stocks have already popped more than 30% in 2023!
What's happening here?

Well, a new bull market is emerging. 
Just look at the stocks that are leading and lagging in this rally.
In a new bull market, you tend to see things like housing, airline, copper, and industrial stocks lead the rally. Meanwhile, energy, utility, and healthcare stocks tend to lag. 
That's exactly what we're seeing today. 
Year-to-date, industrial stocks are up 5%. Housing stocks are up 10%. Copper stocks jumped 16%, and airline stocks are up a whopping 18%. Meanwhile, energy stocks are up less than 3%. Utility stocks have risen less than 2%, and healthcare stocks have gone nowhere.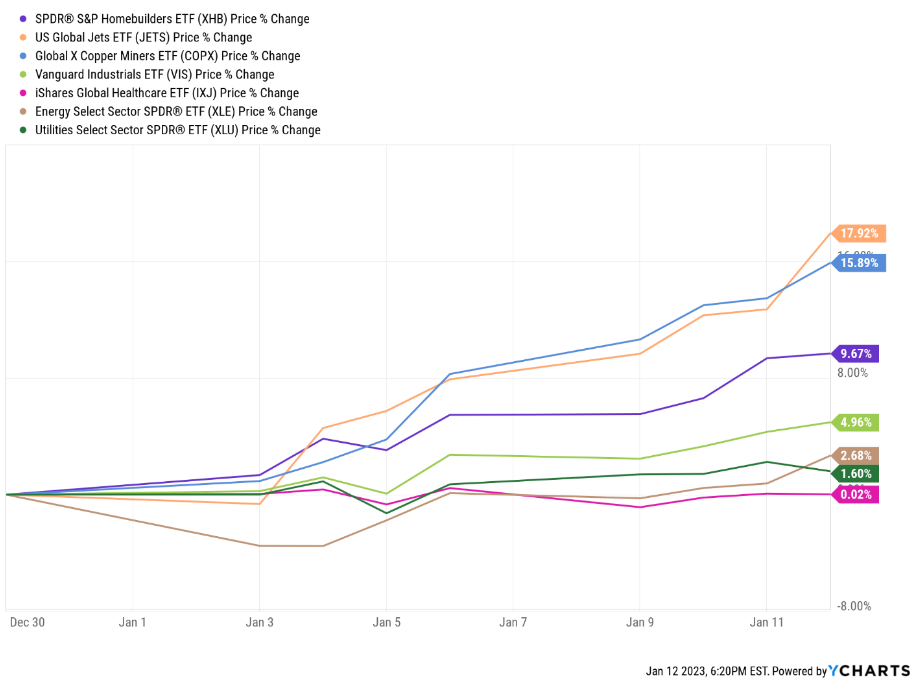 That's typical "new bull market" price action. 
We are seeing this price action because the incoming economic data is strongly suggesting that inflation is dying. 
A Bull Market Emerges
Inflation is the enemy of the stock market. Typically, when it rises sharply, stocks plummet. Conversely, when inflation falls sharply, stocks tend to rocket. 
Inflation is collapsing right now. 
Yesterday, we learned that in December, consumer prices fell month-over-month. They dropped 0.1% from November. Monthly drops in the consumer price index are exceptionally rare. They only happen about once every few years. But when they do, they always signal that inflation is dying.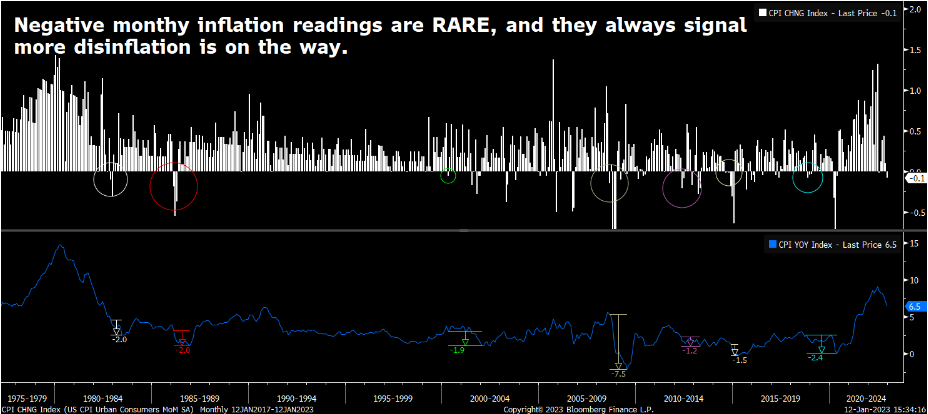 Sure, headline inflation rates in December were still 6.5% year-over-year. But that was a 70-basis-point slowdown from November's inflation rate, which itself was a 60-basis-point slowdown from October's inflation rate. 
At this rate of disinflation (60 to 70 basis points of disinflation per month), headline year-over-year inflation rates will drop to 2% by June!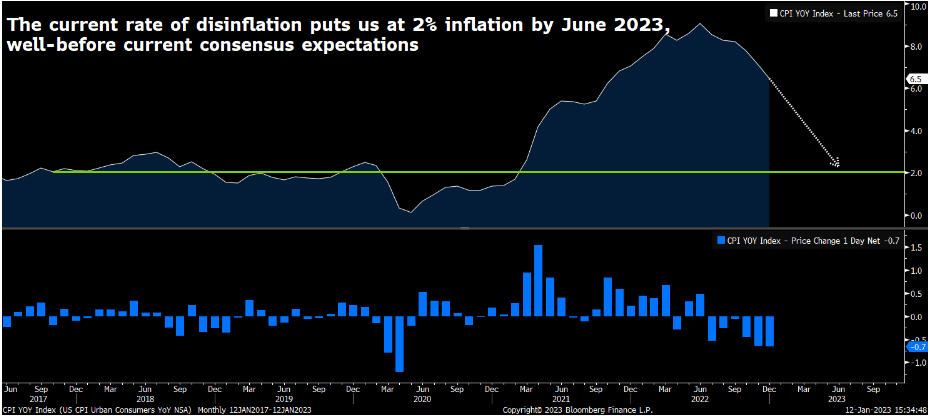 Forget what you're hearing on TV or reading in the paper. The data says inflation is crashing fast. 
That's why stocks are soaring in 2023 – and why they'll keep soaring for the next 12 months (at least). 
Stocks tend to soar in the 12 months after inflation peaks. Average returns going back to the 1920s? About 12%. And that includes The Great Depression and 2008 financial crisis – the only two times in history that stocks crashed after inflation peaked And we have neither condition present today. 
Excluding those, stocks tend to rally by about 20% in the 12 months after inflation peaks.

The Final Word
Put simply… 
When inflation crashes, stocks pretty much always soar for about 12 months. Inflation is crashing right now, so it's very likely that stocks soar over the next 12 months. 
In fact, given the dynamics at play today, we think that 2023 will be a record year for the stock market. 
We think a 30% or bigger rally is on deck. 
In this mega-rally that almost no one sees coming, certain stocks will soar 100%, 200%, even 500%-plus over the next 12 months alone. 
Investors who own the right stocks will make fortunes. 
So… the question is… do you own the right stocks?
We do. That's why our core portfolio is already up almost 8% year-to-date. 
Find out what stocks are driving those big gains and which could soar more than 100% this year alone.
On the date of publication, Luke Lango did not have (either directly or indirectly) any positions in the securities mentioned in this article.