Company description:
Ferrari (NYSE:RACE), as many know, is an Italian luxury sports car manufacturer, based out of Maranello, Italy. Ferrari produces a range of expensive cars, priced from ~$220k into the millions.
The Company was owned and founded by Enzo Ferrari before being sold to FIAT (Stellantis / STLA), which is part of the Exor umbrella. Currently, Exor hold ~23.7% of shares, with Pietro Ferrari (Son of Enzo) holding 10%.
Ferrari piqued our interest as it is one of the few luxury niche producers who are not owned by a big consolidating Group. Their most comparable competitor for example, Lamborghini, is owned by Volkswagen (OTCPK:VWAGY). Even if we look in another similar industry like fashion, we observe most of the niche high-end brands, such as Balenciaga or Gucci, are owned by Groups (in this case Kering (OTCPK:PPRUF)). For this reason, Ferrari serves as a case study of what can happen if a high-end brand remains independent (to an extent as Exor do also own >10% of Stellantis).
Since listing back in 2016, Ferrari's stock has gone in one direction, returning over 400% to shareholders in a mere 6 years.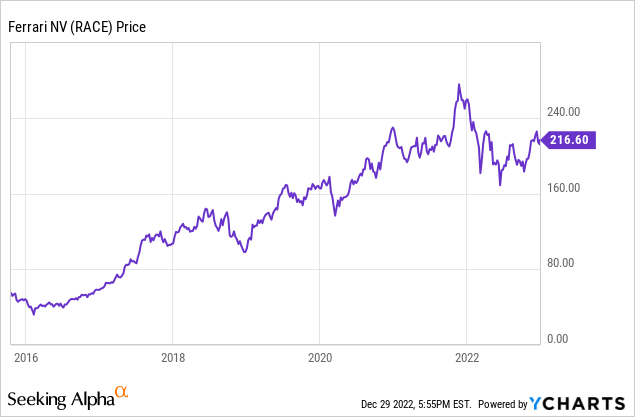 Our paper seeks to assess if this is driven by fundamentals and more importantly how sustainable this is going forward. Notably, we will assess if Ferrari have the scale to grow at a rate required to support its current valuation, as the company only shipped ~11k cars in 2021 and it is not something they can increase quickly.
Recent events:
For a while now Ferrari have hyped the release of its not-an-SUV SUV the Purosangue. Lamborghini released the Urus in 2017 to unanimous acclaim, revolutionizing the luxury SUV market. Now everyone is focusing on them, Aston Martin has the DBX707, and Bentley has the Bentayga.
Ferrari are the last to enter the market and the reason is pride. To its core it is a racing company and views SUVs as having nothing to do with racing, devaluing the brand by the mere association with it. The issue is that people seem to love luxury SUVs. Lamborghini shipped 8,405 cars in 2021, a mammoth 5,021 of those were Urus'. Thus, Ferrari have finally given in and created the Purosangue, but its CEO Benedetto Vigna was quick to say, "It's a sports car opening a new segment.", disassociating with SUVs.
Early signs suggest the orderbook is filled already, with only loyal Ferrari customers receiving an allocation. Orders will be filled from Spring 2023 onwards and the vehicle is priced at a significant premium to others in the market, almost double that of the Urus. Our view is that this was a necessary expansion for Ferrari and appreciate they have done it their way (Stating that it is not an SUV, V12 engine, premium pricing etc.). We await early reviews to assess if this is going to be a success, but early signs look extremely positive. The scope of growth is illustrated by Lamborghini who grew sales at over 1k cars a year. Even with Ferrari's premium pricing, we can see growth at high 3 figures for several years.
Luxury cars:
The luxury car market has gone through a major shift in recent years. Historically, luxury cars were built to order / fairly accessible to those with the ability to purchase them. Things have changed, one must now be invited to purchase in-demand models and must have a purchase history to even be considered. This means buying multiple cheaper cars and working your way up. Reuters estimates that the waiting list is 18 months for a Ferrari, but some models can be as long as 4-5 years. The case is the same for Porsche (OTCPK:POAHY) and other luxury brands. We see something similar in happening in the Watch market and even Fashion.
So how does this impact Ferrari? Well firstly, it means that there will be a consistent continual growth in shipped cars. For many years now, demand has exceeded supply and it is something that Ferrari has carefully curated. This adds to the Brand image of the cars being luxuries that not everyone can own / access. From an investors' perspective, the downside is that growth never reflects the true capacity of the business and in a sense is leaving money on the table. We would strongly rebuke this as it is a necessary requirement in order to keep the brand as valuable as it is, consumers love scarcity.
When we look at the number of cars shipped, we observe a gradual increase over the historical period. A dip occurred in 2020 as a result of COVID-19 which distorts the numbers somewhat but overall, we see a CAGR of 6% between 2021 and 2015.
Our estimate for 2022 full year is 12,992, which will mean a 16% increase since 2021, a second successive year of >10% growth. This shows how demand has increased recently and Ferrari's ability to respond by increasing production. Many luxury producers can struggle with increasing capacity, but Ferrari so far has shown flexibility which does not seem to have impacted quality.

Forward looking: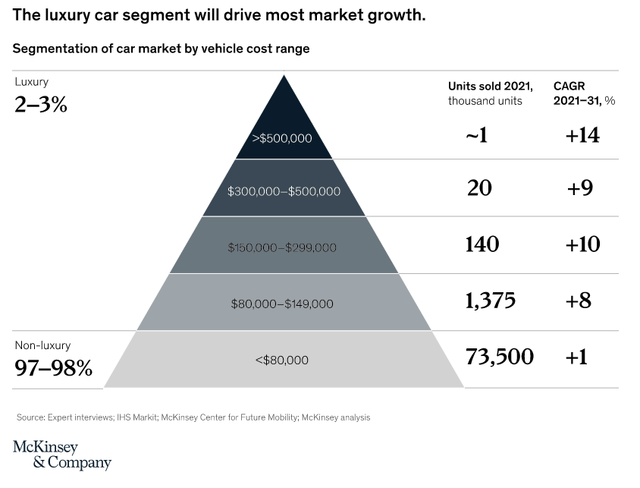 McKinsey believes much of the growth in vehicle sales will come from the Luxury segment, with cars costing >$150k growing shipments at a CAGR of greater than 10%. McKinsey attributes the reason to something we highlighted earlier, there are a growing number of ultra-high-net-worth individuals (UHNWI) and specifically located in Asia and the Middle East.
EV transition:
Additionally, McKinsey sees the transition to Electric Vehicles (EVs) as a key long-term differentiator. Currently, the $80k-$149k band is in the transition phase with the $150k band expected to start in 2025 onwards. This will be an interesting time for Ferrari as this is the antithesis of their values. Ferrari will likely be one of the later ones to follow but as with the Purosangue, being late is not a bad thing. Interestingly, McKinsey believe SUVs will lead the growth in Luxury EVs, which again reiterates what a good decision the release of the Purosangue is and why this release must be a resounding success.
Direct to consumers:
Another interesting development in the market is the move towards direct to consumer go-to-market retailing. There are multi benefits of this but can only really work is the Brand is strong enough to support a lack of agency.
One advantage is the cost saving, McKinsey estimates the saving to be over 5% of sales, which is a material improvement to margins.
Further, this allows Brands to directly improve and develop the customer relationship, investing in the luxury buying experience through a tailored interaction.
Ferrari are primed to take advantage of this, their Brand is market leading and the waitlists support the independence of Ferrari, salesmen are not needed.
Economic considerations:
It goes without saying but current economic conditions are not healthy. We are seeing record levels of inflation and interest rates rising to respond to this. The impact of this is reduced discretionary income and greater debt costs.
Although the purchaser of a Ferrari is likely not suffering with their cost of living, they are impacted in tangential ways. The cost of owning a Ferrari, especially purchased on finance, will now increase. This for many can put them off a purchase altogether or cause them to defer a purchase. Further, this has impacted financial markets and business profits. UHNWI are likely tied to markets in one way or another, be it as business owners or market investors. This means that they are seeing their wealth damaged by recent developments and for many will mean the sale of assets, rather than the purchase of luxuries. In theory, this suggests that demand will fall, and Ferrari may see contracting sales.
The reality however has been different so far. The number of cars shipped in Q3 2022 was only ~200 less than the quarter previously, with shipments forecast to increase in the full year. The reason this has occurred is because of the excess demand. Hypothetically, if the number of potential Ferrari purchasers has fallen 20%, but only 70% of potential purchasers can buy in a given year, then sales will not fall. This is the benefit of tapering sales. Does this mean Ferrari can navigate the tough year ahead without seeing sales fall? Maybe, but I wouldn't price that in. Instead, we should see this as a sign that Ferrari will not be materially harmed, like many luxury producers.
Our view is that interest rates will continue to rise in the West until there is clear signs that inflation will fall below 5%. For many economies, including most of Europe, a recession will likely be triggered as GDP growth is currently very mild. The US has remained very strong and so it is yet to be seen what the impact will be.
Our view is that Ferrari can achieve <10% growth in shipments in FY23, although would not be surprised if it remains flat. In our view, this would be a successful year.
Financials and peer comparison:

Ferrari has grown extremely well over the historical period, with slight margin improvement resulting in NI growing at a faster rate than revenue. This has been achieved by a reduced margin spend on both R&D and sales, which suggests the scope for economies of scale is high as the number of cars shipped is only growing at 6%.
When we compare Ferrari to its peers, we observe an impressive superiority. It should be noted that the majority of the peers chosen to not specialize in luxury cars but instead have Brands that do. That said, Ferrari is superior in almost every metric, owing to its profitability advantage. This is derived from its ability to utilize its Brand to sell at higher prices, whereas many of these peers rely on being price competitive.

Unfortunately, Ferrari's balance sheet is less attractive. Although it is in line with the industry, and their leverage ratio is a respectable 14x, the business is certainly susceptible to issues should a significant downturn occur. The reason for this is that debt has grown at a CAGR of 8%, suggesting it is tied to the growth in revenue, although net debt has only grown at a CAGR of 1%. Given that Ferrari do pay a small dividend, we would like to see the debt position reduced, or at least its growth slowed. Companies like Volkswagen and BMW (OTCPK:BMWYY) can afford to run large debt balances as they have easy access to debt and are arguably too large to fail. Ferrari at its scale does not benefit from either of these points.
Valuation:
Ferrari is expensive, really, really expensive. It is currently trading at levels well above the industry, with analysts suggesting an upside of only 8%.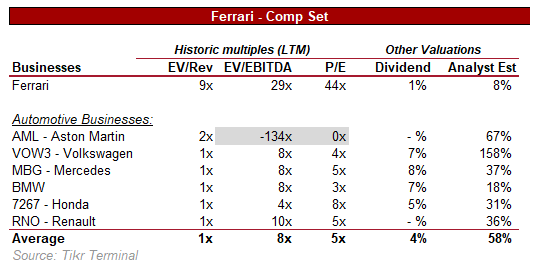 This touches on the point mentioned at the start of this paper, can Ferrari's stock grow sustainably going forward. At a valuation of 29x LTM EBITDA and 44x P/E, it is difficult to see how the stock can move upwards in current market conditions.
Given the Brand and unique profitability profile of the business, a premium is certainly warranted but it is trading at a luxurious level. LVMH (OTCPK:LVMHF), a luxury counterpart, has a FCF yield of 20% and only trades at 17x EBITDA. We cannot argue that Ferrari is a Brand more so than a car company and price it as such. It is just far too expensive.
Conclusion:
Ferrari is a unique business with true heritage, and they will do anything to defend that. They will refer to their SUV as not an SUV, they will drip feed demand to keep interest high and they will blacklist celebrities for modifying their cars. This is highly respectable in a world of short-termism and selling out for profits. This said, logic should not be thrown out the door for passion. Ferrari is expensive in a bull-market, let alone a bear one. We do however very much like the business and will certainly pick shares up if the stock re-rates to levels more reflective of its current position and the market as a whole.
Editor's Note: This article discusses one or more securities that do not trade on a major U.S. exchange. Please be aware of the risks associated with these stocks.