Introduction
Voyager (OTCQX:VYGVF) continues to elude and perplex investors and its current stock price and valuation are reflective of that. An outsider looking at the current price action wouldn't be faulted for believing that Voyager was a company on the brink of bankruptcy, hemorrhaging customers & capital with a failing business model. But this couldn't be further from the truth.
Voyager is about to hit its 12 month low despite making massive strides over the last year that should bring confidence and comfort to equity investors. All of the core business metrics including funded accounts, verified users, assets under management, Revenue and CMGR (Compounded monthly growth rate) continue to tell a story of a company that is firing on all cylinders with a bright future ahead of it. According to a recent interview the CEO gave with Daniel from The Finance Channel, the company is now the third largest in the U.S. in terms of funded crypto accounts, behind just Crypto.com and Coinbase (COIN).
Deep Value
Deep value has many meanings to many individuals, often depending on who you ask. In this context, I am using "Deep Value" to refer to a massive gap between price and performance. This particular gap may have some explanation from a macroeconomic perspective, but has no rational explanation when looking at the core business fundamentals of Voyager itself.
Thesis – Voyager is in Deep Value Territory
In my opinion, Voyager has entered "Deep Value" territory. The stock price has become entirely decorrelated from the company's core fundamentals creating an opportunity for outsized returns. Despite continuing to post strong revenue and customer growth numbers, the market has continued to discount Voyager. With Voyager's current $1.26B USD valuation and projections between 471M and 1.07B in revenue for 2022, forward P/S is at a historically low range of 2.67-1.17. With all growth companies, the organization must continue to post strong growth numbers year over year to justify its valuation. Despite these expectations, Voyager actually continues to meet and even exceed market expectations. In fact, according to the CEO, Voyager had the third largest YoY revenue growth out of EVERY publicly listed U.S. company. All of the fundamentals are pointing towards a company with a very strong core business and it is just a matter of time before the market catches up.
The Fundamentals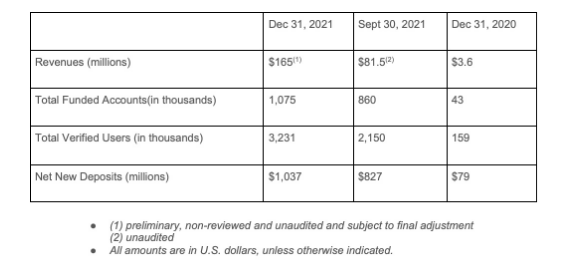 Fundamentals are always the best place to start when trying to look for trends within a company. In Voyager's case, the fundamentals have been on a steady upward trajectory for over a year. Data above is taken from a press release highlighting YoY growth. The company has expanded its number of employees from 35 to over 250 and made several substantial acquisitions over the past year. Revenue, funded accounts, verified users and new deposits have all skyrocketed year over year despite the stock price now approaching yearly lows.

Looking at the trend QoQ, the story remains the same. 1 million funded accounts was a fantasy in January 2021, but is now a baseline reality in January 2022. Conversion from verified users to funded accounts remains strong, even in the face of increasing scale. AUM continues to increase despite volatility and declines in the crypto market. Revenue per funded account remains volatile, but still remarkably high given current market conditions. Fundamental resilience in revenue and growth numbers – resilience that often outperforms competitors, is quickly becoming a theme for Voyager's business.

Looking at competitor QoQ performance, Voyager had shallower declines in revenue while simultaneously posting higher growth. In other words, Voyager appears to have a more resilient and higher revenue generating business model over competitors. Most notably, Robinhood (HOOD) generated only $48m in crypto revenue in Q4 while Voyager posted $165m of total revenue in Q4. While Voyager's total revenue increased by 102.45% QoQ, Robinhood posted a 0.53% decline. Any way you look at it, Voyager has had a phenomenal 2021 and the fundamentals of the company remain strong.
Revenue Scenarios
With a year of data now to work with, we can start to construct a picture of Voyager's future. In keeping with my last article, I will project four different scenarios: bullish, realistic, bearish and disaster. As we will see, even in the worst case scenario, Voyager's business remains strong. The revenue per funded account that is used for all four scenarios is a low of $94.77, reflecting Voyager's worst quarter in 2021, and a high of $164.66, reflecting Voyager's best quarter.
Scenario #1: Bullish (15% CMGR)

Under this scenario, crypto has a resurgence, similar to what was seen in October/November, and Voyager gets a subsequent uptick in revenue and customer growth. In this scenario, Voyager gains approximately 500,000 new funded accounts and grows AUM by $1B, which is likely understating asset growth if crypto prices appreciate. The revenue range for this scenario gives us quarterly revenue between $154M to $269M representing an annual run rate between $619M to $1.07B.
Scenario #2: Realistic (10% CMGR)

This scenario would be most in line with current trends. Currently CMGR is trending downwards (which is to be expected since exponential growth must always level off) and given current trends, 10% CMGR average for Q1 would seem reasonable. The revenue range in this scenario would be between $135M to $235M representing an annual run rate between $542M to $942M.
Scenario #3: Bearish (5% CMGR)

Under this scenario, Voyager's growth slows more dramatically than it has been to just 5% compounded monthly. This scenario certainly could play out, but even so, it is by no means a problem for the company. With a revenue range between $117M and $204M, the company is still well on pace to show substantial revenue growth in 2022 with an annual run rate between $471M and $819M.
Scenario #4: Disaster (-5% CMGR)

I wanted to give the bears the benefit of the doubt and run a scenario where Voyager sees 5% churn, per month, with no growth in users. Under this scenario Voyager sees between $106M to $185M in revenue (likely to be closer to the lower estimate than the higher one if this played out). This would result in an annual run rate between $426M to $741M, though if the user decline continued, it would be on the lower end. Even so, the company is still in a very strong position and will likely still outperform FY2021.
Projected Revenue for March Quarter
Based on these assumptions, revenue will almost certainly be greater than $100M, but exact figures will likely depend on the wider crypto markets. That being said, even if this month ends up being a down month similar to September, it would seem likely that Voyager will still outperform the September quarter for the quarter ending March. Getting above 9 figures in revenue in this quarter will also position the company well for a rebound in the quarter ending June.
Risk of Spread Compression Remains Low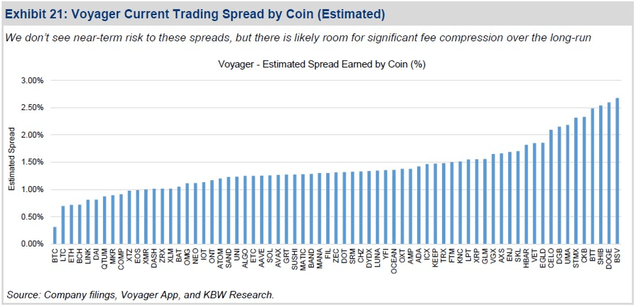 One of the most common questions that I see analysts and Seeking Alpha commenters ask is about spread compression, or the risk that Voyager's spreads decrease over time putting a damper on revenue. I agree with KBW Research in that spreads will likely remain where they are for the short term. Customers are not as price sensitive for crypto as they might be in other contexts given the volatility of the asset class. Furthermore, continued improvements in execution may allow Voyager to increase spread revenue while maintaining or even decreasing costs that are passed onto customers. The continued evolution of the fractured exchange landscape will inform where we go from here.
Stock Catalysts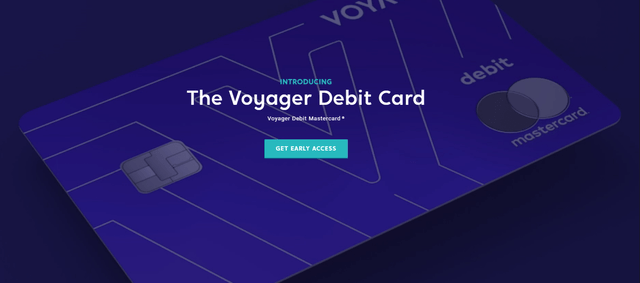 Several big catalysts are likely coming for Voyager in the near future. While many believe that NASDAQ will be the big event that finally causes the upward "correction" and closes the gap between price and valuation, Voyager is likely going to be subject to the same macroeconomic conditions that have brought their valuation down to this point in the first place. That being said, the company's continued strategic focus on customer growth and new products will likely pay off in 2022.
Debit cards and desktop are expected the soonest. Debit cards especially are exciting as it is going to be one of Voyager's first forays into more "traditional" financial services and represents an opportunity to pull new individuals into the crypto world with enticing yields and a seamless blockchain/traditional experience.
International expansion also represents a major growth opportunity for the company. While CMGR is slowing, it is likely that as Voyager's U.S. base expands and competes more intensely with other U.S. based platforms, that Voyager's customer acquisition cost is increasing, putting a damper on continued U.S. growth. However, the rest of the world is Voyager's proverbial oyster. International expansion into Canada/EU, which are expected to be the first regions Voyager expands to, will help drive up the CMGR number for the company.
NFTs also represent a significant growth area for the company. Voyager has moved quickly to begin providing its customers access to NFTs. While NFTs are still in their infancy, continued adoption of NFTs and a strong NFT product offering would give Voyager a boost in customer growth and engagement.
Lastly, more coins, both for trading/transfers, and an updated VLP (Voyager Loyalty Program) will help retain users and keep churn down. Management has hinted at both in the near future and we are likely to receive additional news on those.
Risks
Voyager has substantial risks which the market appears to be pricing in. A decline in the revenue per funded account metric, an increase in customer acquisition cost, spread compression, litigation, SEC regulation and hacks are just a small list of the potential risks for Voyager. However, Voyager has managed to navigate many of these risks well. While these risks are certainly very real, the company has done a good job in mitigating them through prudent action. That being said, if any of these risks grow, it would likely continue to damper price action in the near-term and could cause substantial revenue declines in the long term. While the company, at current prices/valuations, provides an enticing opportunity, it is certainly not without risk.
Conclusion
Voyager Digital, in my view, is being heavily discounted in the market. If you believe in the crypto market and in Voyager's ability to continue to maintain and grow its market share, there are fewer better entries than below 10 CAD. The market is pricing in large uncertainties and major risks, however, if those risks don't come to fruition, or Voyager hits any sort of catalyst, we could see a reversal in sentiment and momentum. The stock price has become entirely decorrelated from business fundamentals providing an opportunity for investors who are willing to stomach risk.