Investment Thesis
Starbucks Corp. (NASDAQ:SBUX) historically has provided a good entry point to potential investors at the current valuation metrics. The attractive valuation results from an almost 25% YTD drop in the stock price due to the recent sell-off and the overall disappointing market sentiment.
The company has a strong customer base entrenched by a solid rewards program that bolsters customer loyalty. This customer base is growing steadily, with double-digit growth in the MRQ. Additionally, despite 15,000 stores across the United States, the company still has room to grow. Geographically, in the suburban locations, and revenue-wise into other spaces, such as the wine and other product offerings in their evening stores. The prospective materialization of these growth avenues is a positive indicator of future stock performance.
Admittedly, the rewards of the stock aren't very high compared to the broader market, as can be seen in its 5-year return of almost 70% compared to S&P 500's 94% and a 10-year return of almost 224% compared to S&P 500's 214%, but accordingly, the risks are low as well.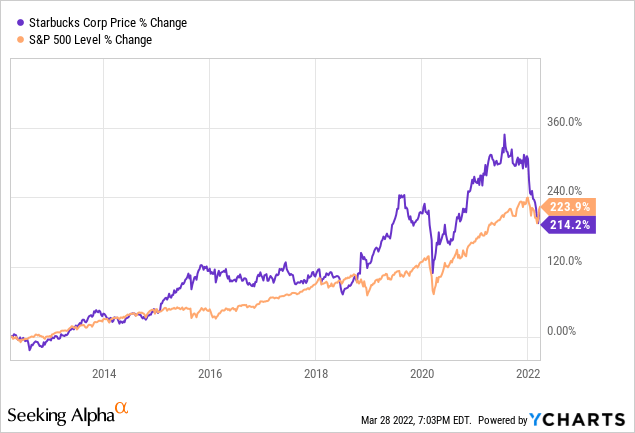 With a beta of 0.9, the stock is very stable and hasn't been exposed to abnormal volatility. For investors looking to add stable growth stocks to their portfolios, Starbucks offers a great way for gradual value maximization.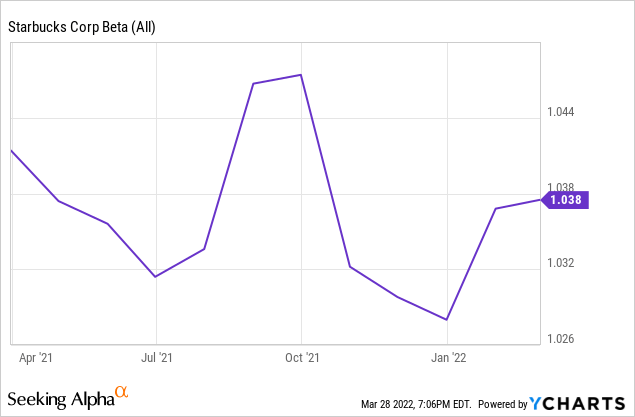 Growth and Expansion
Starbucks' strategy of offering distinctive products packaged with great marketing has performed well over the years by seducing the masses into its vast customer base. SBUX's rewards and loyalty programs have also played an integral role in retaining formidable consumer loyalty, with almost an 80% score on the American Consumer Satisfaction Index (ACSI).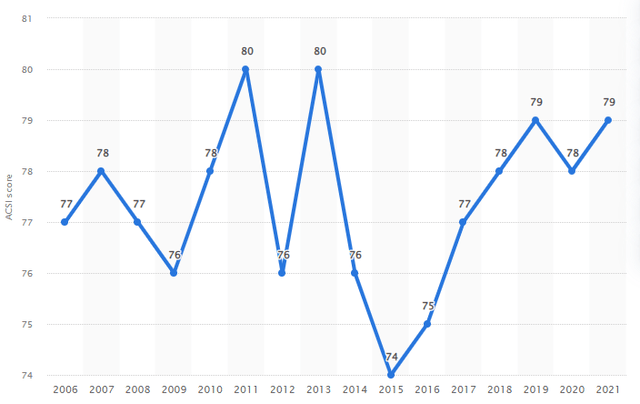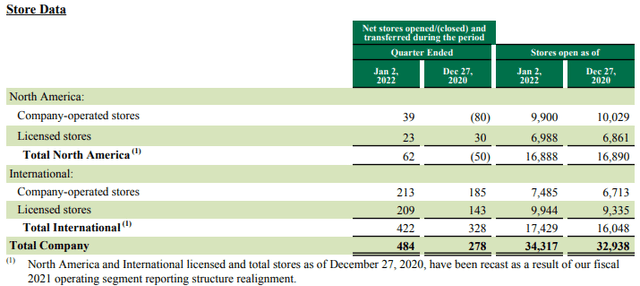 The company has flourished in the previous decade with steady growth, amassing almost $8.1 billion in consolidated net revenue through Q1 2022, a 19% YoY growth mainly driven by the store growth and recovering economy.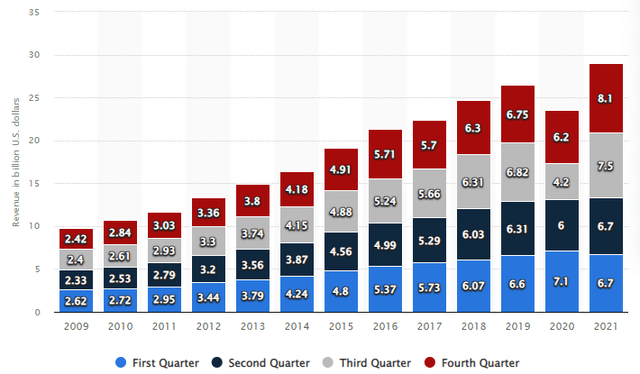 After a firm foothold in the urban arena, Starbucks' expansion strategy has shifted according to the behavioral patterns emerging in response to the pandemic. It is pushing efforts to expand into the U.S suburban drive-thru locations and walk-thru locations for on-foot customers.
The company's guidance for 2022 includes opening approximately 2000 new stores by 2022, and with 484 stores opened up in Q1, the company is well on its track to achieving its goal.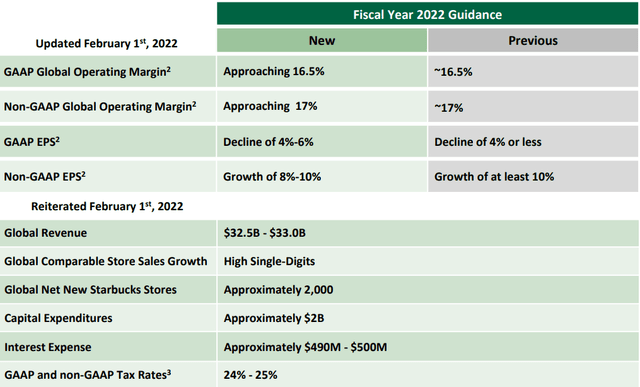 Reuters reports that the walk-thru stores in the United States are called Starbucks Pickup, and in mainland China, the chain's fastest-growing market is Starbucks Now. Starbucks Now will make up 10% of the 600 stores it plans to open in China next year. A traditional Starbucks café will be within a three-to-five minute walk of these locations. Starbucks expects to grow its stores by over 60% to 55,000 locations globally by FY2030, a CAGR of about 6%, around the same rate as today.
The 9% TTM store growth was a major driving factor for revenue growth in the MRQ for the international segment, which speaks well for its future financial performance, especially if the company can achieve operational efficiencies to improve its Non-GAAP operating margin to the expected 17%, up 190 basis points from the current 15.1%. This operating margin target is expected to increase by over 18% in FY2024.
Valuation
The company currently has a consensus analyst target price of $115, which exemplifies over 30% upside potential. A DCF model with a terminal rate of 2%, a discount rate of 6.6%, and a 20% EPS growth for the first 10 years and 10% growth beyond that can reasonably achieve this price target at the current growth rate. Keep in mind that the company currently sports a 49.46% forward diluted EPS growth.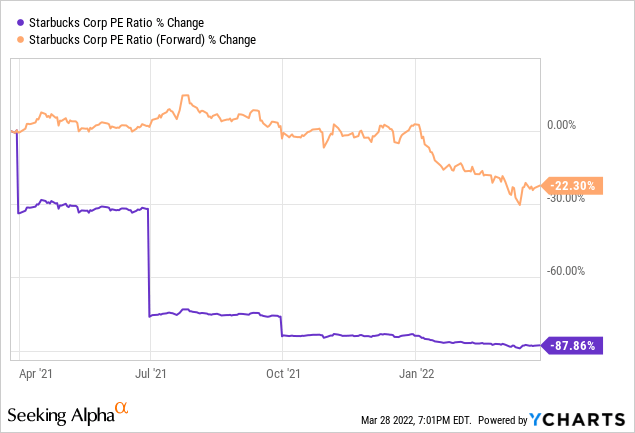 SBUX is currently trading at a TTM PE of 23.63 and a TTM PEG of 0.04. Its forward PE of 26.87 and forward PEG of 2.30 iterate that the stock is expected to become much more expensive by the end of this FY. The investor returns are comparatively higher right now because of the beaten-down share price, which has resulted in a much lower PE multiple.
Investor Returns
The forward dividend yield of 2.24% makes the stock even more attractive. If the company achieves its price targets, the total investor return at the end of the 12 months will surpass 32%. The company has consistently grown its dividend since 2015, and with a 3 year historical levered FCF margin of 49.46%, this consistency can be reasonably assumed to persist.
Additionally, the company has also committed to returning excess shareholder capital through a $20 billion share buyback over the next 3 years. The company returned over $4 billion in the MRQ.
However, even at lower numbers, the stock remains a solid and stable investment with no potential downside scenarios in the medium to long term.
One More Thing
The company is currently under pressure due to unionization issues persisting throughout the United States, contributing to the decline in share prices. However, in the long term, unless there is some material and pervasive event, SBUX stock is precedented to self-correct as its tendency to respond to idiosyncratic and systemic risks remains low. Nevertheless, it would be pertinent to talk about these issues and their impacts on the company stock.
Presently at least 130 Starbucks stores across the United States are pushing for unionization. The company's response has been inadequate as it fired seven workers involved in organizing a union in Tennessee, among other incidents.
Starbucks has been trying to stop the union elections from proceeding at the NLRB using the same arguments, and filings show that the company has retained a plethora of lawyers to aid in halting the union elections. This suggests that the company has ramped up its legal budget to achieve its targets but has remained unsuccessful until now.
With an all-time high 68% approval rate for public support of unions, the company is indeed jeopardizing its reputation with such an inadequate strategy. Similarly, 42% of consumers have relayed their intent to disassociate from a brand with a union-busting attitude.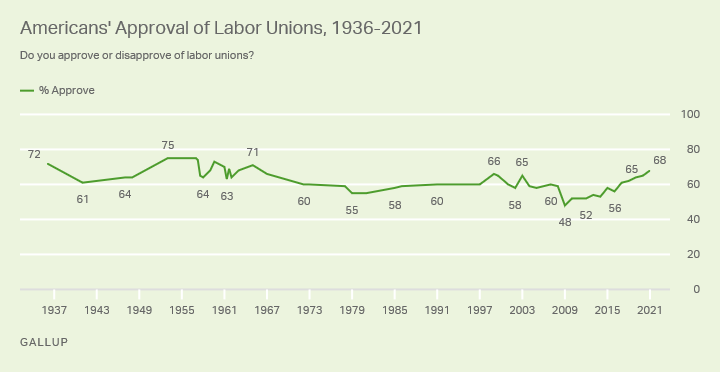 Accordingly, a group of institutional investors holding $1.2 billion Starbucks stock led by Trillium Asset Management, which holds $48 million SBUX stock, has urged the company to cease its anti-union communication and adopt, implement, and publish a global unionization policy of neutrality. Trillium also warned the company in December 2021 to "accept the results of the December 2021 election and proceed expeditiously and in good faith according to the results."
The company's attempts to hinder the unionization efforts appear to be in vain and damaging to its reputation. It would be extremely in the company's favor to seek advice from relevant trade unions about handling the issue and moving forward accordingly, in line with the advice doled out in the aforementioned letter. Otherwise, SBUX risks besmirching its ESG profile, built up through the decades.
Conclusion
The company has formed a sustainable strategy in the wake of this new post-pandemic world, guiding its future growth and expansion, demonstrating management's proactive approach. With a $2 billion CapEx and a 2000 new stores target for 2022, with 484 new stores already in place, the implementation of the strategy is also apparent.
Starbucks is one of those stocks you put into your portfolio and forget about. The stable growth and expansion of the company have historically translated into stable investor returns with minimal risk of value depletion. With a 5-year dividend growth CAGR of almost 16%, the stock is also a great addition to portfolios looking for a stable quarterly income.
Overall, the stock doesn't have exceptional growth rates but rather a balanced stock that adds value to risk-averse and risk-conserve equity portfolios. SBUX would be a great addition to efficient long-term portfolios, especially at current valuations.