Laredo Petroleum (NYSE:LPI) is a small oil and gas company with operations solely in the Midland sub-basin of the vast Permian field. After persevering through low demand and poor hydrocarbon economics of 2020 and early 2021, it is benefiting from higher oil and gas prices, laser-focused operations, and a needed strategy of reorienting from the gassier, less-economic region of the sub-basin to an oilier, more economic region.
Laredo does not pay a dividend, is servicing some high-cost debt, and its upside is partially limited by hedges; however, in 2022 it expects to earn $300 million in free cash flow and to accelerate debt repayment. Trailing price-earnings ratio is 8.4 and forward price-earnings ratio is a bargain 3.3.
While this is not a stock for dividend-hunters, I recommend Laredo Petroleum as a speculative buy to those seeking capital appreciation based on expectations of future oil and gas prices, and more particularly for the company's strategic improvement.
I am considering buying shares.
Macro
The Russian invasion of Ukraine and the sanctions against Russia — explicit and implicit — have upended the global oil and gas markets. Prior to the invasion, Russia produced about 10% of the world's oil, and exported 5 million barrels per day (BPD) of crude and 3 million BPD of crude products. Moreover, Russian gas exports supplied about 40% of Europe's natural gas in 2021.
For comparison, the US produces 11.7 million BPD of oil and uses 18.2 million BPD. Last week we produced 99.6 billion cubic feet/day (BCF/D) of natural gas and prepared to export 17.6 BCF/D. About a quarter of the exports were by pipeline to Mexico and the remainder were deliveries to LNG terminals for export to Europe and Asia.
Oil and gas pricing crosscurrents include:
Russia's invasion of Ukraine resulting in financial and energy market reactions, including sanctions.
A US agreement with the European Union to supply additional LNG short-term and medium-term.
A plan to draw down up to 180 million barrels of oil from the US Strategic Petroleum Reserve, that is 1 MMBPD for six months.
Inflation.
Numerous ongoing US anti-hydrocarbon, pro-renewable regulations, policies, and rhetoric from the Biden administration, which have served to drive oil and gas prices higher by limiting their supply, transportation, and use. An April 1, 2022, Wall Street Journal editorial summed up the Biden administration's roadblocks: "And the Administration continues to signal that its goal is to bankrupt oil and gas producers. But before shooting them, Mr. Biden wants their political help."
Housley Carr at RBN Energy summarizes the mechanics of the SPR drawdown and points to a benefit. [My note: If holding the oil in the reserve is assigned no above-market value for its energy security function…] the sale of the oil could net $12-$13 billion in profit to the federal government, given the oil's prior average $30/bbl purchase price and assuming a $100/bbl sale price.
2021 Laredo Petroleum Results and Guidance
In 2021, Laredo Petroleum earned revenues of $1.39 billion, more than double the prior year. Operating income was $720 million but the company had expenses of -$452 million for derivatives and -$113 million for interest. Net income for the year was $145 million, or $10.03/diluted share. (Note that 4Q21 net income was $216 million and the 4Q gain on derivatives was $15 million, so 4Q21 offset earlier quarters of loss.)
Net cash provided by operating activities in 2021 was $497 million. Levered free cash flow was negative at -$658 million.
The company ended 2021 with oil production of 41,080 BPD and total production (oil, natural gas liquids, natural gas) of 85,240 barrels of oil equivalent per day (BOE/D). Thus, the oil cut was 48% of total production in 4Q21, compared to 27% in 4Q20.
CEO Jason Pigott noted the company had closed two acquisitions that expanded Laredo's oil-weighted leasehold in Howard and western Glasscock counties (both in the Midland sub-basin.)
For 1Q22, Laredo expects total production of about 84,000 BOE/D, of which about 41,000 BPD is oil. For the full year of 2022, it expects to deliver more than $300 million in free cash flow at $80/bbl WTI oil and $4.65/MMBTU Henry Hub gas prices. It also expects to achieve deleveraging targets six months ahead of schedule, which would result in getting to a 1.5x net debt/adjusted EBITDA by 3Q22.
West Texas Intermediate, $/BBL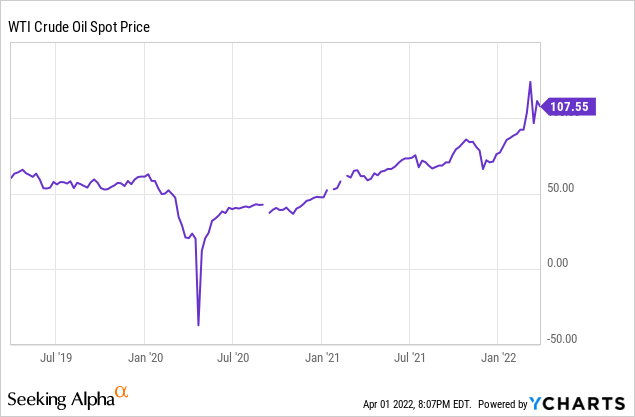 Henry Hub Gas, 1-Month Futures, $/MMBTU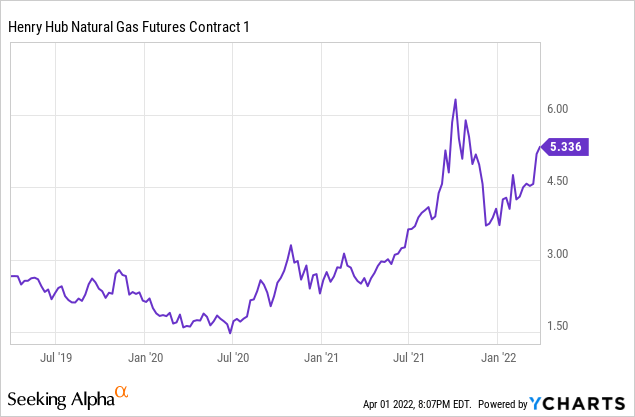 US Oil and Natural Gas Prices and Oil Production
The April 1, 2022, West Texas Intermediate oil futures price (for May 2022 delivery) was $99.27/barrel. The Henry Hub natural gas futures price, also for May 2022 delivery, was $5.72/MMBTU.
NYMEX strip prices for future months are similarly high but backwardated (lower) for oil and relatively flat for natural gas. Gas prices have stayed high in part due to large draws from the US of liquefied natural gas to Europe and Asia.
For the week ending March 25, 2022, US oil production was 11.7 MMBPD. This is 1.4 million BPD less than the highest-ever level of US oil production of 13.1 MMBPD in February and March 2020.
The graphs below show the EIA's oil supply-demand balance and the current 10-90 confidence interval around future oil prices.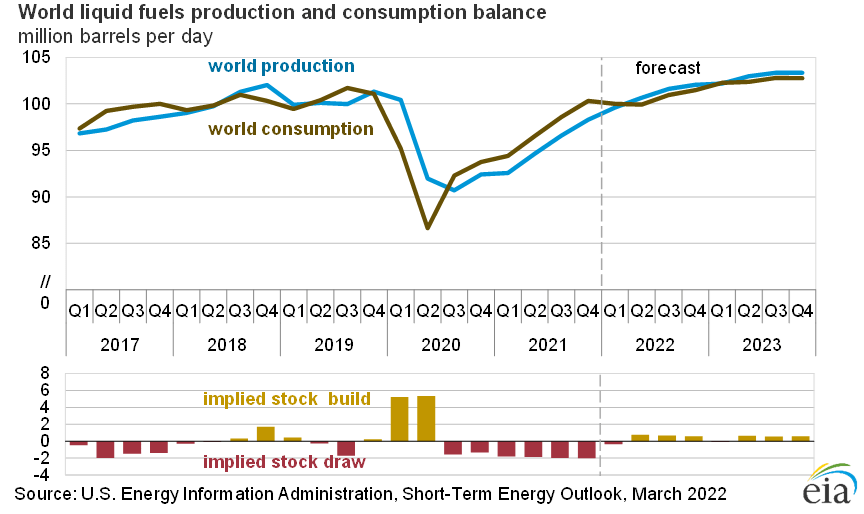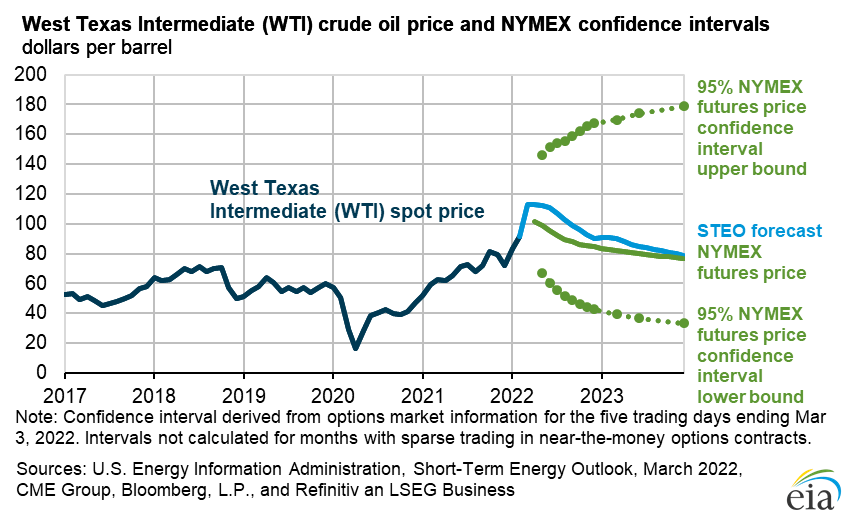 Hedges
Laredo Petroleum's 2022 hedges on average cover:
30,000 BPD or 73% of estimated oil production at a weighted floor price of $57.34/bbl;
9701 BPD or 44% of estimated natural gas liquids volumes;
90,000 MCF/D or about 66% of estimated natural gas production at a weighted average floor price of $3.05/MMBTU, plus a fixed -$0.36/MMBTU decrement for Waha basis swaps.
Some hedges extend into 2023 but at much smaller volumes and higher floors.
Laredo's Reserves
According to Laredo's 10-K, at December 31, 2021, it had an estimated 318.6 million BOE of proved reserves, of which 73% were proved developed. During 2021, the company sold natural gas reserves and bought oil reserves, so its oil percentage of reserves is now 48%. The SEC PV-10 value of proved reserves was $3.7 billion, using SEC benchmark prices of $63.04/barrel for oil and $3.35/MMBTU for natural gas.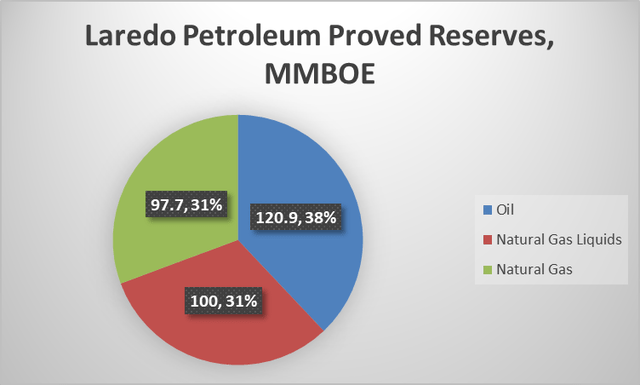 Strategy
The Midland sub-basin core consists of parts of nine west Texas counties.
After stabilizing in 2021, Laredo's strategy has transitioned towards oilier reserves and production. The company sold gas-weighted acreage in Glasscock and Reagan counties and acquired an oil-weighted 41,000 net acres in Howard and western Glasscock counties.
Oil now accounts for 38% of the company's total proved reserves, up from 24% at year-end 2020.
Laredo plans 2022 capital expenditures of $520 million, including using three rigs and two completion crews in 1Q22, then two rigs and one completion crew for the rest of the year. Projects are entirely on its Howard County inventory. Overall, Laredo has 166,000 net acres and 8 years of drilling inventory.
Notably, Laredo is building in cost inflation of 15% in 2022.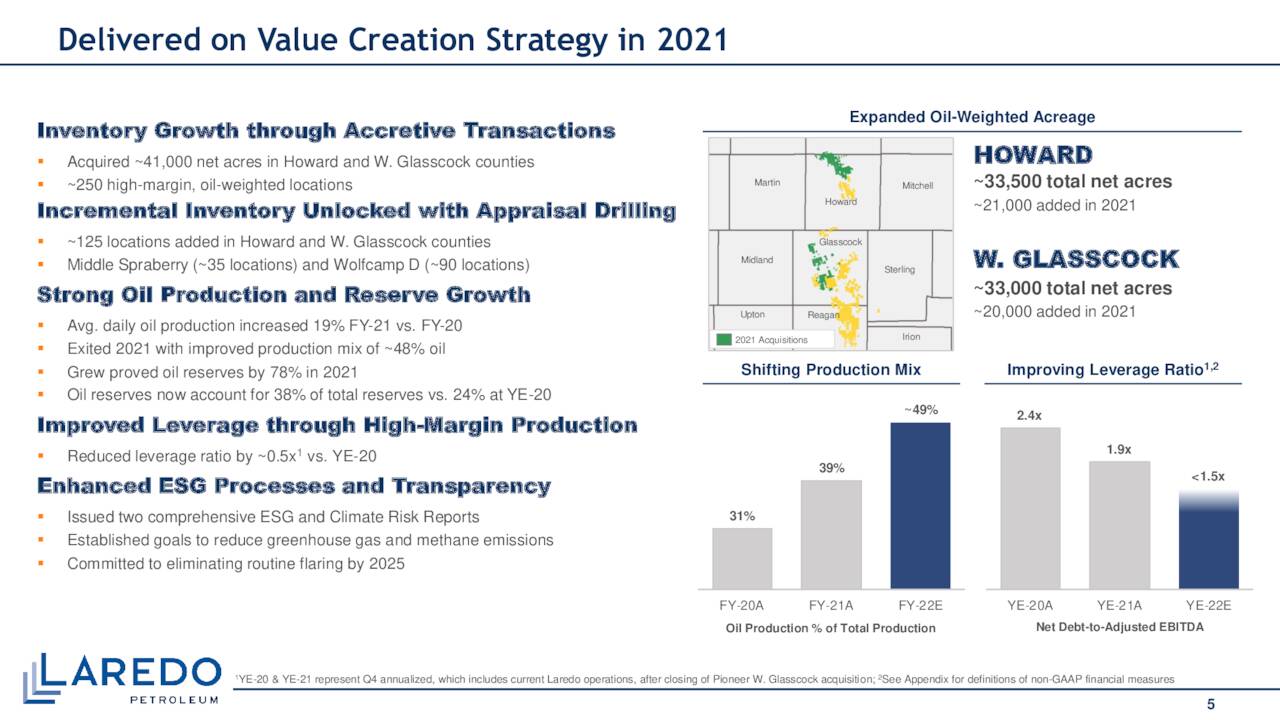 Competitors
Laredo Petroleum is headquartered in Tulsa, Oklahoma. As a Midland sub-basin producer, it competes with all Permian producers, e.g. most US shale companies. A few competitors in the Midland sub-basin are Earthstone Energy (ESTE), Diamondback Energy (FANG), and Occidental (OXY). Laredo also has significant competition from private companies.
Competition extends from hiring executives and professionals, to competing for service contractors, equipment, and takeaway capacity, to selling oil, NGLs, and natural gas.
Governance
At March 25, 2022, Institutional Shareholder Services ranks Laredo Petroleum's overall governance as 6, with sub-scores of audit (10), board (1), shareholder rights (6), and compensation (7). In this measurement, a score of 1 represents lower governance risk and a score of 10 represents higher governance risk.
Insiders own 6.8% of the stock. At March 15, 2022, 11.4% of the floated stock was shorted.
Beta (stock volatility relative to the market) is an extraordinarily high 3.89.
Financial and Stock Highlights
Laredo's market capitalization is $1.46 billion at an April 1, 2022, stock closing price of $84.46 per share.
The 52-week price range is $31.85-$99.26 per share, so the closing price is 85% of the high and 73% of the average one-year target price of $115/share.
Laredo's trailing twelve months' earnings per share (EPS) is $10.03, giving it a trailing price-earnings ratio of a modest (attractive) 8.4. The average of analysts' predicted full-year 2022 EPS is $25.48 for a bargain forward price/earnings ratio of 3.3.
Laredo Petroleum does not pay a dividend.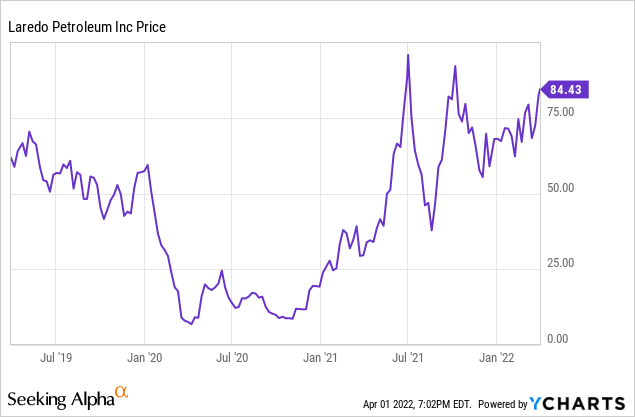 The average analyst rating is 2.4, or between "buy" and "hold" from 23 analysts.
At December 30, 2021, the five largest institutional stockholders, some of which represent index fund investments that match the overall market, were private equity firm EnCap Energy Capital Fund IX (12.7%), BlackRock (12.5%), State Street (9.1%), Vanguard (6.3%), and Canadian investment firm Maple Rock Capital Partners (3.7%).
BlackRock, State Street, and Vanguard are signatories to the Glasgow Financial Alliance for Net Zero, a group that manages $57 trillion in assets worldwide and which advocates limiting hydrocarbon investment. They are far from alone in this stance. In addition to Biden administration roadblocks to domestic energy production, in December 2021 the Biden administration ordered the US to stop financing what it calls carbon-intense projects abroad.
Notes on Valuation
Laredo's book value per share of $30.72 is less than half its market price, implying positive investor sentiment.
At December 31, 2021, the company had $2.04 billion in liabilities, including $1.43 billion of long-term debt, and $2.55 billion in assets. This debt includes a $400 million high-rate (7.75%) 8-year bond maturing in 2029. Laredo has a liability-to-asset ratio of 80% and a very steep long-term debt to market capitalization ratio of 99%.
The company's enterprise value is $2.8 billion and the SEC PV-10 value of its reserves is $3.7 billion.
The ratio of enterprise value to EBITDA leans toward a bargain at 7.0 (less than maximum 10.0) and the ratio of net long-term debt to EBITDA is 3.4.
Market capitalization to production is cheap at $17,100/flowing BOE and $35,600/flowing barrel of oil.
Positive and Negative Risks
Laredo's biggest positive and negative risk is simply future oil and gas prices.
Inflation, while it can raise the price of oil since oil is mainly denominated in dollars (although Russia is asking for payments in rubles), also increases operating and financing costs. Completion crews, for example, are much harder to find. The current level of inflation is at a decades-high level.
Other risks are political and regulatory — particularly with the Biden administration, banks, and several states taking a race-to-zero-hydrocarbons posture, keen to increase production costs in the near term and eliminate US oil and gas production in the long term.
Recommendations for Laredo Petroleum
I recommend Laredo Petroleum to investors interested in capital appreciation from a Midland sub-basin oil and gas producer. This is a speculative buy since the company has considerable debt, some high-priced.
I do not recommend Laredo Petroleum to dividend hunters since it doesn't pay a dividend. The company's first priority is to pay down debt.
Forward curves for oil and gas look healthy and Laredo has pivoted toward increasing the oil in its mix, reflected in its $3.7 billion SEC PV-10 reserve value.
EnCap remains a substantial owner of the equity and so will have significant operating say. The company has a nosebleed ratio of debt to market capitalization at 99%.
Laredo's large hedge program isn't smothering. It has a bargain forward price/earnings ratio, good acreage, and a restrained capital program. It expects $300 million of free cash flow in 2022 and to achieve its deleveraging targets ahead of schedule.