Dear readers,
In this article, we're going to be taking a long look at the Carlisle Companies Incorporated (NYSE:CSL) – a business group that started out more than 100 years ago as a tire and rubber business, when the founder saved up $4,000 for machinery and had an agreement from a business to buy bicycle inner tubes. An entrepreneur true to the American dream.
100+ years later, the company has of course evolved significantly – let's see what Carlisle Companies is, what it can currently offer investors, and what we can do here.
Carlisle Companies – What the company is
The company calls itself a diversified global manufacturer of highly-engineered products and solutions that create sustainable buildings of the future, high-performance wire, and cable products, and other electronics for commercial aerospace, defense, medical sectors, and industrial markets as well as liquid, powder sealants, adhesives finishing equipment and systems for several global end markets.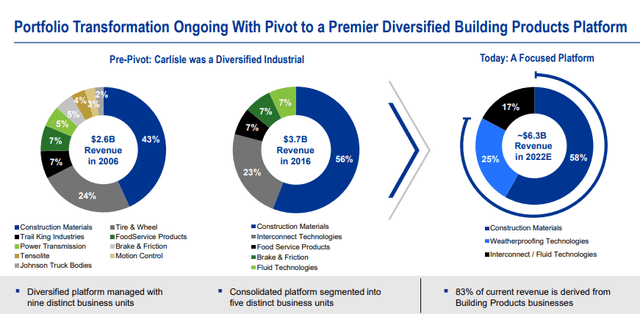 Doesn't really tell us the nitty-gritty, so let's go deeper.
Carlisle is structured into three primary business segments.
Carlisle Construction Materials ('CCM'). The segment evolved from being a single product in roofing membranes in the early 1960s into what it is today, where it delivers a complete range of building envelope products for every kind of commercial, industrial, and residential building. This includes single-ply roofing, foam insulation, spray foam technologies, architectural metal, heating, and HVAC sealants, waterproofing products, air/vapor barrier products, and thermal performance envelope products. The CCM segment is a NA/EU-market leading manufacturer. It makes its products stateside, in Canada, Germany, Netherlands, UK, and Romania, and sales are done through reps and distributors in NA/EU.
Carlisle Interconnect Technologies ('CIT'). This business works with the manufacturing of high-performance wiring and cable, including optical fiber. End consumers are commercial aerospace, military, defense contractors, medical device manufacturers, industrial companies, and test/measurement companies. The segment also includes sensors, connectors, contact, cable assemblies, and harness/racks/trays or installation products for cabling. CSL/CIT also offers certification and engineering of their products, both turnkey solutions and custom solutions. This is a global business as well, just like the last segment.
Carlisle Fluid Technologies ('CFT'). This business works with, as the name suggests, engineered liquid, powder sealants, and adhesives finishing equipment. The company works on selling integrated solutions for spraying, mixing, metering, and curing a variety of coatings, with primary end-use in automotive finishing, general industrial applications, protective coatings, wood, specialty, and refinishing markets. Facilities are found stateside, in the UK, and Switzerland with assembly and distribution in China, Japan, and South Korea. This is a primarily non-US segment with more than 55% of revenues outside of the US.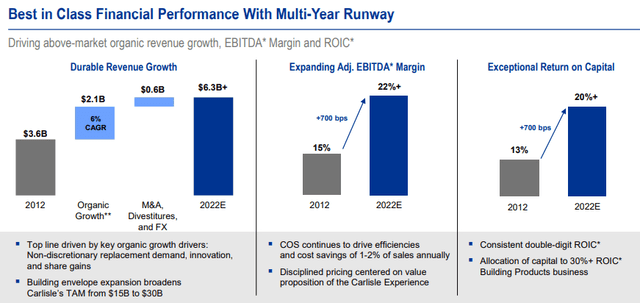 These are the three segments that CSL works in. As we can see from the presentations, the company is world-leading in these segments. The company is a world-class dividend payer with a superb, 10-11 year history averaging an 11.6% dividend CAGR, and also repurchases shares when possible – hundreds of millions of dollars' worth over the past few years alone.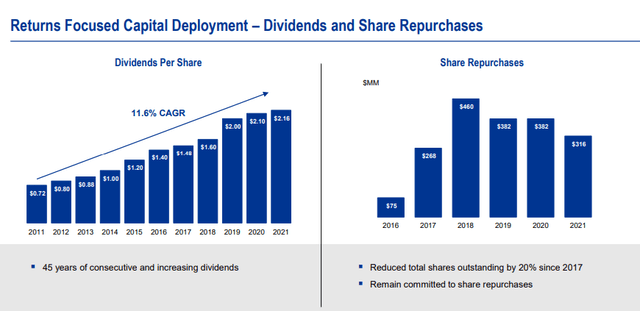 The company works with award-winning customer service and has extensive experience in procuring and supply chains, which has served the company very well when looking at the current crisis. This expertise has delivered consistent EBITDA/FCF, margins, and revenue growth. You can look at the growth rate through the last financial crisis, as well as COVID-19.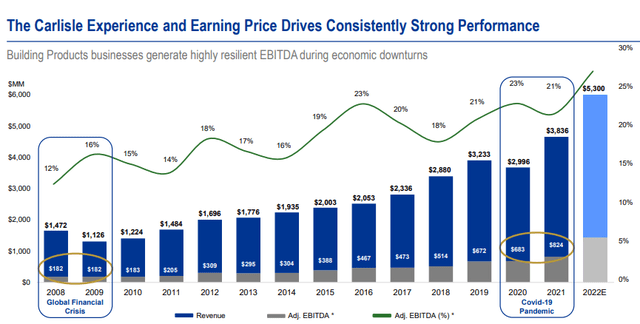 So the company has a very strong history of delivering strong numbers, based on superb execution and management ability. While part of the company's products has a high correlation with the building/renovation market, much of what the company sells is through-cyclic in terms of recession/downturn sensitivities, and this is also something we see confirmed in terms of overall results. The company's business is based on global mega-trends, which the company follows closely. Currently, this trend is highly correlated to/with ESG.
Why exactly is this important? Because virtually everything that Carlisle makes or develops, including but not limited to Polyiso wall/roofing insulations, Single-ply EPDM, Assemblies, metal roofing, coatings, air barriers, foundational weatherproofing, spray foams, etc. are directed towards efficiency. This company is a direct beneficiary of these trends as businesses and customers are seeking to become more efficient and more in line with current ESG policies. Whether this is in line with your own views, let me assure you that it's in line with your profit interest to get on board because this is what customers are doing.
The company offers an industry-leading platform for building products – billions of dollars in revenue, with dominant or close to leading market positions across insulations and architectural metals. It's also, by far, the leading manufacturer of single-ply premium roofing systems for the commercial sector. It offers everything "you" would need in your business.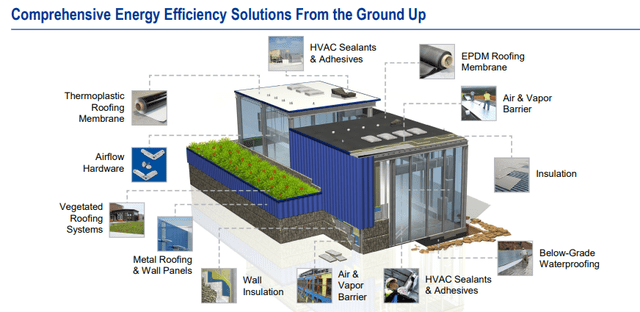 The company has also, consistently outperformed the sector in organic growth and margin expansion. It's also wrong to call the company strongly correlated to construction. The company's CCM business is 65% replace/repair, not new construction, and 89% commercial, which follows somewhat different dynamics than the resi market. The same "majority" of Repair & Replace is found across both of the relevant segments, with CIT working somewhat differently, and perhaps the most volatile segment at 44% Aerospace exposure (36% medical). So the segment is mostly an Aerospace/medical play.
CSL works closely with M&As and is continually on the lookout for synergistic tack-on for the company. Specifically, it looks for very specialized and manufactured/engineered products, preferably in mission-critical applications with a high amount of product resilience when it comes to withstanding environments. CSL has a working set of target criteria for these investments.
Fundamentally, the company is very strong, with plenty of cash on hand and liquidity available, and a net debt lower than 2.6X to EBITDA. The 2022 outlook calls for revenue growth of 30% in CCM, 55-60% in weatherproofing alone, and a 10% revenue growth in fluid technologies. Even the CIT segment still has strong aerospace and medical backlog. This strong forecast is backed by very strong TSR traditions, where CSL has outperformed the S&P500 significantly on a 10-year return basis.
The question, to my mind, is not if the company is attractive – it is. The question is at what valuation the company becomes attractive enough for us to invest in so that we may generate market-beating alpha-style returns.
Let's take a look.
Carlisle's Valuation
Carlisle typically trades at quite a bit of a premium in terms of its multiples. 18-21X is typical on a 10-year basis. The company is also expecting, as indicated by its forecast, a massive amount of 2022E revenue growth, that will slowly drop off in 2023-2024E, to a growth of 1-6% respectively for these later years. Based on the jump in growth and the corresponding EPS forecast though, the company can, at least for the time being, be considered to be undervalued.
This company is investment-grade rated. Its dividend is very modest – less than 1% at this price – but it's expected to slowly grow. The majority here though is potential capital appreciation, and there's a decent amount of that to be had here.
If we assume an 18-20X P/E premium multiple, which I wouldn't consider outlandish for a world-leading manufacturer in this segment, we can estimate returns to close to 20% annually or 54% in less than 3 years. That's a very decent RoR given the risk you're taking and what you're investing in.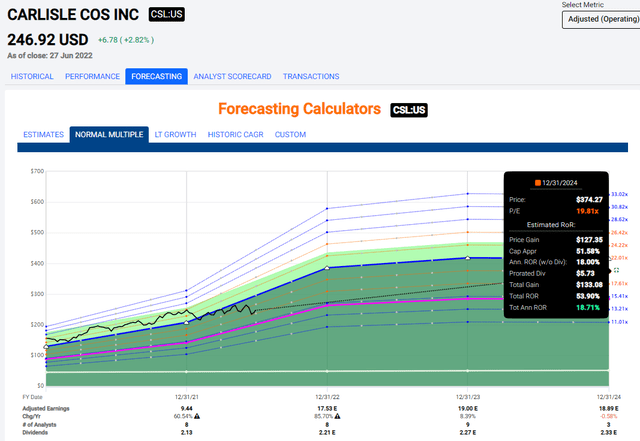 Even if, for the sake of argument, the company was to deliver returns or valuations below this, even at a 13-15X P/E, your returns would still be inflation and market-beating, at around 7-8% annually, or 20% in 4 years. It's not the best opportunity out there – but CSL is a rare company that works almost exclusively in mission/application-critical products, and has an expertise that makes it hard for customers to simply "switch" to another supplier, as the quality of the products might not be on par.
Because of this, it's fair to say that despite tightening in the home markets across the world, and the uncertainty we're currently facing, CLS is actually appealing here. It's not the best investment you can possibly make – but it's, in my view, a very good one here.
Analysts? They estimate, based on a range of $290 to $335 (a fairly tight range, truth be told) that the company's average here is $310. Any estimate or part of that range based on S&P Global here puts the company at a 15-30% undervaluation at this particular point – and I view this as valid, given how the company has delivered double-digit earnings growth.
The Bullish Thesis for CSL is that the company continues its outperformance that it's seen historically, and delivers superior growth based on good execution and an excellent mix of sales. CSL is a business that's not as tied to the builder market as you might expect, given its high correlation not to new construction, but to Renos and commercial. This combined with its engineering segment makes it an appealing investment with a double-digit upside despite the low yield.
The Bearish thesis, on the other hand, points to the company's relatively high exposure to volatile sectors such as aerospace, and 35-45% in its various segments exposed to the new building market, which gives it some correlation. It assumes that the company, despite earnings, could fall lower. Investors are better off investing in other possibilities, and this company should be avoided.
I'm an advocate of the Bullish thesis for CSL. I'm a "BUY" with a PT of no less than $300/share, here, which gives the company a significant upside.
Thesis
Looking at CSL, here is the thesis:
Carlisle Companies is an attractive play in the building materials and engineering sector. It has a proven ability to generate alpha from attractive investments and operations, and I consider it likely that it will continue to generate attractive alpha for years.
The company isn't massively undervalued to 40-50%, but it's still at an attractive undervaluation that gives investors a 15-20% attractive upside here.
Based on this, I view CSL as a "BUY" to a PT of $300.
Remember, I'm all about :
1. Buying undervalued – even if that undervaluation is slight, and not mind-numbingly massive – companies at a discount, allowing them to normalize over time and harvesting capital gains and dividends in the meantime.
2. If the company goes well beyond normalization and goes into overvaluation, I harvest gains and rotate my position into other undervalued stocks, repeating #1.
3. If the company doesn't go into overvaluation, but hovers within a fair value, or goes back down to undervaluation, I buy more as time allows.
4. I reinvest proceeds from dividends, savings from work, or other cash inflows as specified in #1.
Here are my criteria and how the company fulfills them.
This company is overall qualitative. This company is fundamentally safe/conservative & well-run. This company pays a well-covered dividend. This company is currently cheap. This company has realistic upside based on earnings growth or multiple expansion/reversion.