As the markets continue to choppily suggest a year-end rally may be possible, I continue to recommend that investors load up on beaten-down growth stocks, particularly in the enterprise software space. In 2020 and 2021, a common adage was that "fundamentals have gone out the window" as valuations soared to unprecedented heights on sentiment alone. In 2022, I'd argue that the same thing has happened in the opposite direction – driven solely by negative sentiment, valuations have been sliced down to untenable lows.
Elastic (NYSE:ESTC), in particular, is a highly overlooked software stock that has seen its share price crumble 40% this year. At the same time, there hasn't even been a whiff of negative fundamental news – in fact, the company just closed out its fiscal 2022 on a high note and guided above expectations for FY23. It's a good time, in my view, for investors to re-assess the bull case here.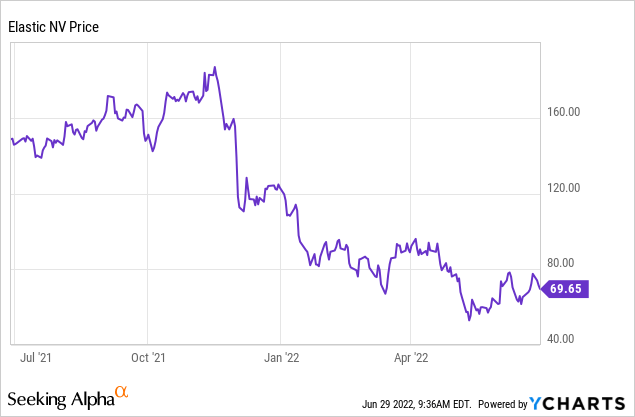 I remain bullish on Elastic and recommend that investors either build up a position now at $70 or add to an existing one. This is a core infrastructure software stock whose use cases are nearly endless, and whose progress in the cloud is undeniable. In the most recent quarter, Elastic deepened its relationships with all three of the major cloud providers – Amazon AWS (AMZN), Microsoft Azure (MSFT), and Google Cloud (GOOG). Revenue from cloud-consumption models grew north of 70% y/y, and by 2025 the company expects that cloud will contribute to half of its revenue (versus roughly a third today).
As a reminder for investors who are newer to this name, here are all the chief reasons to be bullish on Elastic:
Elastic has three powerful tools in its suite, powering enterprise search, security, and APM. Search is Elastic's bread and butter, and the company is the best-in-breed leader at infrastructure that allows you to essentially perform a Google-like search within the confines of a certain application. Security is a natural extension of Elastic's data-monitoring ability, with companies using Elastic to protect against fraud and cyber threats. The latter category (APM), meanwhile, is the same space that hotshot Datadog (DDOG) is in, and helps companies maintain their tech stack uptime and monitor performance. The basic point is this: Elastic's core platform supports a variety of use cases and one that has been adopted by major corporations. It estimates its global TAM at $78 billion, suggesting only ~1% current penetration. This TAM has grown significantly versus $45 billion at the time of Elastic's IPO in 2018.
Purely recurring, high-margin software product. 94% of Elastic's revenue comes from subscriptions, meaning the company has very high revenue visibility. It has net revenue expansion rates of ~130%, meaning the majority of its customers upsell dramatically (versus ~110% net expansion rates for most other software companies). On top of that, Elastic's revenue comes in at a high-70s gross margin. The math on this works out like a charm: as more and more Elastic customers renew and expand, Elastic can take advantage of its huge gross margin to scale profitably, given that renewal deals to existing customers cost far less in terms of sales dollars to achieve.
Very sticky technology base. Elastic is in a category of software considered "infrastructure software," which means that it sits at the heart of a company's IT stack. This kind of software is very difficult to rip out (versus a top-end application, like a CRM system, that is relatively easier to stop using and migrate to another solution).
Strong cloud growth. Elastic's hosted cloud solutions are seeing much stronger (~70% y/y) growth rates relative to the rest of the company, which serves as an additional upside catalyst for investors to be excited about. It also gives Elastic an easy route to market for customers who are on services like Amazon AWS, where Elastic now features very native integrations.
The market continues to value Elastic at quite a steep discount, however. At current share prices near $72, Elastic has a market cap of $6.79 billion. After we net off the $860.9 million of cash and $566.5 million of debt on Elastic's most recent balance sheet, the company's resulting enterprise value is $6.50 billion.
Meanwhile, for the upcoming fiscal year FY23 (which for Elastic is the year ending in April 2023), the company has guided to $1.08-$1.086 billion in revenue, representing 26% y/y growth (three points stronger in constant currency). The company is also calling for breakeven pro forma operating margins, flat to FY22 despite the return of travel as well as currency pressures.

Against the midpoint of Elastic's revenue guidance, the company is trading at just 6.0x EV/FY23 revenue – a bargain for a company with high-20s growth and breakeven operating margins. Fairly valued, I think Elastic can reach up to an 8.5x EV/FY23 revenue multiple, implying a $98 price target and 40% upside from current levels.
Don't miss the opportunity to buy Elastic while it's still cheap.
Q4 download
Let's now go through Elastic's latest quarterly results in greater detail. The Q4 earnings summary, for the quarter ending in April, is shown below: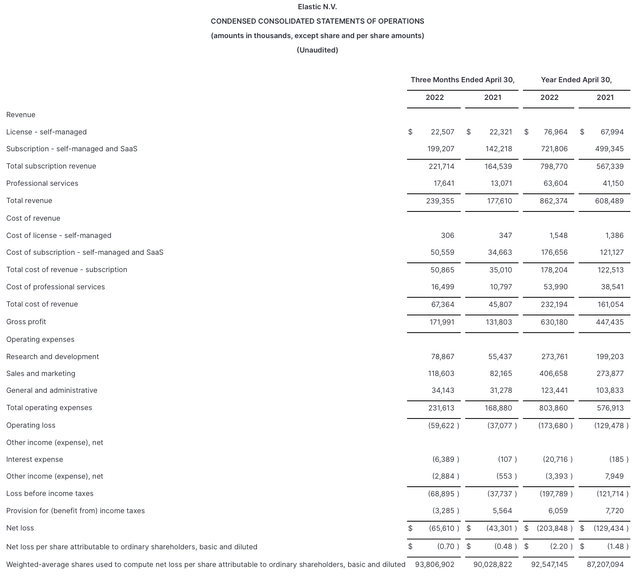 Elastic grew its revenue at a 35% y/y pace to $239.4 million in the quarter, outpacing Wall Street's expectations of $232.4 million (+31% y/y) by a healthy four-point margin. Note that in constant currency, growth would have been two points stronger than 37% y/y. Underneath this top line, Elastic Cloud revenue grew at a stellar 71% y/y pace to $87.7 million, representing 37% of overall revenue. As previously mentioned, the company expects cloud-based revenue to represent half of the overall pie by FY25.
Note that Elastic is specifically incentivizing its salespeople to push cloud products in FY23 with a new compensation structure. Per CEO Ash Kulkarni's prepared remarks on the Q4 earnings call:
To further enable our growth engine, we are incentivizing our sales teams with a new compensation structure in FY23 with an explicit bias towards cloud. And we are continuing to build momentum with our cloud hyperscalers through product integrations and go-to-market motions. For example, we recently announced an expanded collaboration with AWS to accelerate momentum and build market and deliver seamless access for shared customers to Elastic Cloud on AWS, while leveraging AWS' global footprint and breadth of services. Areas of collaboration include expanding competencies to ease migration to Elastic Cloud on AWS, simplifying onboarding to Elastic Cloud on AWS, and streamlining data ingestion and new go-to-market initiatives."
The company added 700 net-new subscription customers in the quarter to end at 18.6k, while net revenue retention rate was "just under 130%" and flat to Q3. This is a powerful illustration of Elastic's "land and expand" business model, in which its customers balloon into much larger contracts over time.
"Land and expand" is also a powerful engine for margin expansion. As can be seen in the chart below, Elastic finally hit pro forma operating margin breakeven in FY22 (more than twenty points better than where the company was at during the time of its IPO).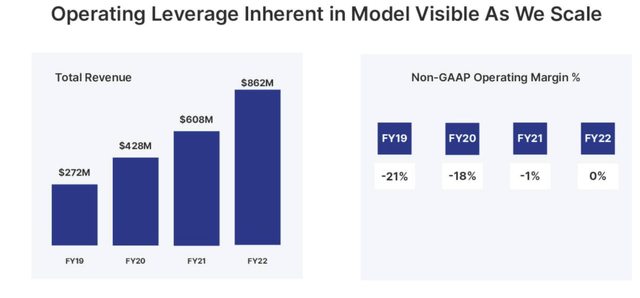 Operating leverage in Elastic's business comes from a variety of angles. On top of the inherent profitability of "expand" deals which don't require much sales investment to achieve, Elastic's cloud partnerships are also effective at bringing in new revenue streams without much direct sales touch. In addition, on the R&D front, many of Elastic's products share the same code base, reducing engineering costs over time.
Key takeaways
Fantastic growth, balanced profitability, a unique recurring revenue software product – all trading at a very reasonable valuation multiple. There are plenty of reasons to like Elastic, even if the market has more or less ignored this stock since the start of the year. Go against the current and buy Elastic while the broader markets aren't paying much attention.