Investment Thesis
Lazydays Holdings (NASDAQ:LAZY) represents an interesting opportunity for the enterprising or event-driven investor to benefit from the tug of war between two capital allocators who both believe LAZY is worth at least $25/share (current price of ~$12). Both capital allocators are long-term oriented, but short-term investors are fleeing the company, evidenced by its ~50% decline from its peak in August 2021. Investors with a long-term view have the opportunity to acquire a decent business at a cheap valuation.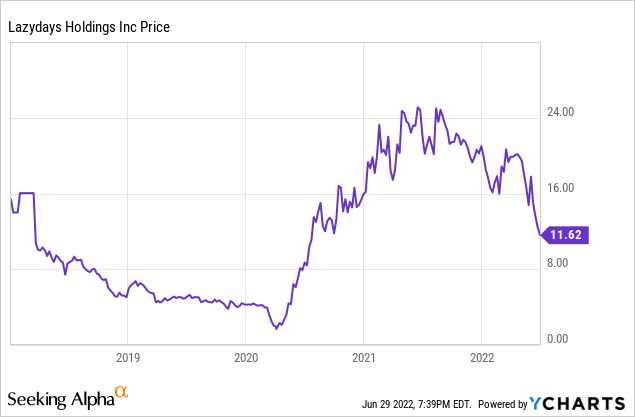 Background
Lazydays Holdings operates Recreational Vehicle (RV) dealerships and offers a portfolio of products / services for RV owners and outdoor enthusiasts. It has one reportable segment (RV dealership operations) which include the following:
Sale of New and Pre-Owned Vehicles (~90% of total revenues)

New Vehicles: selection of new RVs, core brands that were sold in 2021 were manufactured by Thor Industries, Winnebago, and Forest River (~59% of total revenues)

Pre-Owned Vehicles: selection of pre-owned RVs (~31% of total revenues)

Other (10% of total revenues)
Lazydays is known nationally as "The RV Authority ®" and operates mainly outside Tampa, Florida. In total, the company operates 16 dealerships across 10 states. The company became public via a SPAC (Andina Acquisition Corp. II) on March 15, 2018.
Valuation
With 19,540,031 diluted shares outstanding and a current price of $11.59, the market cap is ~$227M (and with ~$400M liabilities/debt, a total Enterprise Value of ~$627M). Yahoo Finance is showing a total EV of ~$438M, so our number might be a bit conservative, but that's fine.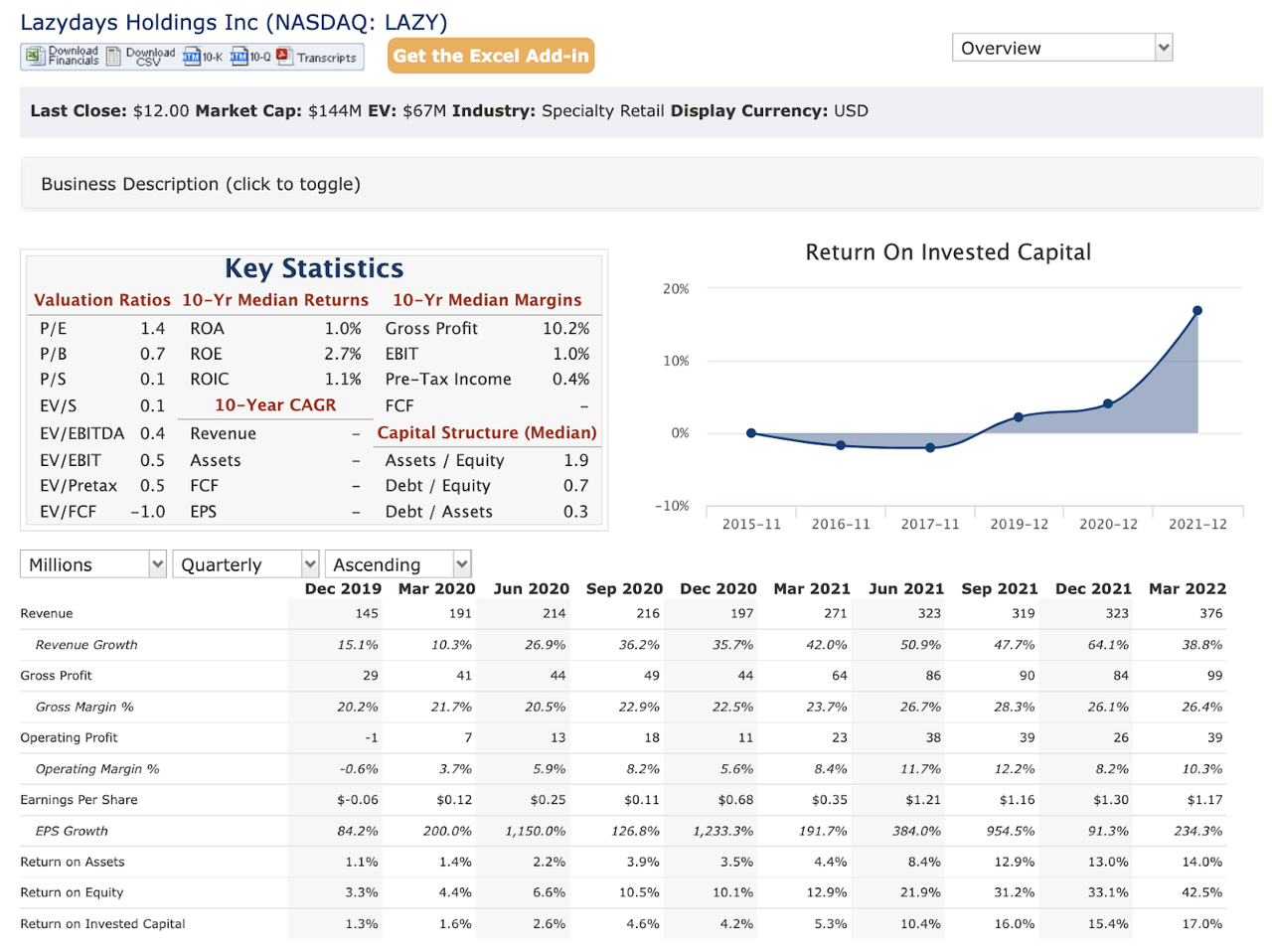 On a surface level, LAZY is extremely cheap (adjusted using our EV of $627M and diluted market cap of $227M):
P/E (TTM): 2.48x

P/S (TTM): 0.17x

P/B: 227M/206M = 1.1x

EV/S: 627M/1,347M = 0.47x
However, it's important to take note that the RV industry is pretty cyclical and using last year's numbers will most likely lead to low multiples calculated at a cyclical peak. Unfortunately, LAZY's historical numbers only go back until ~2018 (when it became public), which isn't long enough to determine the earnings power over a whole business cycle. However, valuation isn't the main crux of the investment thesis.
Insider Ownership + Buying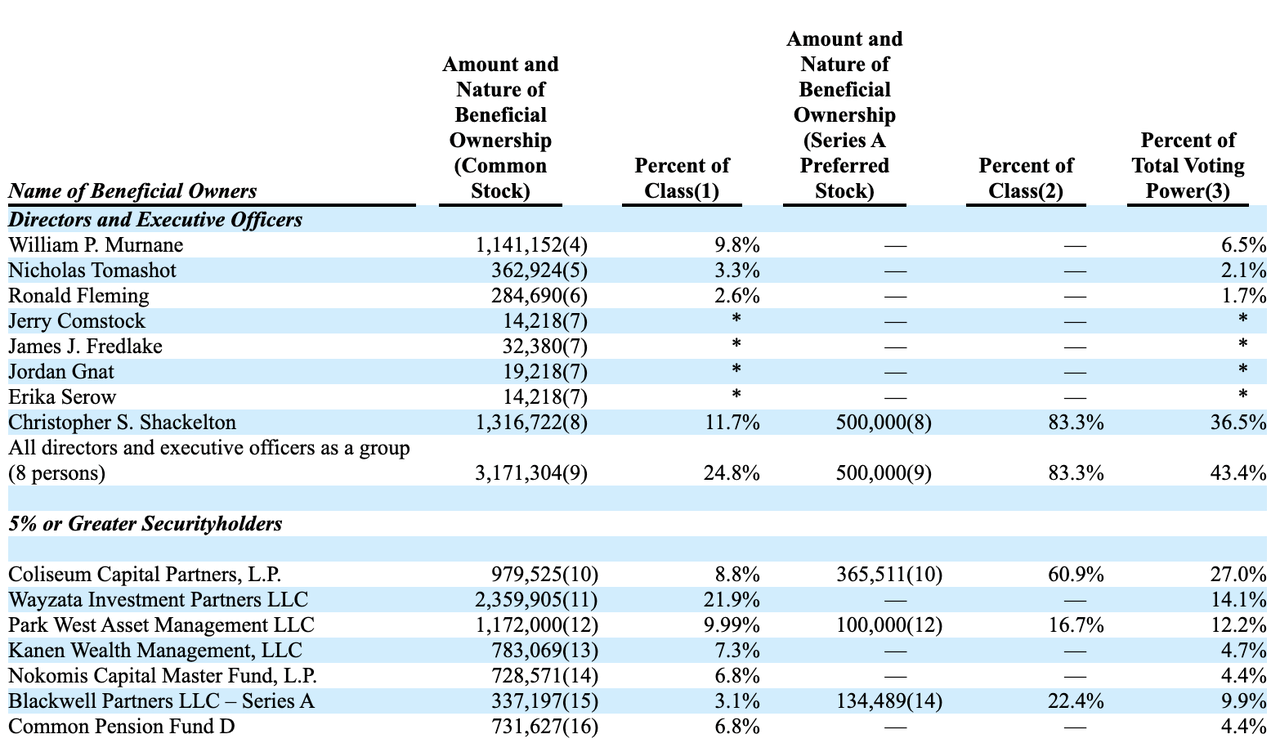 Insiders own ~43.4% of the company (~6.9% after backing out Christopher Shackelton's stake, since he is the co-founder of Coliseum Capital, which owns ~27%). Looking at the insider transactions below, the CEO (William Murnane) seems to have a decent record of buying low and selling high- he bought in November 2020 for ~$14 and sold in the $21-25 range. Coliseum Capital is also a consistent acquirer of the stock (~$13 and ~$20).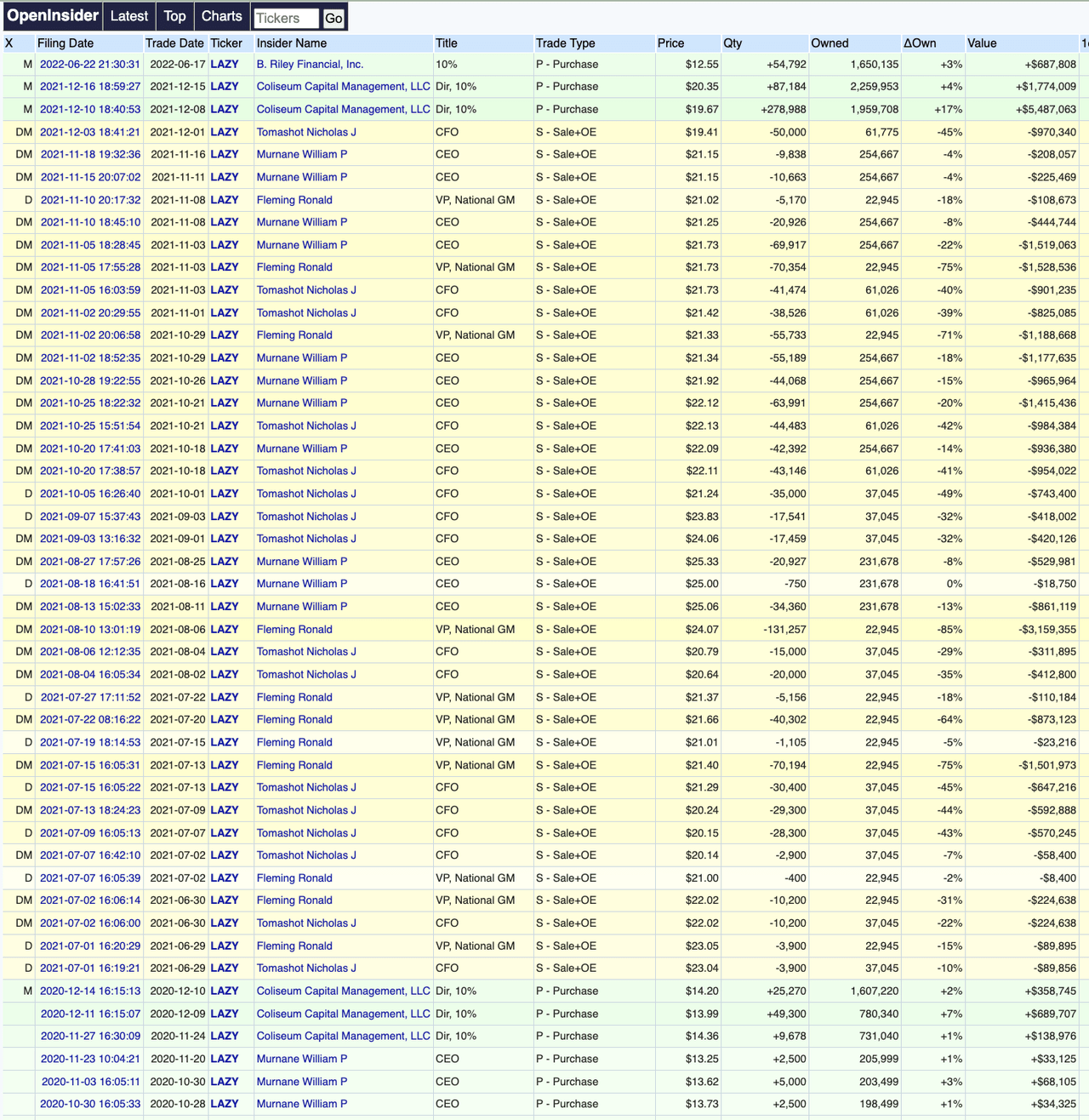 However, LAZY actually appeared on my radar because of B. Riley's offer to buy the company for $25/share in cash back on March 11, 2022. On March 14, 2022, Lazydays announced that it rejected the proposal, stating that they believe that the offer "meaningfully undervalues the Company". The stock is currently trading at ~$12, a 52% drop from the takeout price. Recently, RILY has acquired another ~$700K worth of LAZY on June 22 (see above).
Those who have followed me know that I think highly of B. Riley (see my two write-ups on RILY: Wonderful Company Trading At 4x EBITDA, Yields 6% And Insiders Are Still Buying); they are smart allocators of capital and highly aligned with shareholders. RILY actually leads us to the crux of the thesis below…
Catalysts
The folks at RILY are smart capital allocators; in other words, they are opportunistic and like to acquire assets cheaply. For example, in 2016, RILY acquired United Online (consumer facing dial-up Internet access business) for $71M in cash and stock; the company was (and still is) in terminal decline, but it produces ~$30M+ a year in EBITDA. In short, RILY acquired it for ~2x EBITDA and it still throws off cash for RILY today that is being used for funding new deals.
The fact that RILY offered to acquire LAZY and LAZY rejected the offer for $25/share signals two things:
RILY sees value in LAZY and they believe it is worth more than $25/share (they probably won't be buying $1 for $1)

LAZY (more specifically, Coliseum Capital) sees value in LAZY and also believes it is worth at least $25/share
As a result, moving forward, there seems to be two probably outcomes:
RILY (or someone else) acquires LAZY for at least $25/share or

LAZY continues to grow and eventually grows beyond the proposed $25/share
Either way, shareholders stand to benefit if either of the scenarios come to fruition.
As an extra catalyst, on February 24, 2022, the company authorized an additional $45M for repurchases ($20 million can be used through July 31, 2022, and the remaining $25 million can be used through December 31, 2022) on top of their original $25M repurchase that can be used through December 31, 2022 (declared on September 13, 2021).
Risks
Recession Fears: one could argue that the recent drop in RV stocks (e.g. CWH, WGO, THO) have been in anticipation of a recession, which would dramatically decrease the demand for RVs (and everything in general); I would argue that since it is cyclical in nature, the long-term outlook for RVs is not impaired

High Gasoline Prices: high gasoline prices clearly reduce the demand for RVs, as it dramatically increases the cost to drive RVs across the country

Value Destruction: there is always a nontrivial chance for LAZY to destroy value in its ongoing business operations; however, this risk is mitigated by Coliseum's large stake in the company, since they are incentivized to make the investment work; I would argue that this is the biggest risk to keep an eye on
Takeaway
LAZY represents an interesting situation where the current price clearly does not represent its true value; the only question is whether the gap between price and value can close. I believe that there are forces at play that an enterprising investor should look at; namely, an opportunistic, savvy capital allocator offering to buy LAZY out at a price >100% the current price. RILY continues to accumulate shares even after LAZY turned down its takeout offer, signaling that they still believe LAZY is mispriced.
Based on the analysis above, I recommend a long position in (and careful monitoring of) LAZY for the enterprising investor, potentially as part of an event-driven portfolio.