The junior mining sector is suffering one of its worst corrections in the past decade, and while the producers (GDX) have held up better, they haven't been immune from the selling pressure. In fact, B2Gold (NYSE:BTG) is now down more than 50% from its Q3 2020 highs and trading at a deep discount to its net asset value. While the future in Colombia could be a little cloudy following the recent Colombian Election result, its Malian future has never been brighter. This is because it looks like it could have a Malian mining complex on its hands, capable of 900,000+ ounces of annual production. So, with BTG trading at less than 5.0x FY2023 cash flow estimates, I see this pullback as a gift.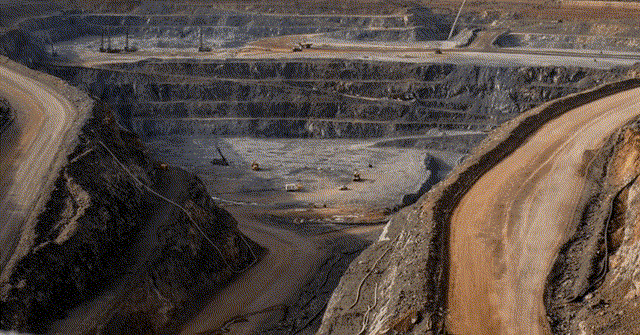 After a decade of industry-leading growth, B2Gold's growth has hit a bit of a wall, which is not surprising after a 550% production growth rate (2021 vs. 2012). This pause has allowed the company to build up a solid net cash position while returning significant capital to shareholders with a 4.0%+ dividend yield. However, without a clearly defined path for its next phase of growth, and with sentiment in the gold sector in the dumps, the stock has remained under pressure.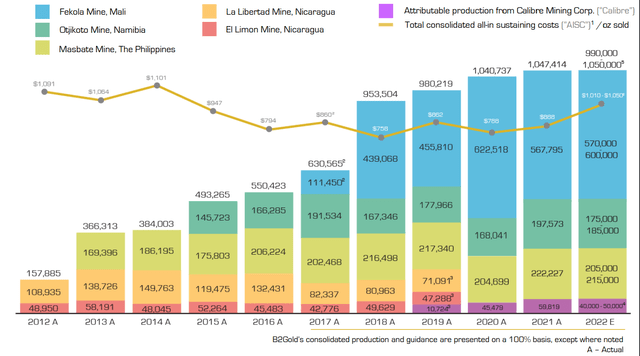 It's important to note that this lack of a clear decision on its next growth path is due to the company's discipline in wanting to make sure the return on any new major investment is worthwhile. In addition, its Anaconda-area exploration was briefly delayed by a minor dispute (now resolved), which slowed down its potential in defining its third path for potential growth. The good news is that this path now looks clearer, paving the way for 30%+ production growth by the latter portion of this decade. Let's take a closer look below:
Gramalote
Over the past three years, there appeared to be two options for growth. The first was building the 50% owned Gramalote Project in Colombia, and the second was building the Kiaka Project in Burkina Faso. However, B2Gold chose to monetize Kiaka, a less robust and relatively high capex project, and it's been working away on Gramalote to see if it can improve on the project economics. The most recent study (2021) showcased a project with the potential to produce ~350,000 ounces per year for the first five years at all-in sustaining costs below $700/oz. While these projected margins are phenomenal, the After-Tax IRR left much desired at 15%, even if it used a conservative gold price ($1,500/oz).
This is because even under a higher $1,600/oz gold price assumption, the upfront capex estimate of $925 million at Gramalote was likely to be too ambitious, using H1 2021 pricing for materials, labor, and fuel. B2Gold had noted multiple times that it saw the opportunity to improve on the economics, and a Feasibility Study was planned for year-end. If it had met expectations, we have seen a 2023 construction decision to follow. However, with a surprise win by left-wing leader Gustavo Petro in the recent Colombia Election, the Antioquia project's future has become a little less certain.
This is because Petro has proposed to ban large-scale open-pit mining in the country, with no distinction that I'm aware of on whether this applies to current operations or just new projects. While the definition of large scale is not in stone, at ~30,000 tonnes per day, Gramalote is certainly not a small scale operation, even if it would boast just half the throughput rate of the massive Canadian Malartic Mine in Canada. Obviously, it's possible that, like Petro's southern neighbor, Pedro Castillo (Peru), the hardline stance on mining could be dropped. However, regardless of how this shakes out, Gramalote's future certainly hasn't gotten any clearer over the past month.
The Malian Opportunity
While the recent news out of Colombia is not ideal for B2Gold or its partner AngloGold (AU), B2Gold was wise to hedge its bets, concurrently working to see if it had an organic growth opportunity in Mali. Based on the significant resource expansion at Anaconda, underground drilling success at Fekola, an incremental opportunity at Cardinal, and the recently announced acquisition of Oklo for a song, this certainly looks to be the case. In fact, in a perfect world, it looks like B2Gold could have a massive Malian mining complex on its hands, capable of producing 900,000 plus ounces per annum. Assuming the company is successful, this could pave a path towards a 1.40 million-ounce production profile by the late 2020s. Let's take a closer look below: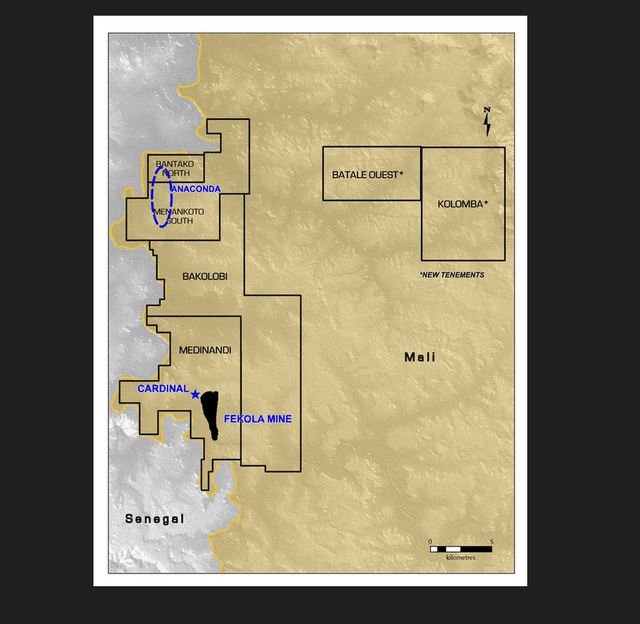 Based on its current throughput rate and with the benefit of excess ore from Cardinal, B2Gold should be able to sustain a 500,000-ounce production profile at Fekola out to the end of the decade, with further upside to the mine life depending on underground exploration success. As discussed previously by management, the plan was to supplement this production profile with another ~80,000 ounces per annum by trucking material south from Anaconda to the Fekola Plant. However, with Anaconda growing to ~3.4 million ounces or ~4.0 million ounces with the addition of Seko (Oklo's Dandoko Project), simply trucking material south from a satellite pit would be selling this opportunity short.
Instead, B2Gold's new goal might be to see if it can delineate a 5.0+ million-ounce resource and build another mining center 20 kilometers to the north, with Seko, Disse, and other regional targets potentially being a satellite opportunity for Anaconda. Assuming this was the case, B2Gold could have Mali 'South' (Fekola/Cardinal) with a 525,000-ounce production profile and Mali 'North' (Anaconda/Dandoko) with a 375,000-ounce per annum potential long-term. The result would be a mining complex producing 900,000 ounces per year at sub $1,000/oz all-in sustaining costs, with upside to 1.0 million ounces per annum depending on exploration success on Oklo's properties or the Batale Ouest/Kolomba tenements and or higher-grade sulphides at Anaconda.
Oklo Resources Acquisition & Recent Drill Success
B2Gold announced last month that it would be acquiring Oklo for ~$70 million, a junior exploration company busy exploring just east of the Senegal Mali Shear Zone and barely 25 kilometers from its Anaconda area. While the Dandoko Project may not offer much in the way of resources (yet), these resources are mostly oxide, high-grade, and Oklo comes with a ~500 square-kilometer land package that offers tremendous regional exploration potential. In addition to the recently acquired Batale Ouest/Kolomba tenements, B2Gold now has a massive land package in Mali to explore, potentially supporting a much larger operation than what it's running today (~600,000 ounces).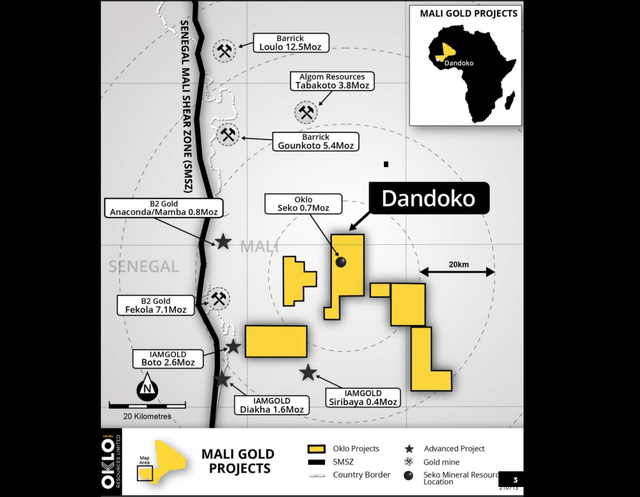 As the map below shows, the Dandoko Project is home to three resource areas currently: SK1, SK2, and SK3, or Seko. The current resource stands at ~670,000 ounces at an average grade of 1.83 grams per tonne gold, which might not seem all that special by junior explorer standards. However, 65% of this resource is oxide material, 79% is in the measured & indicated category, and this resource base lies within trucking distance of its Fekola Mine (~50 kilometers) or 30 kilometers from where B2Gold may set up a new stand-alone plant at Anaconda. In addition, the company has multiple other projects (Sari, Koroufing, Kandiole, Kome) with promising drill results, such as 16 meters at 11.07 grams per tonne gold and 6 meters at 29.41 grams per tonne gold.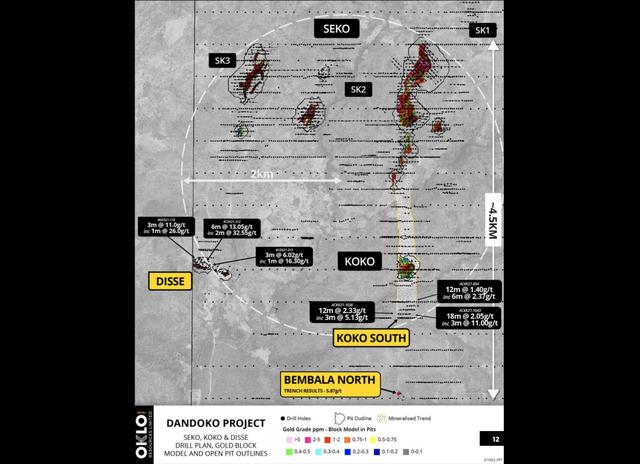 Finally, at Dandoko, there looks to be meaningful upside from a resource growth standpoint, with multiple solid intercepts out of Disse, which lies near the Seko resource area. Some highlight intercepts at Disse include:
6 meters at 13.05 grams per tonne of gold
16 meters at 3.00 grams per tonne of gold
13 meters at 4.69 grams per tonne of gold
3 meters at 12.80 grams per tonne of gold
21 meters at 5.69 grams per tonne of gold
These are phenomenal grades for a relatively near-surface deposit with a ~500-meter strike length, but with B2Gold's much larger treasury, it should be able to figure out the true potential of this resource, with resource growth moving at a much slower pace under Oklo with relatively small drill program underway. While it's still early days, I would not be surprised at all to see B2Gold prove up 1.5 – 2.0 million ounces of gold at Dandoko, which would translate to an acquisition cost of ~$40.00/oz for Oklo with additional upside at other projects.
Meanwhile, on B2Gold's ground, the company recently released solid exploration results, including 19.15 meters at 4.28 grams per tonne of gold and 9.73 meters at 3.86 grams per tonne below the limits of the current mineral resource pit. At Anaconda, B2Gold also continues to release impressive intercepts, with sulphide intercepts including 15.8 meters at 8.09 grams per tonne gold, 4.55 meters at 7.08 grams per tonne gold, and 11 meters at 4.15 grams per tonne gold. Among saprolite intercepts, we also saw some decent holes, including 23.90 meters at 1.85 grams per tonne gold, 13.0 meters at 3.26 grams per tonne gold, 21.0 meters at 3.96 grams per tonne gold, and 28 meters at 1.88 grams per tonne gold.

Not only are these grades above the average resource grade at Anaconda (~1.10 grams per tonne gold), but they also have continued to point to the opportunity of additional resource upside beneath the resource pit limit with relatively high-grade sulphide mineralization. While the growing resource base at Anaconda seems to be able to support a stand-alone plant, we should still see Fekola's production profile boosted short-term in the meantime. This is because B2Gold still plans to truck saprolite material to top up the plant, keeping Fekola's production at 550,000+ ounces even as grades dip a little at Fekola post-2023.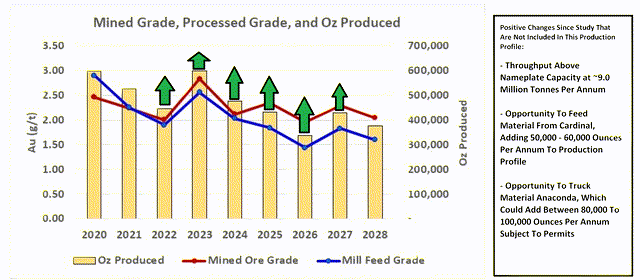 Some investors may not be elated with the fact that B2Gold's main mining hub will continue to be Mali and the potential that more than 65% of production could come from this country, up from ~60% currently. However, it's important to note that while West Africa may not rank that high from a jurisdictional standpoint, its geological potential is nearly unrivaled. In fact, West Africa beats Western Australia in gold production, with a lower discovery cost and operating cost per ounce. In fact, based on Anaconda's resources delineated to date, B2Gold appears to have uncovered them at the cost of less than $20.00/oz and will pull them out of the ground at an AISC margin of $750/oz or better. Besides, coups or not, B2Gold's production has remained unaffected and its relations strong.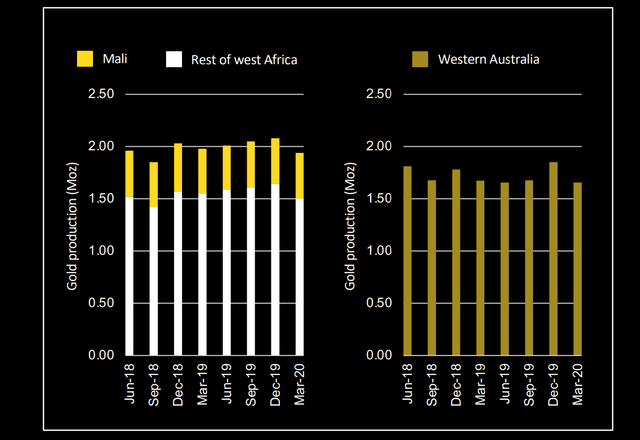 Valuation
Based on ~1.07 billion shares outstanding and a share price of $3.40, B2Gold trades at a market cap of ~$3.64 billion. This leaves B2Gold trading at a forward cash flow multiple of ~5.10, with B2Gold likely to generate annual operating cash flow of $710+ million in 2022 (~$0.67 per share). This figure compares very favorably to its historical cash flow multiple of ~7.7 over the past ten years and ~10.2 since 2008. Based on what I believe to be a conservative multiple of 8.25x cash flow, I see a 60% upside in the stock from current levels to its conservative fair value ($5.45).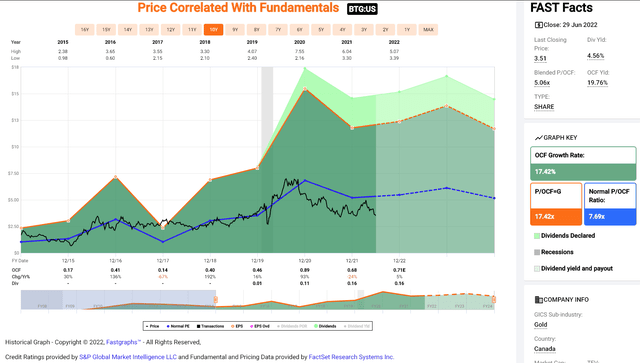 From a P/NAV multiple, the valuation is just as attractive, with B2Gold having an estimated net asset value of ~$5.1 billion, trading at a more than 25% discount to its NAV. This is a dirt-cheap valuation, even for a million-ounce producer operating out of less favorable jurisdictions. Historically, BTG has traded at a slight premium to its net asset value, given its solid track record of growth and discipline. So, from both a P/NAV and cash flow multiple bases, B2Gold has rarely been this attractively valued, outside of March 2020 when many investors decided they didn't want to own any miners and sold many of their holdings with market orders.
Summary
While B2Gold's future in Colombia may be a little cloudy, there's a lot to like about what the company is accomplishing in Mali, with the most recent development being the wise acquisition of Oklo at bargain prices. In fact, if we assume that B2Gold delineates only 1.70 million ounces of gold across Oklo's tenements, it will have paid just ~$41.00/oz for resources less than 50 kilometers from its operations, roughly the same price as its discovery cost. Given this improved outlook and what appears to be a path to 1.35+ million ounces of annual production by 2028 (~30% production growth), I see this pullback in the stock as a buying opportunity.