The first half of 2022 is over. And it was a doozy for Wall Street. The S&P 500 dropped more than 20% in just six months. Indeed, tech stocks were decimated. That's the market's worst first-half performance in over 50 years!
A lot of investors are freaking out. They're scared, reasonably so.
But smart investors are actually getting bullish. That's because the data suggests that on the heels of such abysmal stock performance, a huge rally may come next.
Specifically, we could see an enormous 50%-plus rally across all tech stocks and a 100%-plus rally in certain high-growth stocks.
So, while a lot of investors are running from market, you and other smart investors will be running toward it. And in 12 months, when you're sitting on triple-digit profits in certain tech stocks, you'll be glad you did.
Here's a deeper look.
The Best of Times Follow the Worst of Times
In the stock market, the best of times often follow the worst of times.
That's especially true for tech stocks.
The Nasdaq, which is mostly comprised of tech stocks, lost more than 30% of its value in the first half of the year. That puts the index on track for its worst year ever.
Such huge down years for the Nasdaq are rare. In fact, over the past 20 years, it has only dropped more than 20% just twice, in 2002 and 2008.
Guess what happened in 2003? The Nasdaq popped 50%. Guess what happened in 2009? It flew more than 50%.
Those were the index's two best years over the past 20.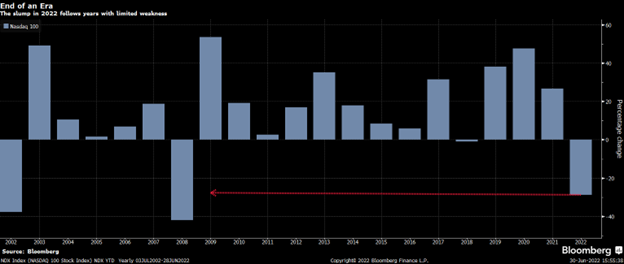 In other words, the Nasdaq's two best years in the century followed immediately after its two worst years.
When it comes to tech stocks, the best of times always come after the worst of times.
Right now, we're in the worst of times. It's worse than what happened in 2002 or 2008. It's the biggest decline yet.
Historically, then, what comes next will be the biggest rally yet. Based on this data, it's not unreasonable to think that tech stocks soar 60%, 70% or more in 2023!
But certain high-growth stocks will rally far more than that…
Find Alpha in High-Growth Tech Stocks
When tech stocks stage a huge 50%-plus "comeback" like in 2003 and 2009, certain high-growth stocks tend to soar 100%-plus.
In 2003, for example, the Nasdaq rebounded by about 50%. In that same year, high-growth tech stocks soared a lot more. Avaya (NYSE:AVYA) popped nearly 400%. Novell jumped 215%. Corning (NYSE:GLW) rose 210%. Yahoo gained about 170%.
At the time, all were high-growth stocks.
It's the same story in 2009. The Nasdaq rose more than 50% that year. Leading the rally were high-growth techs stocks like Advanced Micro Devices (Nasdaq:AMD), Qorvo (Nasdaq:QRVO), Seagate Technology (Nasdaq:STX), Expedia (Nasdaq:EXPE), Amazon (Nasdaq:AMZN), and Booking (Nasdaq:BKNG). Those stocks rose anywhere from 160% to 350% in 2009.
The pattern here is shockingly simple.
When tech stocks collapse in a year, they tend to rebound big in the following one. In those massive rebound rallies, high-growth tech tends to lead the way. Many rally 100%, 200%, 300%, or more in a single year.
This pattern is repeating itself today.
Tech stocks are collapsing in 2022. They'll rebound big in 2023. When they do, many high-growth tech stocks will double, triple, and even quadruple.
In other words, what we have before us today is a generational buying opportunity before the biggest tech rally of the century in 2023.
The Final Word on Tech Stocks
The four most dangerous words in investing are "this time is different."
That's why I'm saying this time is not different.
Tech stocks are down big in 2022. Every time they suffer a horrendous year like this, they rebound swiftly and significantly the following year. In those rebound rallies, many high-growth stocks tend to rally hundreds of percent.
This time will prove no different.
We're expecting a massive tech rebound rally in 2023, powered by falling inflation and a subsequent 180-degree pivot from the Fed on rate hikes and quantitative tightening.
In preparation, we've identified multiple high-growth tech stocks that are primed for 2X, 3X, and even 4X-plus gains next year.
In particular, we've identified one small AV stock that 99% of investors have never heard of. But it could be on the cusp of announcing a blockbuster partnership with Apple (Nasdaq:AAPL)…
This is a stock that could be the biggest winner in 2023's "tech turnaround."
On the date of publication, Luke Lango did not have (either directly or indirectly) any positions in the securities mentioned in this article.