Vehicles are incredibly complex pieces of machinery that require many working parts in order to function appropriately. Add on to this the fact that there are at least 1.4 billion motor vehicles across the globe, and it should come as no surprise that there would develop a number of companies dedicated to providing various goods and services for those who own the vehicles in question. One player in this space that deserves some attention is Standard Motor Products (NYSE:SMP). Between the company's recent track record of improving sales and profitability, and how cheap shares are on an absolute basis, the enterprise might make for an appealing prospect for long-term, value-oriented investors. Because of this, I have ultimately rated the company a 'buy'.
An attractive play on the automotive space
According to the management team at Standard Motor Products, the company focuses on manufacturing and distributing premium replacement parts that are used in the maintenance, repair, and service of vehicles in the automotive aftermarket industry. The company sells its products mostly to automotive aftermarket retailers, warehouse distributors, original equipment manufacturers, and original equipment service part firms located across North America, parts of Central America, Europe, and Asia.
To better understand how the company operates, we should first break it down by its individual segments. Its largest segment, by far, is referred to as Engine Management. During the company's 2021 fiscal year, this segment accounted for 72.2% of the company's revenue and for 76% of its profits. Through this segment, the company provides a full line of critical components that are used in most years, makes, and models of vehicles that are on the road. Its portfolio of products is vast, ranging from ignition to emission control, fuel and safety-related system products, and more. Under this particular category, the company generates 61% of its revenue. It also sells wire and cable products like spark plug wire sets, battery cables, sockets, electrical wire, and more. This category of products accounts for roughly 12% of the company's revenue.
The other segment the company has is its Temperature Control segment. This unit produces and distributes products for temperature control systems like air conditioning and heating. It also sells products related to the engine cooling systems in vehicles, as well as power window accessories, windshield washer systems, and other similar products. One large category under this segment involves the sale of compressors, which, in 2021, accounted for 16% of the company's revenue. Overall, this segment made up 26.8% of the company's revenue and 24% of its profits last year.
The company sells its products under a variety of brand names. These include Standard, Blue Streak, Pollak, TechSmart, FourSeasons, Factory Air, Hayden Automotive, And more. It also distributes two different brands under the Napa name for resale under private labels and co-labels. Although the company does sell its products to original equipment manufacturers, 78.7% of its revenue involves the aftermarket. It's also worth noting the geographic composition of sales. 87.3% of the company's revenue comes from the U.S. market. The next largest area of concentration is Canada which, last year, accounted for 4.8% of the company's revenue. This was followed up by Asia at 3.2%.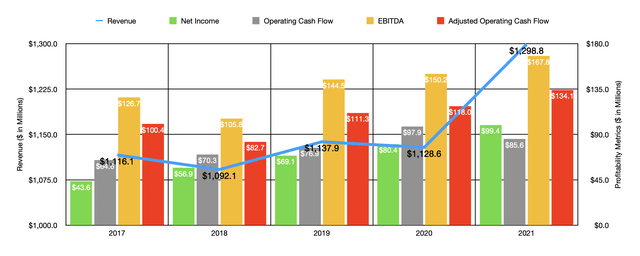 Over the past few years, the general trajectory for Standard Motor Products has been positive. Although revenue has been a bit lumpy, sales have ultimately risen from $1.12 billion in 2017 to just under $1.30 billion last year. Although the company has benefited from organic growth, it has also made a number of acquisitions over the years. In 2021, for instance, the company made three different noteworthy purchases for a combined $130.9 million. The largest of these was of Trumpet Holdings in a deal priced at $111.7 million that ultimately added $37.8 million in revenue to the company's top line from the time of its purchase in 2021 through the end of last year.
On the bottom line, the picture for the business has been even better. Net income has risen each of the past five years, climbing from $43.6 million in 2017 to $99.4 million in 2021. Other profitability metrics have been positive as well. Operating cash flow rose from $64.6 million in 2017 to $97.9 million in 2020. In 2021, cash flow did shrink modestly to $85.6 million. If we adjust for changes in working capital, however, it would have risen from $118 million in 2020 to $134.1 million last year. Meanwhile, EBITDA has also followed a favorable trajectory, climbing from $126.7 million in 2017 to $167.8 million last year.

Top line growth for the company has continued into the 2022 fiscal year. Revenue in the first quarter of the year came in at $322.8 million. That compares favorably to the $276.6 million reported for the first quarter of 2021. Although revenue increased nicely, profitability did suffer some. Net income in the latest quarter was $19.4 million. That's slightly below the $21 million reported in the first quarter of 2021. Operating cash flow went from negative $11.4 million to negative $104 million. If we adjust for changes in working capital, the picture looked much better, with the metric declining from $32 million to $30.8 million. Over that same window of time, EBITDA inched down from $33.1 million to $30.4 million.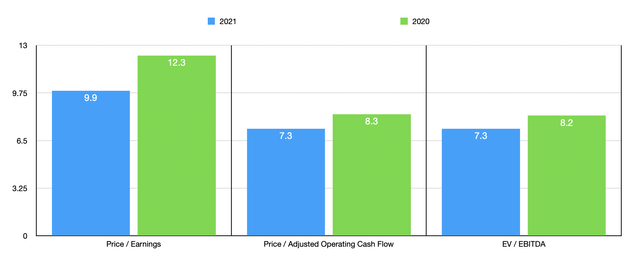 Management has not provided any real guidance for the 2022 fiscal year. If we use data from the 2021 fiscal year, shares of the business do you look to be rather cheap. On that basis, the firm would be trading at a price-to-earnings multiple of 9.9. That's down from the 12.3 reading that we get if we use 2020 results. The price to adjusted operating cash flow multiple is 7.3. That compares to 8.3 one year earlier. Over that same window of time, the EV to EBITDA multiple dropped from 8.2 to 7.3. To put this all in perspective, I decided to compare the company to five similar firms. On a price-to-earnings basis, these companies ranged from a low of 4.3 to a high of 267. Two of the five companies were cheaper than Standard Motor Products. Using the price to operating cash flow approach, the range was from 2 to 251.8. Two of the companies were cheaper than our prospect, while another was tied with it. And finally, we have the EV to EBITDA approach. The range here was from 4.8 to 27.5. In this case, four of the five companies were cheaper than our prospect.
| | | | |
| --- | --- | --- | --- |
| Company | Price / Earnings | Price / Operating Cash Flow | EV / EBITDA |
| Standard Motor Products | 9.9 | 7.3 | 7.3 |
| American Axle & Manufacturing Holdings (AXL) | 267.0 | 2.0 | 5.2 |
| Patrick Industries (PATK) | 4.3 | 6.9 | 4.8 |
| XPEL Inc. (XPEL) | 39.2 | 251.8 | 27.5 |
| Tenneco (TEN) | 43.8 | 7.3 | 6.1 |
| LCI Industries (LCII) | 6.9 | 153.6 | 6.0 |
Takeaway
At this point in time, Standard Motor Products seems to be doing quite well for itself. The company had a soft first quarter and it is possible that a broader economic downturn could hurt the company. Having said that, shares of the business look quite cheap on an absolute basis, even though they are likely more or less fairly valued compared to similar firms. I don't believe that this is the kind of enterprise that would generate very strong returns for investors. But I do think it is attractive enough to rate it a soft 'buy' at this time.