Every once in a while, a revolutionary product comes along and changes everything. So said the late, great Steve Jobs of Apple (Nasdaq:AAPL) when he unveiled the first iPhone back in 2007.
At that launch, he implied that the newly released iPod-lookalike with Blackberry-level functionality would change everything.
And he couldn't have been more right.
Today, there are more than a billion iPhones across the globe. Last quarter alone, Apple sold more than $50 billion worth of them. And it's now the most valuable company in the world, with a $2.2 trillion market capitalization.
Talk about a revolutionary product. Since the iPhone was announced in early 2007, AAPL stock has risen more than 4,000%. That means every $10,000 investment at the time has now become more than $400,000!
Apple launched the iPhone in 2007, just a year before the U.S. economy plunged into its worst recession since 1930. And still, its stock rose more than 4,000% from that moment. The point, of course — revolutionary products grow right through recessions.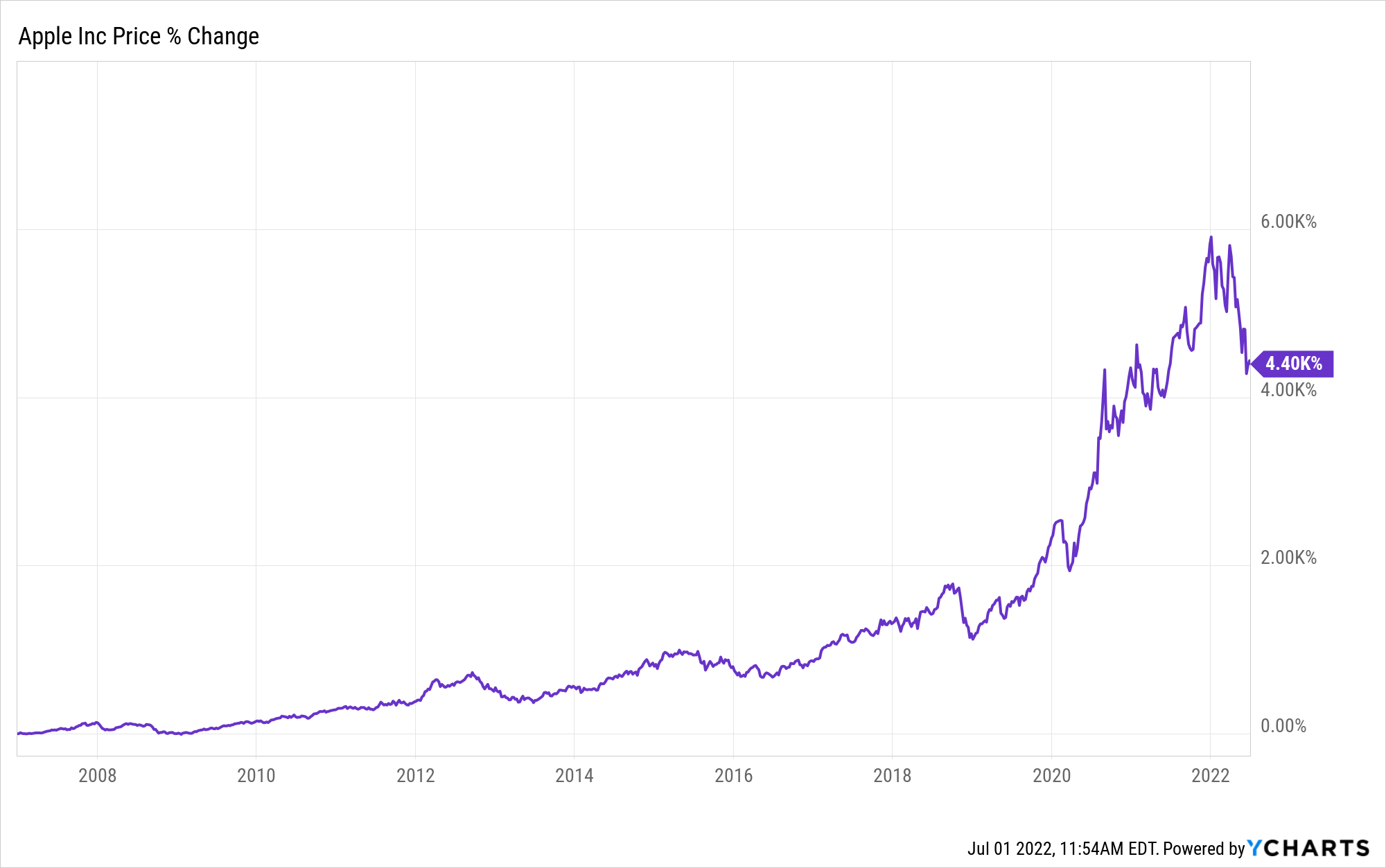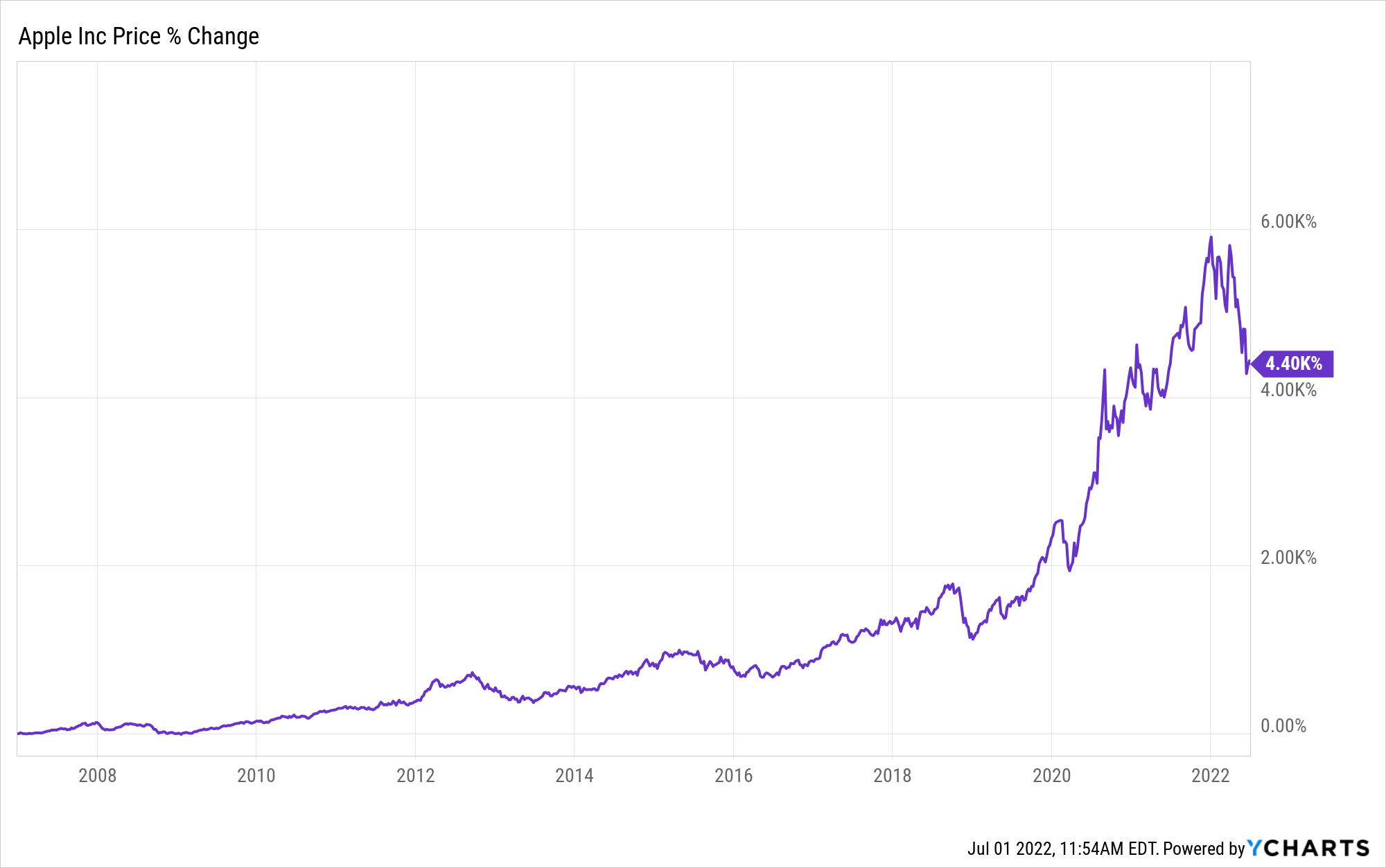 The Incoming Apple Innovation
Now… what if I told you that Apple was about to do it all over again?
That is, what if I told you the company will launch another revolutionary new product over the next 12 months? Better yet, what if I told you that this new product could be even more revolutionary than the iPhone? And perhaps best of all, what if I told you it was the last big idea from Steve Jobs himself?
Well, folks, all are true.
Apple is set to launch a brand-new product that will likely be more revolutionary than the iPhone. And it was an idea that Steve Jobs postulated as the next big breakthrough all the way back in 2008.
Make no mistake. This new product will change the world. It will generate enormous economic value. It will create a rising tide for all stocks related to this its development. And many of those stocks will soar thousands of percent.
And the time to discover the stocks to buy to play its huge breakout is now.
The iPhone Is Maxed Out
Before we talk about this brand-new product, we have to first understand why Apple is launching it
After all, aren't things great at the company already?
They are. But every great innovation has a shelf life. And its biggest innovation — the iPhone — is about to expire.
When Apple first unveiled it back in 2007, only business execs had smartphones. That gave the company a long runway to scale its iPhone business.
Today, however, everyone who wants a smartphone already has one. Smartphone penetration in the U.S. is 85%. And given how long the iPhone has been around, it's highly unlikely that the 15% of Americans who are smartphone holdouts suddenly give in over the next few years.
The smartphone market is saturated. You can see this in Apple's iPhone sales. The number of iPhones sold per year by Apple soared from 11.6 million in 2008 to 231.2 million in 2015. Since then, annual unit sales have plateaued between 200- and 240 million units per year.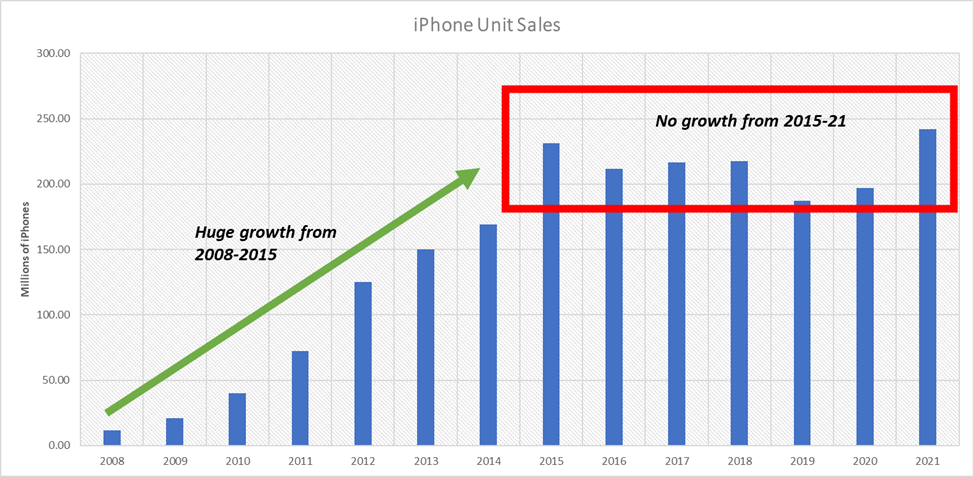 The iPhone business simply isn't growing anymore.
If Apple wants to keep growing and remain the world's most valuable company, it needs to reaccelerate its growth narrative.
It needs another new product with iPhone potential.
Introducing "Project Titan"
In 2008, just a year after the launch of the iPhone, Steve Jobs speculated that the company's next big breakthrough product would be an Apple car.
Nearly 15 years later, that vision is becoming a reality.
Dubbed "Project Titan" by insiders, Apple has been quietly developing an autonomous electric vehicle for years now.
The development has not been straightforward.
Rumors first broke about an Apple car back in 2015. Then in 2017, the company made a dramatic pivot. It decided to ditch making a car in favor of just developing self-driving technology. In another equally dramatic pivot in 2019, Apple switched back to its plans of making a full-scale EV. And just last year, Digitimes reported that Apple will mass produce its long-awaited and highly anticipated Apple car in 2024.
So, what's with this whole "car" thing? Why isn't Apple just making a better iPhone? Why an EV?
The answer has to do with technology adoption rates.
In terms of adoption, EV technology is today where smartphone technology was back when the iPhone launched.
In 2007, smartphone penetration rates in the U.S. were about 10%. Last year, global EV penetration rates were about 10%.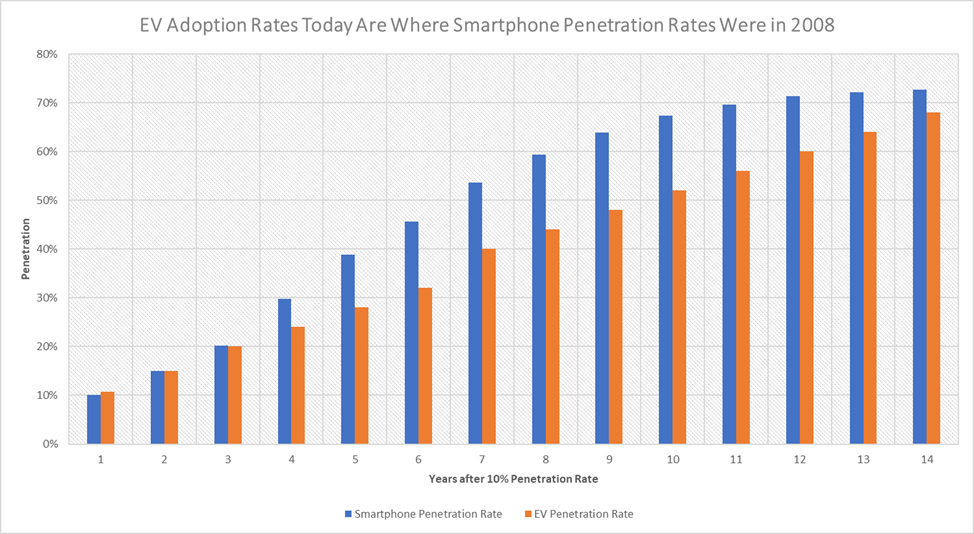 The company has learned from its success with the iPhone. The key to driving long-term growth through a revolutionary product is to launch when that tech's adoption is around 10%.
That's exactly where we are today with EVs. Naturally, Apple is planning to soon launch its own EV. It knows that if this car is a hit, it'll be able to grow that business by leaps and bounds for the next 10-plus years!
Of course, its car will be a hit. Indeed, this is Apple we're talking about. Everything it does is a hit — the iPhone, iPad, Mac, Watch.
Soon, we'll be adding the Apple car to that list. And it'll be the company's biggest product yet. The auto market is significantly larger than the smartphone, computer, tablet, and smartwatch markets put together!
To play this coming megatrend, you could buy AAPL stock. But let's face it. With a $2 trillion market cap, the stock's days of scoring investors 10X-plus returns is behind it.
That's why we've identified a far better, far higher-upside way to play the biggest consumer product launch since the iPhone.
Where the Big Bucks are Made With Apple Products
One thing you have to understand: When it comes to new product launches, Apple never goes at it alone.
That is, the company always wants to create the best product possible. To do that, it knows it needs help. It knows it's not expert at everything. So, the company tends to partner with other companies to supply critical components to help build top-of-the-line products.
Historically, those suppliers have been fantastic investments.
Check out the stocks of companies that have partnered with Apple over the years. They've exploded in value. We're talking investments that can turn $10,000 into as much as $140,000!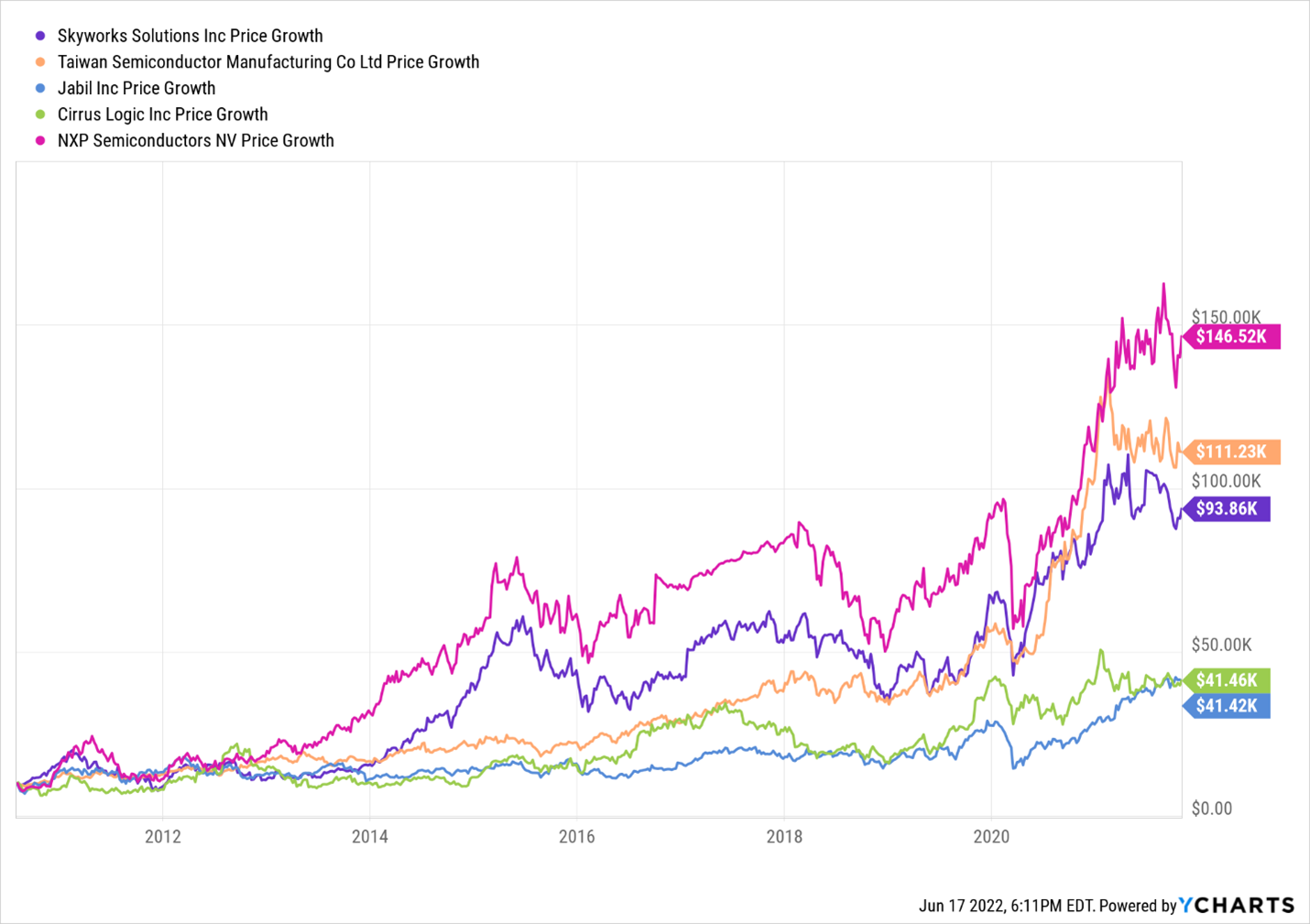 In other words, the best way to play a new Apple product launch isn't to buy AAPL. It's to buy supplier stocks related to that product launch.
And guess what?
We've found the No. 1 under-the-radar Apple supplier stock for the Apple Car.
The Final Word on the Apple Car
Want to know a fun fact about the iPhone that hardly anyone remembers? It launched in 2007, just months before the 2008 financial crisis and the worst economic recession since the 1930s.
It didn't matter that the housing market was crashing, big banks were going under or unemployment rates were soaring. The story bigger than all that was that Apple was selling a lot of iPhones. And thanks to all those sales, AAPL investors made fortunes.
The lesson? When Apple launches a new product, forget everything else. Forget the economy and the market. Forget it all. Focus on the product — and buy Apple supplier stocks.
Right now, folks, the economy is in trouble. The markets are crashing. It's ugly out there.
Yet, Apple is about to launch its biggest product since the iPhone. And if we want to not just survive the market volatility but also make fortunes in the long run, history shows us that the single best thing we can do right now is buy supplier stocks related to this product launch!
Our top pick is a $3 stock that will likely supply the vital tech to make the Apple Car go.
As this car changes the world, this tiny stock could soar more than 40X over the next decade.
This is a recession-proof, crash-proof investment idea that you need to hear about today.
On the date of publication, Luke Lango did not have (either directly or indirectly) any positions in the securities mentioned in this article.