The tech sector dropped like a stone this year. So, it's easy to forget the cardinal rule that marks many a bull market: Tech still rules the world.
Here's a little news flash. Tech stocks are entering a brand-new bull market that could be the start of a massive 50%-plus melt-up. And certain tech plays could see a 10X surge higher!
The reason behind this is deceptively simple.
Tech stocks have been getting slammed all year long. The sector gave back roughly 30%, while many individual names plunged 70% or more.
That selloff had nothing to do with fundamentals. Everywhere, folks are still using technology to do everything. They're still all shopping on Amazon (AMZN). They're still watching Netflix (NFLX), buying Apple (AAPL) products, and working with Microsoft (MSFT) software.
Tech stocks were crushed because of this little thing called inflation. Indeed, that became a big problem in 2022 – for the first time in 50 years.
And now that big problem is fading. Yesterday, we learned that consumer prices in July dropped month-over-month, a first in the post-pandemic era.
Tech stocks soared in response. Indeed, they rallied so much that they're now up 20% from their mid-June lows. By definition, this means tech has entered a new bull market.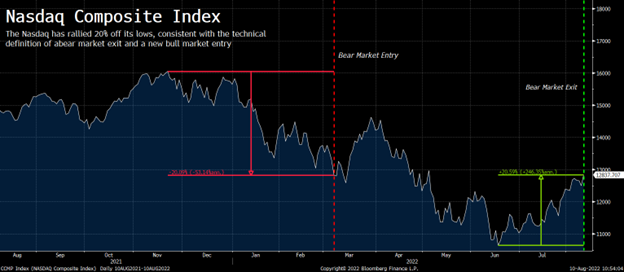 Head fake? History says no. So do the fundamentals – and the technicals. All evidence points to this new bull market being the real deal.
If that's true, the data says tech stocks will rip higher by 50% over the next 12 months. In fact, dozens of select tech stocks should rally by 1,000% or more.
And we've found one tech stock we think can rally 10X before the year's end…
In other words, investors who buy the top tech stocks today will make fortunes over the next 12 months.
Let's make sure you are one of those investors.
Inflation Is Dying
Since late 2020, inflation has been doing one thing and one thing only: Getting hotter, and hotter, and hotter. Every. Single. Month.
That trend broke yesterday.
Across the board, yesterday's Consumer Price Index (CPI) report for July missed expectations. And it showed compelling signs of an inflation slowdown.
Headline CPI rose 8.5% in July, versus 8.7% expected and 9.1% in June. Core CPI rose 5.9% year-over-year, versus 6.1% expected and 5.9% in June. On a month-over-month basis, headline CPI was actually down slightly in July (versus +0.2% expected and +1.3% in June). And core CPI was up just 0.3% in July (versus +0.5% expected and +0.7% prior).
Of note, the report included a number of bullish post-pandemic firsts for inflation. For the first time, inflation was negative on a month-over-month basis and rates dopped more than 50 basis points sequentially. Also for the first time, energy prices fell in a major way.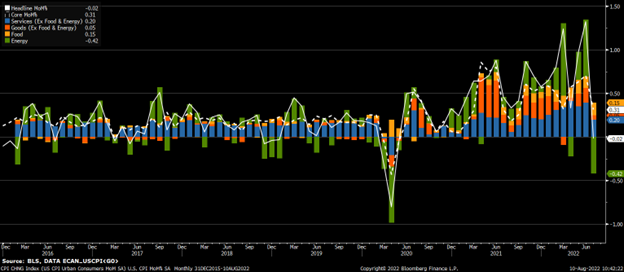 It was about as convincing a report as you could dream of to illustrate that inflation has peaked and is on its way out.
We fully expect inflation rates to continue their rapid deceleration over the next 12 months. As they do, tech stocks will soar – and certain small tech stocks will soar 10X or more!
Bull Market Fortunes Are on the Way
As noted above, yesterday's inflation print was so good that tech stocks soared about 3%. That continues what has been a big rally ever since mid-June. The headline Nasdaq index is now up more than 20% from those lows. By definition, that means tech stocks officially entered a new bull market yesterday.
Sure, that's just a definition. But it's also very meaningful.
This technical indicator has successfully predicted every tech-stock bear market's end over the past 50 years. except the dot-com crash. And this isn't the dot-com crash, since valuations at that time were about 50% higher than they are today.
To that end, every time over the past 50 years (excluding 2000-2001) that tech stocks did rally 20% off recent lows as they've done over the past two months, they soared over the next 12 months.
The average 12-month-forward gain? Almost 40%. The average 12-month gain in the most recent examples from the past 20 years? Nearly 50%!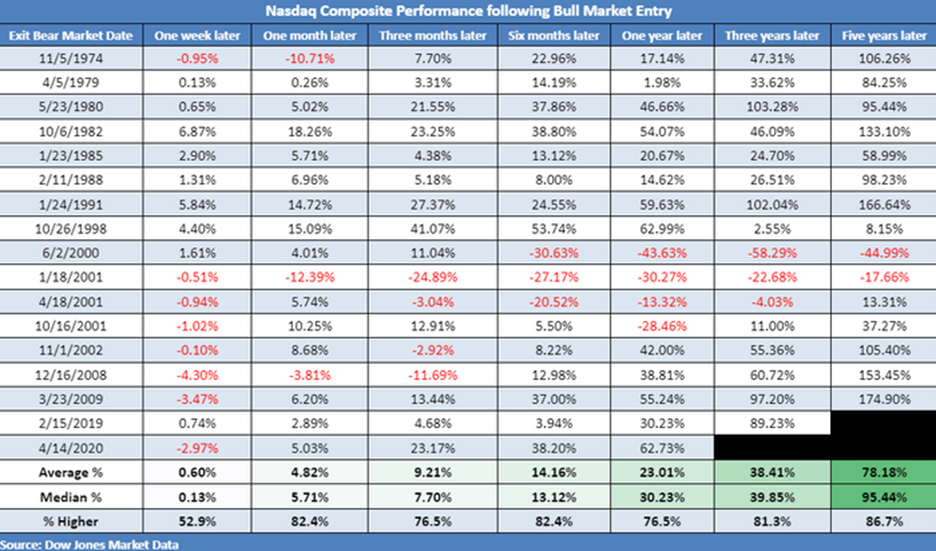 In other words, tech stocks just flashed an ultra-rare "bull market entry" signal. And it has a 100% track record (excluding the dot-com crash) of predicting big tech-stock gains over the next year.
The investment implication? The odds are very high that tech stocks surge about 50% over the next 12 months.
If they do, then history also says potentially dozens of small-cap tech firms will soar more than 10X as well.
And one stock in particular has the potential to bag 10X gains over the next month alone…
The Final Word
Lots of investors think money is made in bull markets.
That's true. Money is made in bull markets. But fortunes are made in bear-to-bull market transitions.
In those periods, investors have the opportunity to score a decade's worth of returns in a single year. They have the opportunity to see their investments soar 5X, 6X, even 10X in value in 12 months or less.
It's a once-in-a-decade investment opportunity. It's happening right now. And all investors have to do to capitalize on it is buy the right tech stocks today.
We've spent the past several months scanning the market for the highest-upside-potential tech stocks in this bear-to-bull market transition.
Ultimately, our research led to us to one stock being the single best buy in the market right now.
What makes this stock so special?
Well, it's smack dab in the middle of the most promising economic opportunity of our lifetimes. I'm talking about capitalizing on the Space Economy. The opportunities that lie within are about as infinite as space itself. And the stock I'm focused on is the only one that can realistically soar 10X in the next month alone.
Seriously. If successful, this company is just a few weeks away from changing the world. And its stock could really rise by 10X or more in that time.
It is a stock you simply need to know about today.
On the date of publication, Luke Lango did not have (either directly or indirectly) any positions in the securities mentioned in this article.