If you have a love-hate relationship with Mullen Technologies (NASDAQ:MULN), you're not alone.
"Bought at [41 cents] and I know it's going to crash," read a post on Reddit last week. "I'm about to get burned I know it."
The electric vehicle penny stock has become a curiosity over the past several months, earning both praise and criticism from its most loyal fans. Much of Mullen's chatter on Reddit is an exercise in self-loathing, and due diligence into the stock has degenerated into quips of "no specific target, just up!"
It wasn't always this way. In late 2021, shares of the California-based firm peaked at over $13 as investors chased the next Tesla (NASDAQ:TSLA). Even as recently as June 2022, CEO David Michery's firm was boasting of having the strongest balance sheet in its corporate history. Shares of the company would bounce around that time on a string of positive news.
But a combination of share dilution, price declines, and increasingly questionable business decisions have turned some investors against the once-promising startup. Mullen's stock trades under 40 cents today, and its dwindling cash pile could run out as soon as the spring without additional fundraising.
As the firm increasingly struggles to stay relevant, many Mullen fans are now realizing the same thing:
Mullen Technologies has turned into the new Dogecoin…. with none of the fun.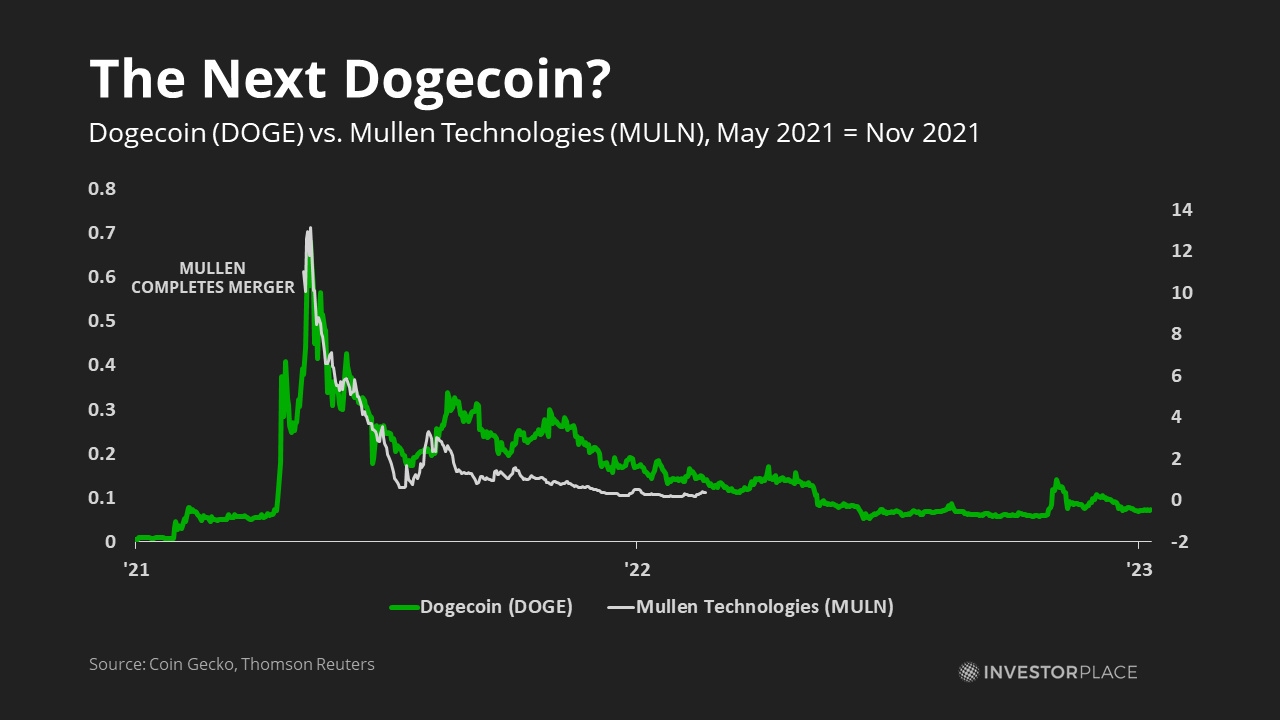 Mullen's Rise as a Reddit Star
In a sense, Mullen's rise as the next Dogecoin was entirely predictable.
The company went public in November 2021 in a reverse merger with Net Element, a fintech firm. Mullen's outsized plans to upend the electric vehicle market would come just as interest in electric vehicle technologies was reaching a crescendo, and CEO David Michery didn't disappoint.
"We believe the timing of this merger is ideal for Mullen Technologies," said Mr. Michery. "It comes on the preparation of our launch of the Dragonfly K50, which will be available in Q2 of 2021 and through our retail network in California and Arizona and the development of a new EV model, the MX-05 Sport Utility Vehicle, that we expect the start of production next year."
The reverse merger's timing would also prove serendipitous in a different way. A collapse in electric vehicle stock prices would send value-minded investors seeking alternatives to the bigger-name companies. And much like the rise in Dogecoin (DOGE-USD) during its April 2021 heyday, buying shares of Mullen felt much like riding a second wave. If early movers could get rich from second-tier automakers like Nio (NYSE:NIO) and Lucid Motors (NASDAQ:LCID), why couldn't latecomers do the same thing in third-tier ones like Mullen? Surely, that strategy worked for assets like Dogecoin and other meme coins.
And MULN wouldn't disappoint. Shares would quickly experience a series of inexplicable 100%-plus gains after an initial post-merger decline. Some analysts speculated that short squeezes were the cause, while others suggested positive media coverage as the reason. Either way, Mullen's stock looked like a lottery ticket to quick riches.
It was, for all practical purposes, the new Dogecoin of 2022.
The 'Fast Talking EV Hustle'
Nevertheless, storm clouds were already gathering. In April, Hindenburg Research published a scathing review of the company, calling it a "another fast talking EV hustle."
"We have seen this story before, but Mullen strikes us as one of the worst. With echoes of Nikola, Lordstown, Kandi and Ideanomics, we think Mullen is just the latest in a long line of EV hustles. … Michery's bio leaves out his CEO roles at nearly half a dozen failed penny stock companies, several of which had their securities registrations terminated or revoked by the SEC."
Mullen Technologies itself would raise a half-dozen red flags. The company's Dragonfly K50 launch date would continuously get pushed further and further behind schedule, and its latest balance sheets would show no sign of any customer pre-payments for vehicle reservations. On Dec. 29, the company revealed it would fail to timely file its 10-K annual report with the SEC.
If you were to build a company out of red flags, this would be it.
Since then, social media chatter surrounding Mullen has turned decidedly opportunistic.
"Imperative to hold 0.36 if we want to keep on climbing," read one recent Reddit post. "I have no [price target]," wrote another. "I'm holding my 50k shares until mullen 5s start rolling off the assembly line. well, unless it squeezes in which I'll sell the squeeze and buy back in when it's over."
And the major difference? The chatter today lacks the freewheeling hope and gleeful delight that featured prominently with Dogecoin traders. Rather than "hodl" for the long run, Mullen investors seem ready to use options and quick sales in a quest for profits over all else.
Will MULN Stock Reach $1 Again?
Of course, no prediction of MULN stock would be complete without a look into where prices will go.
And here's my take:
"I have no idea."
Mullen could well reach $1 on intense buying pressure. Heavy trading days can see over 500 million MULN shares exchange hands — an enormous figure for a company with only around 1.4 billion freely floating shares. And Mullen's management seems to take no issue in promoting the company, no matter how irrelevant or absurd the milestone. In October, the firm made headlines after announcing the $12,000 I-GO Urban Delivery Electric Vehicle for the European market. Online sleuths would eventually allege it was a $5,000 electric vehicle sold on Alibaba, which didn't stop Mullen from doubling down with an update in December.
More realistically, the firm will eventually disappear, much like Michery's other failed penny stock ideas. Its latest filing showed over $54 million of cash burn in a single quarter, compared to $61 million of cash on hand. And with no cash coming in from preorders, it doesn't take a mathematician to realize something doesn't add up. But how the stock gets to zero is anyone's guess.
In April 2021, I wrote how buying $500 of Dogecoin was "going to be far more fun than sitting on the sidelines." Prices would jump 300% within several months, taking investors on a gleeful ride.
But Mullen is decidedly different. With its most ardent fans ready to abandon ship at the first sign of profits, new investors are better off sitting on the sidelines.
On the date of publication, Tom Yeung did not hold (either directly or indirectly) any positions in the securities mentioned in this article. The opinions expressed in this article are those of the writer, subject to the InvestorPlace.com Publishing Guidelines.