Thesis highlight
I think Playstudios (NASDAQ:MYPS) has 32% upside. MYPS demonstrated its ability to expand into other parts of the gaming market through the acquisition of other games. In addition, management has stated pretty clearly on their objective to go for profits – which is a key driver for the stock. I believe so long as MYPS can continue to improve margins incrementally every year, the stock will do well.
Company overview
MYPS develops and operates free-to-play casual games for mobile and social platforms.
Loyalty program is a key to everything
The development, maturation, and decline of a game are all typical stages in the creative content lifecycle. There are different difficulties to overcome at each phase, from player acquisition and community building to player retention and monetization. To be a commercial success, a game must be able to keep its players engaged for long enough to earn their money. The true value of the MYPS playAWARDS program lies precisely in this. Adding loyalty mechanics to games is one way in which MYPS has changed the trajectory of the typical game's lifetime.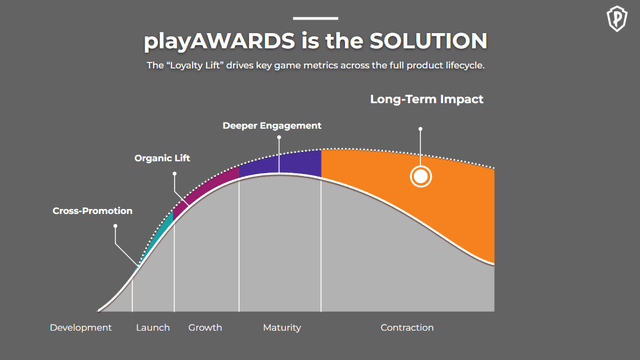 I believe having a loyalty program has two distinct impacts. From the players' perspective, When players are rewarded for their time and effort in the games, it makes them feel appreciated and gives them a sense of accomplishment. Because of this, a sense of reciprocity is fostered, which is crucial in developing interesting digital experiences. From the perspective as a game developer, their capacity to attract, keep, and monetize players has been shown to increase when loyalty programs are implemented.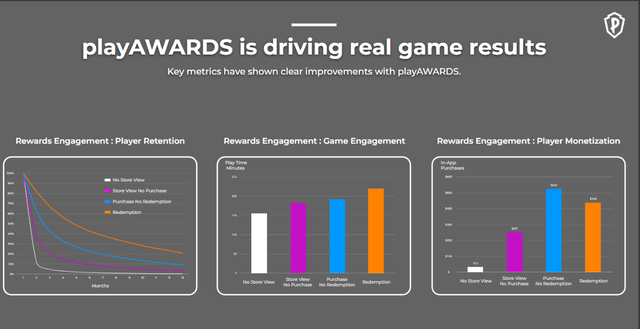 Proprietary loyalty platform
MYPS has developed and expanded its own loyalty platform, playAWARDS, to include 84 partners across 275 brands in 17 countries on four continents. This has allowed the company to attract a diverse range of award partners from various consumer industries, like gaming, entertainment, and travel. This loyalty platform serves as the foundation of MYPS's ability to provide an enriching experience for its 12 million monthly active users.
Because of its years in the industry and its well-integrated loyalty platform with award partners, I think MYPS has a leg up on the competition. There is a high barrier to entry for new players to copy MYPS systems because they require a lot of resources to develop.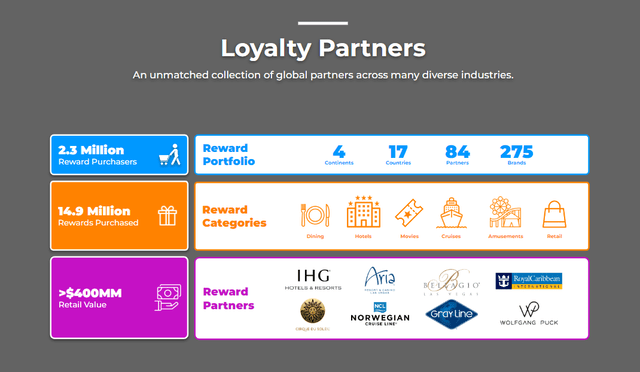 Network effect
I think there is a significant network effect as a result of MYPS's loyalty program. With continued use of MYPS games, players can earn loyalty points that can be redeemed for tangible benefits in the real world. Their increased participation in the MYPS program and promotion of MYPS games as a means of keeping their brands in the minds of target consumers through the consumption of real-world rewards generates incremental value to partners. This keeps them coming back to MYPS games to level up and earn more loyalty points, which in turn keeps them coming back. The more players MYPS is able to direct to partners, the more MYPS can attract from the supply side (partners and rewards). The greater the number of rewards MYPS receives, the more it is able provide to players, increasing the attractiveness of the MYPS loyalty proposition.
Expansion into other parts of the gaming market
The gaming market is massive, and MYPS is only present in a small portion of it. According to management estimates, the TAM for Social Casino is $7.5 billion and Casual Games is $23.5 billion, for a total TAM of more than $31 billion. To put things in perspective, MYPS only has 8 games in Social Casino and 11 games in Casual Games. There is clearly a very long runway ahead for continuing to launch/acquire new games.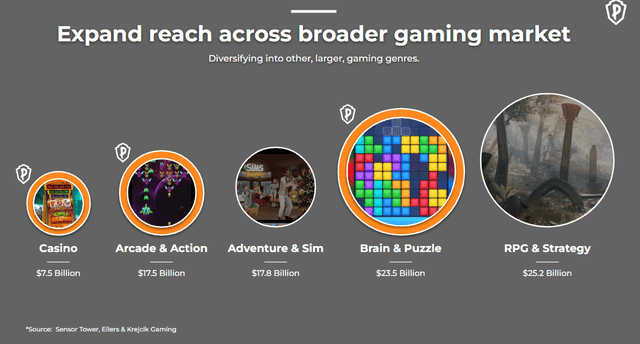 MYPS's recent acquisition of Brainium (which increased MYPS's Casual Games portfolio from two to eleven games) is a prime example of MYPS diversifying its portfolio in order to enter the Casual Games market.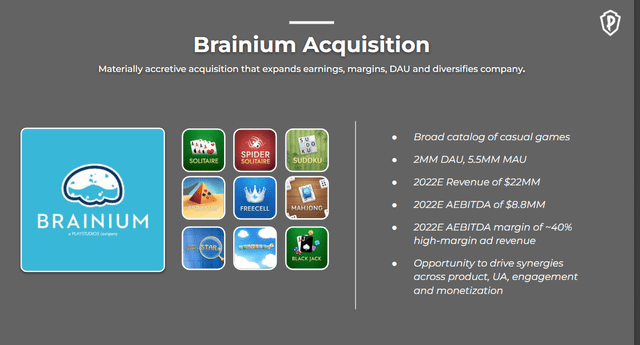 Given the shorter time-to-market, I believe M&A will be the most likely source of new games in the future. More importantly, the games have already demonstrated that they have an audience. This drastically reduces the risk of pick-up rate. As you might expect, there is a whole graveyard of games that do not see widespread adoption. Furthermore, given MYPS's strong backend infrastructure, I see this M&A as "plug and play," in that MYPS could be viewed as a roll-up company that continues to acquire mismanaged or high-post-synergies games to add to its portfolio of games.
MYPS has a strong capital position to fund this strategy, with $290 million in available liquidity for deployment. Given that MYPS acquisition targets typically range in size from development to more than $300 million in revenue. I believe that the current available liquidity is adequate.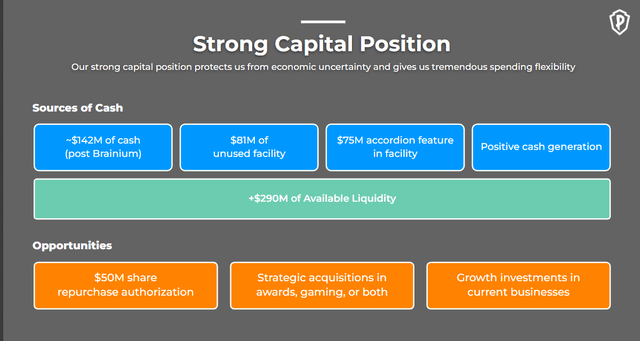 Ad monetization is possible path to increase profitability
Almost all of MYPS's revenue comes from in-game purchases (except Brainium). I believe MYPS has numerous opportunities to apply the ad-model to all of its games, which would significantly improve profit economics. To put this in context, Brainium is entirely monetized through advertisements and has an EBITDA margin of roughly 40% in 2022. This, I believe, establishes a strong precedent for the long-term margin of MYPS. The Brainium acquisition also provided MYPS management with the necessary knowledge on how to operate an ad-model while balancing user experience and monetization.
Margin expansion is critical
I believe MYPS's margins will continue to expand to peers' levels of the high 20%'s EBITDA margins once it begins to roll out the ad model, leverage its fixed cost base, and investments in growth games slow. The good news is that this is a clear goal for management as well, with a focus on increasing profitability by 2023. This is also reflected in the FY22 guidance, where the adjusted EBITDA margin is expected to reach 12%, 250 basis points higher than in FY21.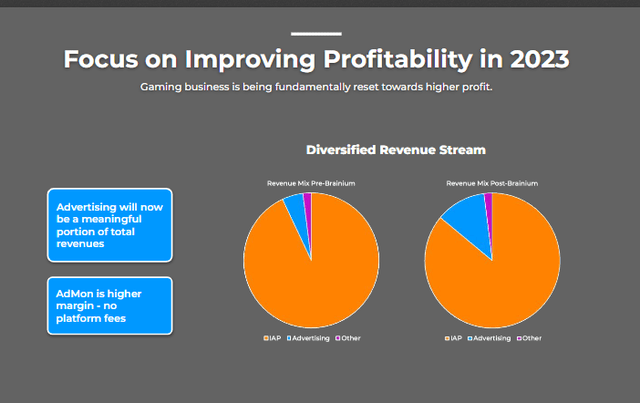 Consider the following example to demonstrate the significance of MYPS margin. If we assume that MYPS can eventually reach peers' levels of EBITDA margin, say over ten years, and revenue continues to grow at GDP levels, that still translates to a 15% EBITDA CAGR over ten years.

Valuation
According to my model, MYPS is worth $5.30 in FY24. The core of my thesis is that margins can expand to peer levels, and MYPS can continue to grow at a GDP-like rate in the future, thanks to acquisitions, new game launches, and the ad model. Given that the TAM is extremely large and MYPS only has less than 30 games so far, there should be no problems growing at this level.
As for profitability, as I mentioned above, I believe management has made it a priority to improve it. If management is successful in increasing margins by 100bps per year in the future, MYPS should be able to generate $49 million in adjusted EBITDA in FY25. Using the current forward EBITDA multiple, this suggests a 32% upside.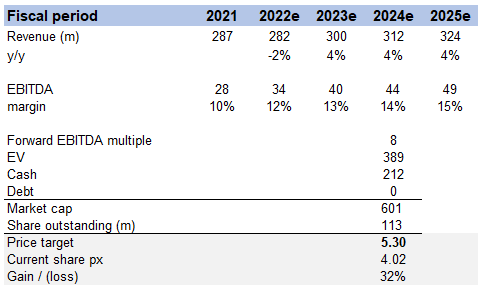 Risk
Gaming preferences
This is an inherent risk that MYPS will face for the rest of its existence. The thing about normal games (i.e., not famous franchise games) is that they are very similar to fashion styles and trends. There is no formula that guarantees that a new game will be well-liked by gamers. A couple of such blunders could devastate short-term financial performance.
Conclusion
MYPS is a mobile and social game developer that leverages its proprietary loyalty platform, playAWARDS, to improve player engagement, retention, and monetization. The platform has partnerships with 84 brands across 17 countries and has a diverse range of awards partners. The key part of my bull thesis is margin expansion, which is a key objective for management. I believe there is a good path to MYPS growing EBITDA in the high teens range if it can expand margin incrementally every year and grow its top-line steadily.