Investment thesis
Talos Energy (NYSE:TALO) announced successful drilling results from two of its Gulf of Mexico prospects. The company also achieved an extension of the maturity of its credit facility from 2024 to 2027, thus improving liquidity and de-risking further the 2026 bonds.
Despite the good news, the market's reaction has been muted. When the EnVen acquisition closes, 30% of the shares will be held by three parties that are presumably seeking to exit. That may indeed pressure the stock price into the future, but the TALO valuation thesis works at $60 oil as well and shouldn't be ignored.
Management is trying to grow the company, so Talos definitely isn't a "cash returns now" play. I wouldn't exclude more acquisitions either, but EnVen appears to have been accretive. The company's investments should start paying off in 2024, and it isn't inconceivable that Talos itself may be bought out too some day.
Background
I have covered Talos before, so this article can be seen as extension of my prior analysis, which you can find here. I also shared my thoughts on the EnVen acquisition here.
TALO fits nicely with my energy macro thesis for 2023. I expect conventional offshore plays to do better in the future than unconventional onshore, as U.S. shale is starting to face a steepening cost curve to grow production. I also believe that smaller caps, coming off much lower starting valuations, will outperform larger caps.
With the EnVen acquisition, Talos has solidified its presence in the Gulf of Mexico: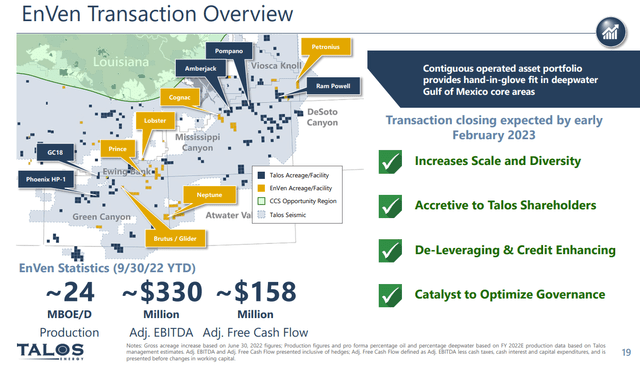 The acquired locations are mostly contiguous which should yield operational efficiencies. Based on already developed assets, the combined company should produce about 77 mboe/d, of which about 70% should be oil.
The recent good news
Improved liquidity and credit risk
TALO's recent re-affirmation of the borrowing base under its credit facility at $1.1 billion and the maturity extension from 2024 to 2027 was good news. Further, when the EnVen acquisition closes in February, the borrowing base will automatically increase to $1.5 billion and bank commitments will increase to $965 million from the current $806 million, an increase of 20%.
The 2026 notes are subordinated to the credit facility, but I think the facility's maturity extension to 2027, behind the notes, should still be positive:

Even though the notes still carry the unflattering B- rating, their option-adjusted spread is now only 428 bps, much better than the 891 bps at the start of 2022. With the rise in the risk-free rates due to the Fed's tightening, the spread gives a better picture of how the market views Talos' risks and the perception has clearly improved.
Adding reserves and production
Talos Energy just reported data from Lime Rock and Venice, where it has 60% working interest:
78 feet and 72 feet of net hydrocarbon pay in the primary targets at Lime Rock and Venice, respectively, with excellent geologic qualities;

Expected combined gross production rates in-line with pre-drill estimates of approximately 15-20 thousand barrels of oil equivalent per day; the two wells will produce through a shared riser system at the Ram Powell facility.

Expected combined gross recoverable resources in-line with pre-drill estimates of 20-30 million barrels of oil equivalent, averaging approximately 40% oil and 60% liquids.

Expected completion operations in the second half of 2023, with first production from both wells by the first quarter of 2024.
With 60% interest, this adds 9-12 mboe/d to the pro forma 77 mboe/d with EnVen: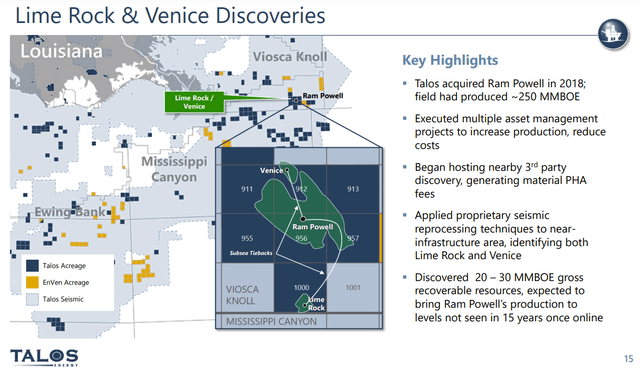 Talos is also expecting the results from Puma West, where BP (BP) is the operator.
The market hasn't reacted much: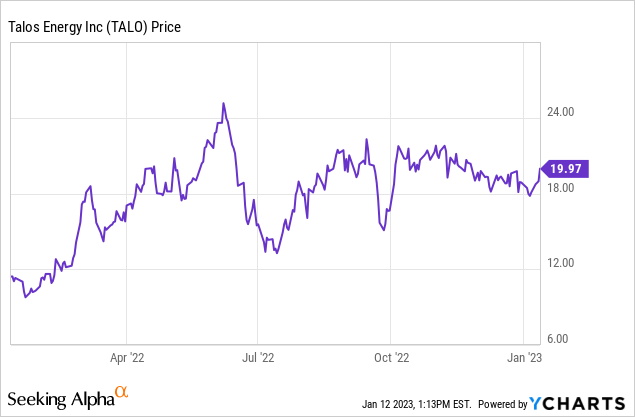 But at least the short interest is falling: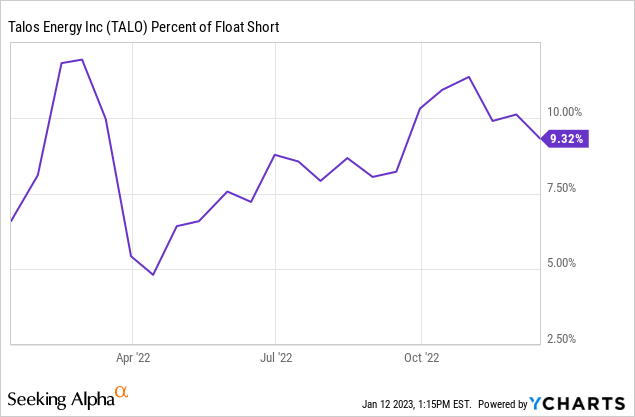 The valuation remains a bargain
Seeking Alpha continues to rank Talos as "A" on valuation: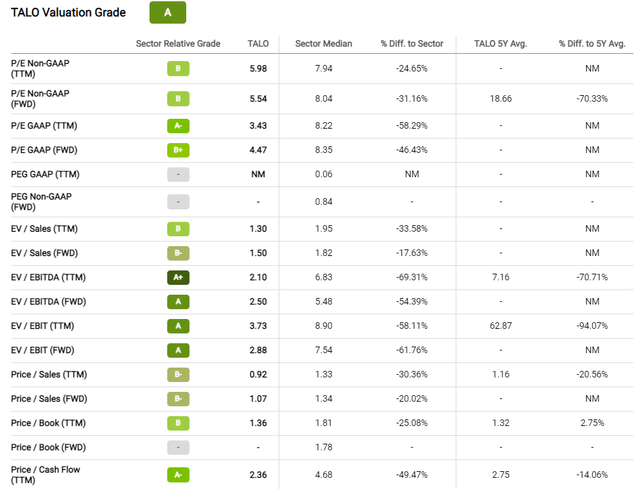 As I noted in my prior article, I even expect the metrics to improve slightly upon the EnVen closing.
Not including the incremental production from Lime Rock and Venice, which will come online in 2024, and without EnVen too, Talos is currently valued at $28,440 per flowing barrel; here is how that compares to other companies:
| | |
| --- | --- |
| Company | EV/boe/d |
| Talos Energy (TALO) | $28,440 |
| Callon Petroleum (CPE) | $45,100 |
| Denbury (DEN) | $91,150 |
| Hess (HES) | $140,200 |
| Matador (MTDR) | $77,700 |
| Ovintiv (OVV) | $32,600 |
Source: S&P Commodities; Author's calculations
Hess is of course in a completely different league, but I added it just to illustrate how divergent large vs. small cap valuations have become lately.
Finally, the average Wall Street target reported by Seeking Alpha is over $28:

Potential concerns
One basic concern is that Talos is focused on growth, not on returning cash to investors. Over the last year, we have seen strong preference for companies that pay dividends or engage in buybacks.
On the other hand, the Hess valuation I included above shows that if a company has a persuasive growth story, the market will go ahead and bid it up anyways. That is why I am not really concerned that Talos is prioritizing growth. As long as the company is adding reserves and production, the distributions will come too. Talos' offshore production may be even more valuable in 2024, if the shale cost curve continues steepening.
The second concern worth mentioning is that, after the EnVen close, three parties will own 30% of the stock: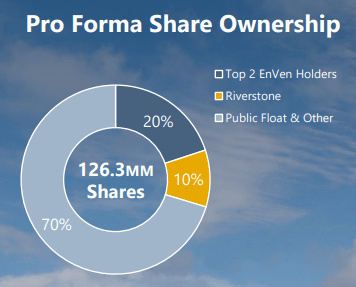 These parties entered into the transaction because they want to sell and get out. So some selling pressure on the stock will persist, but on the other hand that also creates good opportunities to build up a position.
Conclusion
After an accretive acquisition, Talos Energy continues to execute and is adding production and reserves. The valuation remains very favorable and the company aligns well with the macro themes I expect to unfold in 2023.
Editor's Note: This article discusses one or more securities that do not trade on a major U.S. exchange. Please be aware of the risks associated with these stocks.