Preamble
On first reading the idiom, "May you live in interesting times," one might be forgiven for thinking that it is a sort of blessing. However, the reverse is true, it is a kind of curse. This expression is widely believed to be a translation of a Chinese phrase, although, according to Wikipedia, the nearest equivalent is: "Better to be a dog in times of tranquility than a human in times of chaos." It would appear that some people have taken the actual Chinese idiom to heart and are now identifying as dogs. In my mind's eye, I can see these individuals sitting near a window awaiting a delivery man to provide them with their stimmy cheques so that they can go off and buy some dog food and a rubber bone on which to chew; just like the days of yore.
Without a doubt, there are some extremely interesting situations developing in the world around us. There is the ballooning National Debt, which if you include the future liabilities of pensions and so forth, is measured in the hundreds of trillions of dollars. An exploding national debt is not just confined to the U.S., but many countries are in the same boat. Furthermore, I have yet to hear of any plans to repay these enormous debts.
Then there is the narrative concerning climate change, it appears that we are all doomed unless radical action is taken to reduce CO2 emissions. One such measure being proposed in western nations is the introduction of the concept of a 15-minute neighborhood. For this plan, citizens will be confined to a specific zone and only allowed outside their designated area 100 times a year or face a "small" fine. There are those who might describe such a proposition as little more than a plan for an open prison colony.
Now, one of the anomalies I find so interesting about the climate "crisis" is that the world appears to be getting greener, as measured by the NDVI (Normalised Difference Vegetation Index). It would appear that the NDVI for the world has increased in recent years. And contrary to expectations, some deserts, the Gobi Desert for example, are actually shrinking. On top of that, we have seen record wheat harvests in Australia, Zimbabwe, and Russia. Those of you who recall basic biology will realize at once why this is happening. Plants simply love CO2 because it acts as a kind of fertilizer. When there is an abundance of CO2, they need to open their stoma less often and so they release less water vapor. Thus, with higher-than-normal levels of CO2, vegetation can grow in drier regions.
I am sure readers could add to this list with their own personal favorites. Be that as it may, the focus of this article concerns interesting developments in the field of health
Interesting medical phenomena
In bygone years, unknown causes of death were very few; almost zero, in fact. But nowadays, in some parts of the world, it is the leading cause of death; higher even than heart disease or cancer. In Alberta, for instance, almost 30% more people died in mysterious circumstances compared with COVID 19 in 2021.
You might be thinking that Alberta is an outlier and the rest of the world is treading a different path. Unfortunately, this is not the case. If you take a trip to The Australian Bureau of Statistics, data concerning deaths are revealed. The figures for 2022 show that fatalities were 16% higher than the average of the years 2015 – 2019. Now you might expect this to be due exclusively to COVID, but not at all: non-COVID excess deaths were around 60% higher than COVID deaths.
It is therefore unsurprising that Life Insurers are paying record amounts in claims for non-COVID related fatalities. Certainly, a number of the recorded deaths were as a result of tardy medical treatment, but others were the result of previously undiagnosed circulatory issues, neurological disorders, and so on.
According to Frank Svoboda, Globe Life (NYSE:GL) finance chief, he anticipates that the deaths will start to be less impactful over the course of 2023, but he does anticipate that Globe Life will still at least see some elevated levels of fatalities throughout the year. Given the sharp rise in serious medical conditions, I suspect that the bottom line of life insurers will be affected for the remainder of 2023 and beyond.
One of the positives associated with joining the U.S. military is the free healthcare. This is great news for those who serve since there has been a remarkable rise in registered diagnoses for many serious conditions compared to previous years. Diagnoses for hypertension are up 2,181%, female infertility up 472%, and malignant neoplasms of the digestive organs up 624%; to name but three.
Now, if this was also true in the working population, one could easily imagine a rise in the number of sick days taken by employees. And indeed, the chart below indicates a doubling of sick days taken by U.S. workers. One might even say that the number of sick people appears to be doing a moon shot.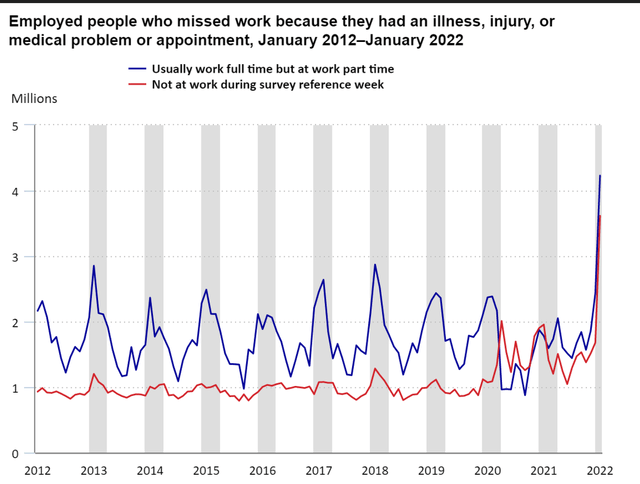 This dire picture of the state of health of U.S. citizens and other people around the world is indeed troubling, but it does provide investors with opportunities.
HCA Healthcare
For those unfamiliar with HCA Healthcare, Inc. (NYSE:HCA), the company is one of the largest operators of hospitals in the U.S. The graphic below, obtained from their December Investor Presentation, provides some relevant information concerning their presence around the U.S.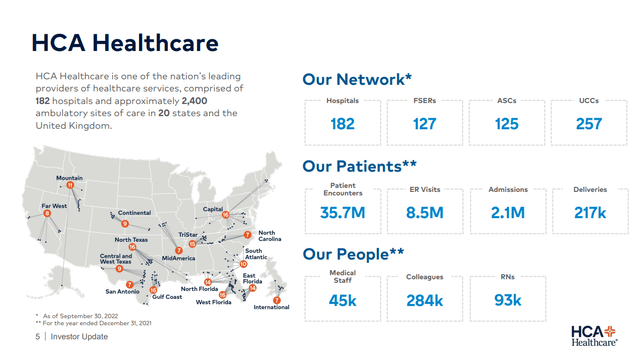 Whilst the HCA Healthcare, Inc. Q3 results were less than stellar, there were some details provided that point toward long-term positive returns. Given my thesis that hospitals will provide above-average returns for investors, I was heartened to see investments in capacity for 2023, as per the graphic below.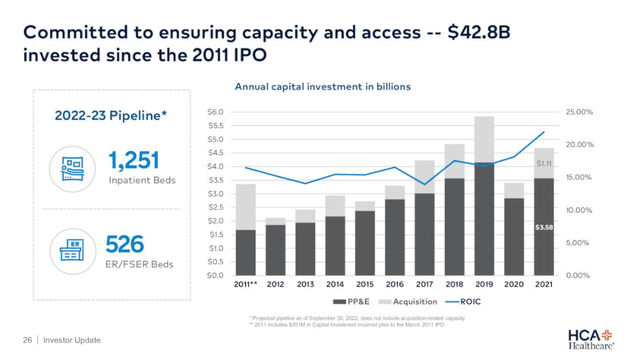 On the Q3 conference call, HCA Healthcare, Inc. was unable to offer investors an insight into future revenues due to the various challenges that they face. Nevertheless, HCA did provide some insights into patient profile trends. Patient numbers for COVID were down almost 60% in Q3 compared to third quarter of the previous year. These COVID patients represented only 5% of admissions in the quarter. However, non-COVID admissions increased 6.9% in the quarter as compared to the prior year and are up 2.7% year-to-date.
It is my belief that non-COVID admissions will continue to rise, and therefore provide increasing revenues for the group.
Potential investors may be concerned that the U.S. is entering a recessionary cycle, and so concerned about how well the business may fare in the years ahead. On the conference call, Mr. Sam Hazen, CEO, was asked to respond to this concern and replied as follows;
"Well, I think the most material difference, and I mentioned this on the last earnings call we had is that the Affordable Care Act and the exchange community provides a potential safety net that heretofore in previous recessionary cycles we didn't have. And that, for us, we believe, is a positive.

You look at our markets as a whole, Florida, Texas, Nashville, Vegas. These are fairly strong durable economies, we believe. It may be a little stronger than the nation as a whole. So, that can hopefully add some support as we go into a recessionary cycle potentially in the future."
Downside risks
One of the key concerns outlined was the issue of inflation. Given that the health industry is heavily dependent on personnel, wage inflation is a real problem. In addition, the cost hospital supplies are rising at a rapid rate.
There is also the issue of increasing sickness amongst hospital staff, who are not immune to the conditions previously mentioned. Naturally, this situation may lead to cancelled operations, delayed medical reports and so on.
To sum up
Since the results of the last quarter were, let us say, unremarkable, the valuation of the group has therefore become depressed and now looks attractive compared to its peers. So, given the tailwinds described, now would appear to be a good time to take advantage of the relatively low valuation.
Caution
Please be advised that I am not long HCA Healthcare, Inc. but I have instead bought Tenet Healthcare (NYSE:THC) and IHH Healthcare (Listed on the Singapore exchange – Ticker Q0F). Furthermore, I also have a short position on Globe Life. This being so, please carry out your own due diligence.